The 2015-17 Mustang Gibson Catback Exhaust comes in two finishes:
The actual construction of the Gibson Exhaust Kit is top-of-the-line! The 100% stainless steel, mandrel bent design and 3" diameter piping allow for maximum exhaust flow. It also produces a deep aggressive exhaust tone that will leave other S550 Mustang owners envious! The 4.5" tips add a great muscle car look and fill the factory exhaust cutouts perfectly.
Each 2015 Mustang Gibson Exhaust kit includes the X-pipe assembly and catback assembly. Best of all this kit is a complete bolt-on installation that will take you less than an hour in your own driveway! There is 0 cutting involved and no specialty tools required.
Installation Instructions
Tools Needed:

1/2", 9/16", 15mm wrenches & sockets
WD-40
Hacksaw
Jack stands
Step 1:
Disconnect the negative battery cable before removal of OEM exhaust. This will allow the computer to reset and recognize the new exhaust. Lay out the exhaust on the floor so it looks like the drawing and compare parts with manual.
Step 2:
To remove your stock exhaust, unbolt it from the clamps located just after the manifolds then remove the whole exhaust system.
Step 3:
Install your Gibson x-pipe using the stock clamps.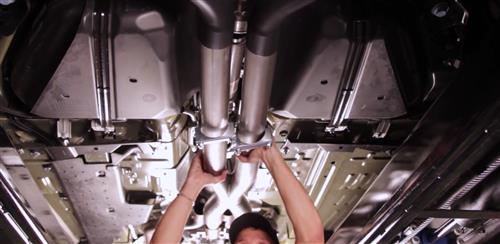 Step 4:
Now install the passenger side muffler assembly #B by sliding the metal hangers into the rubber grommets. Then do the same for the driver side muffler assembly #A. Use clamp #D to secure together.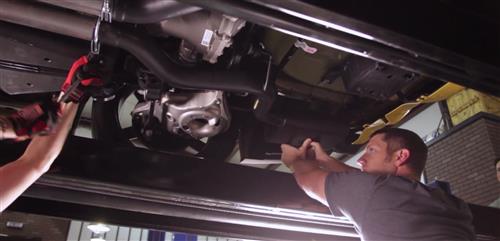 Step 5:
Now do the same procedure for the driver side. Use clamp #D to secure to the muffler.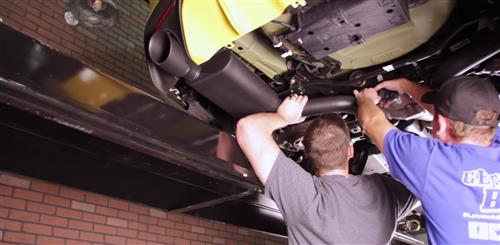 Step 6:
When you have everything in Place, firmly tighten all bolts And clamps down securely Use stainless steel cleaner and weekly to prevent tip from discoloration. Inspect all fasteners after 25-50 miles of operation and re-tighten as necessary.
2015 Mustang Gibson Exhaust Dyno
Now, let's talk performance! According to Gibson, this free-flowing Mustang exhaust system allows up to a 35 horsepower gain and an additional 45 lb/ft of torque! We figured we would test these numbers on our dyno. While we didn't quite hit the claimed numbers, we did see some performance gains. You can watch the dyno video below.
2015 Mustang Dyno - Stock Numbers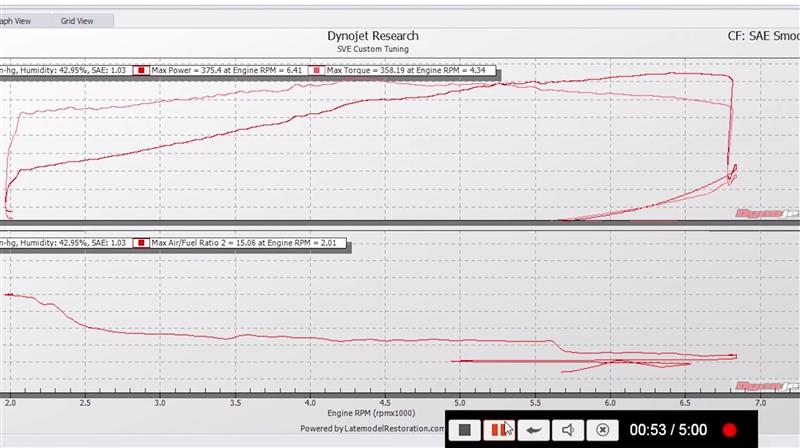 Gibson Catback Exhaust Dyno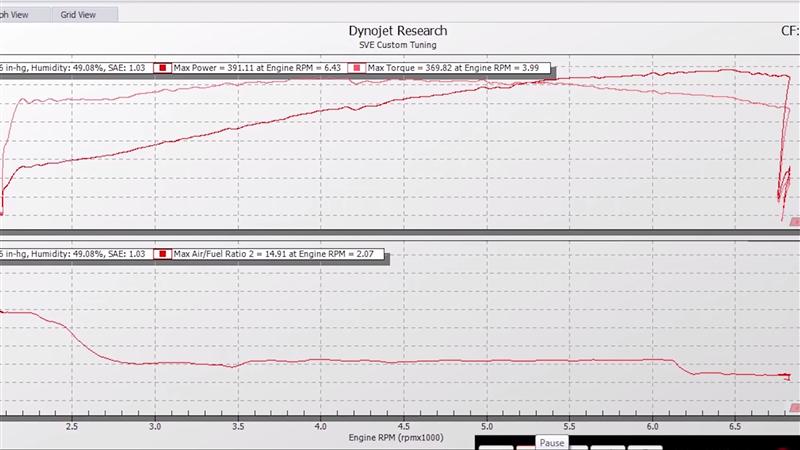 Final Thoughts
I personally got to enjoy this amazing sounding and powerful exhaust system on our 2015 Mustang here at LatemodelResto. While adding extra volume and tone, the obnoxious factor was nonexistent. That annoying drone noise that you get from some other exhaust was near minimal on this Gibson exhaust! This made driving the S550 Mustang enjoying since you are still able to hear the aggressive tone from inside the Mustang; while others outside, they get to hear nothing but head turning muscle car sounds.
All in all, if you plan on doing this installation yourself and in your own garage with hand-tools; you are looking at about a 30 minute installation! That is SUPER quick and easy! I absolutely loved the black-tip option that we had on our 2015 5.0; but even more than that, I loved the additional power and aggressive sound!
Look nowhere else than LMR.com to pick up your new 2015 Mustang 5.0L Gibson Catback Exhaust kit!
---