We've all seen plenty of the heavily camouflaged S550 Exterior, and finally we get some spy shots of the S550 2015 Mustang Interior courtesy of KGP Photography and Car&Driver.com. Without their dedication to revealing what's beneath the masking, we'd still be in the dark.
Quarter Window and Rear Seat
With all the extra cladding hiding the true body lines of the rear of the 2015 Mustang test cars, it is huge to finally see the orientation of the c-pillar and 1/4 window. It looks like we wont be far off of the body lines we already know and love - no drastic changes. With this glimpse of the quarter area, we also get to see the nicely redesigned rear seat back. The big question is, will there actually be room for an adult to sit in the back? I doubt it. Especially with the claims of smaller sizing a reduced weight.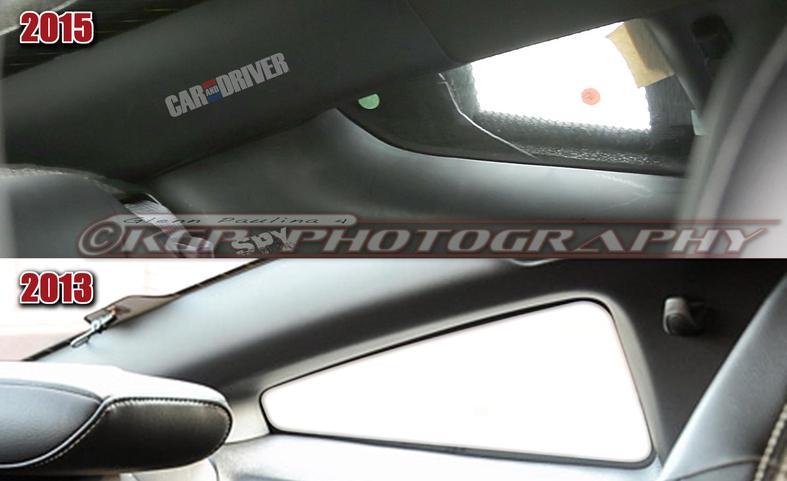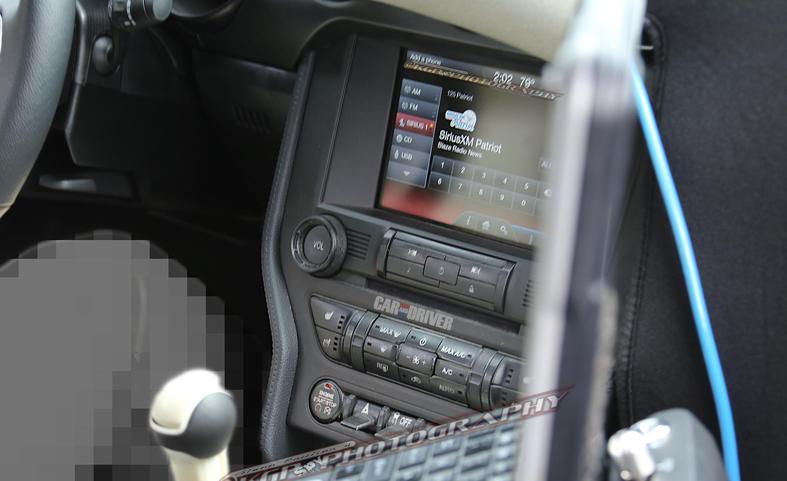 Steering Wheel
The steering wheel is right on par with its predecessors, sporting the all to familiar style introduced in 2005. There are quite a few more buttons, however. From what I can see, there are enough controls for Sync, Track Apps, Audio, and Cruise. I also noticed that there is no more ignition key cylinder on the column. On the left of the wheel, I spy what appears to be a.....drumroll please....... Paddle Shifter! After years of asking, Ford may finally oblige.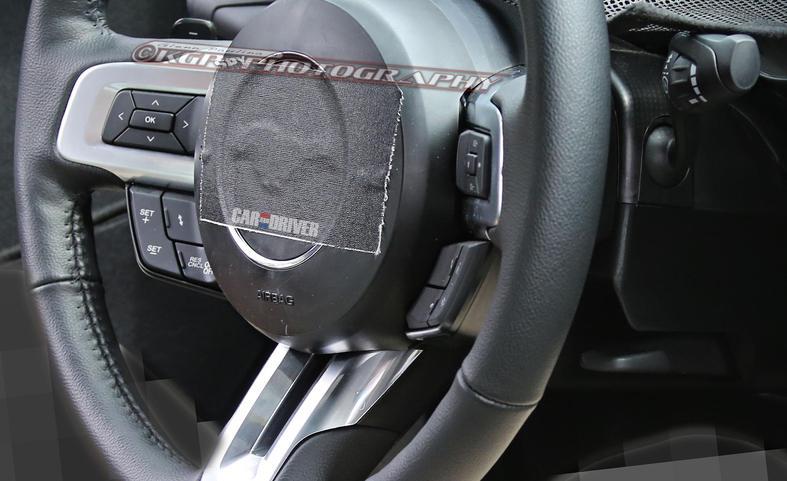 Center Dash or Center Stack
Full touch LCD? Yes please! Below that awesome piece of technology, is a cluster of radio control buttons and an actual volume control knob. Below that are all of the A/C and Heat control buttons, blower speed, rear defrost and those a flanked by control buttons for heated AND cooled seats for driver and passenger. On the bottom row, the reason for no ignition key cylinder is revealed with the presence of a push button engine start/stop. Then we see the toggle switches for hazard lamps and traction control. Any other switches or buttons are hidden by a laptop. Hopefully the shifter will be much more refined than what we see here.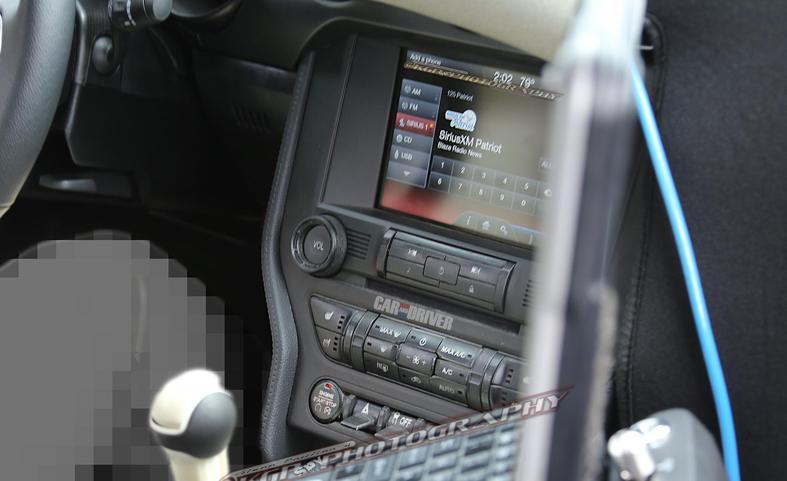 Door Panel and Instrument Cluster
Although you cant see much of anything because of the covering, the door handle does show and appears to be very similar to that of the new Taurus. Unfortunately, I cant make out squat around the instrument cluster. Very much looking forward to seeing the complete dash!
Take a look at the rest of the spy photos at
Car&Driver
, and stay tuned for more releases on the 2015 Mustang S550!
---