Looks like Ford is letting the 2015 Mustang roam free (with a lot of camouflage). This very well could be the real 2015 Mustang out in the public – no more using the 13-14 Mustang as a test mule. Why do I think that? Well look at the pictures and for the first time we have a completely hidden Stang. The camouflage has plenty of paneling on it to hide the overall shape and design of this Mustang.

Lately all the spy shots of the S550 Mustang have actually been 2013-14 Mustangs that are being used as test mules for the upcoming Pony car. In the pictures that came from autoblog.com, you can't tell a whole lot about the overall shape and design due to the covers; however, there are some very noticeable differences when compared to the 13-14 Mustang. Headlights appear to be much thinner (could be cover) and the brakes appear to be massive for a production car. Another thing, it seems like the rear bumper isn't cut up like some of the previous pictures we saw in our last article – 2015 Mustang Will Have IRS – More Proof. This means we could be seeing a production bumper.
The extensive cladding doesn't extend all the way to the prototype's rockers in the instance, giving us a look at the heavily-sculpted sills. Overall, this test car looks considerably smaller than the current generation Mustang, and elements like a short front overhang and beefy dual-piston calipers give us plenty of hope for the future model. Of course, reports that the 2015 Mustang will bow with an independent rear suspension and EcoBoost power certainly don't hurt our feelings, either.

Zach Bowman AutoBlog.com
Stay tuned as we intend to bring you all the latest 2015 Mustang News as it happens. Be sure to check out our Mustang 50th Anniversary News as well!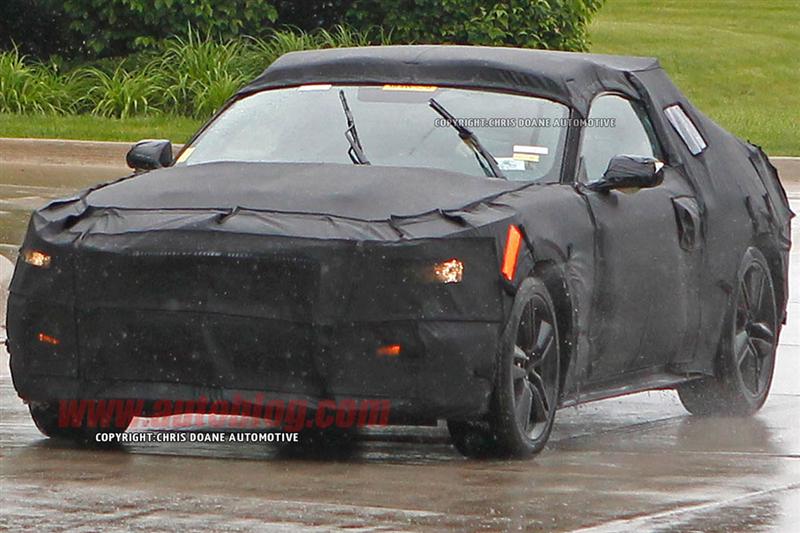 ---