The debate and rumors are flying about what will the next generation SVT S550 Mustang be called. I'll get more into that story later because for now you have probably seen the title and you are looking for the pictures. Huge thanks to the KGP Photography and Mustang6g.com for getting these videos out to the public! Please view the original content at mustang6g.com
SVT S550 Mustang Front End
The most noticeable features on this prototype Mustang are the addition of what appears to be a functional hood scoop and front fender scoops. They are well hidden under breathable mesh covers to help camouflage the final production looks. My best guess is these will be heat extractor vents for some form of forced induction – supercharger or turbocharger. I've got my fingers crossed on a single or twin turbo 5.0L coyote motor! As with the 2013-14 Shelby GT500, these spy shots also hint at a large front opening in the upper and lower grilles for further cooling.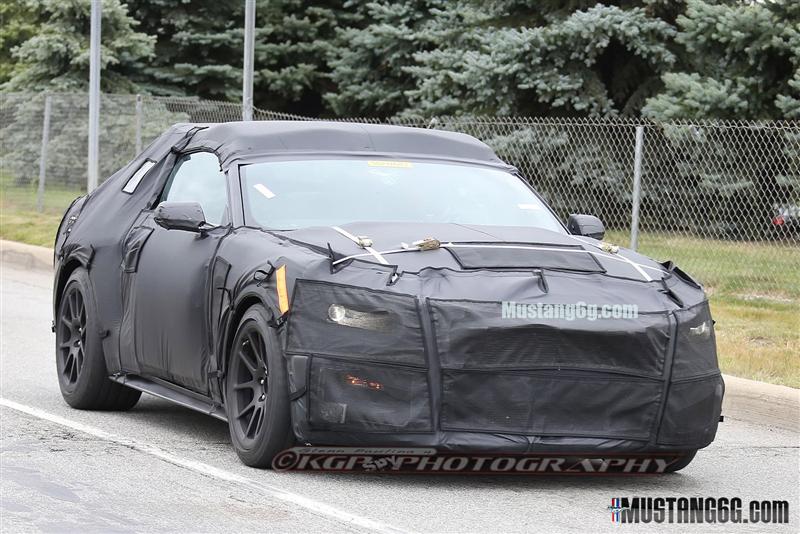 SVT S550 Mustang Brakes
The 2015 SVT Mustang spy photos showed a S550 Mustang that was sporting a great looking set of wheels that remind me of the BBS RK style rims. While these wheels look great; it was the brakes that really caught my eye. It looks like the 2013-14 GT500 M-2300-T six piston Brembo brakes made the transition over to the new platform with the addition of some drilled rotors.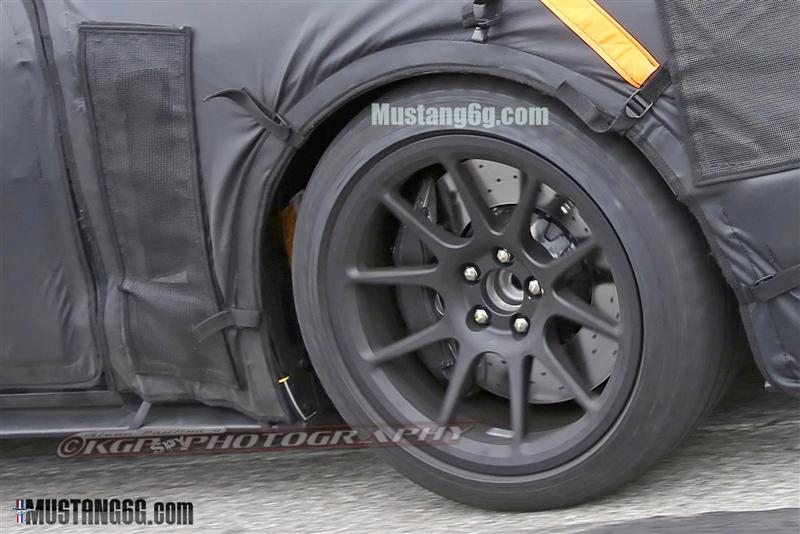 SVT S550 Mustang Exhaust
Unlike the other spied prototype 2015 Mustangs that we have seen before, this one featured the dual tip mufflers or quad tip style exhaust that was made popular by the 2013-14 Shelby GT500. If you take a look at the pictures below you will see that this quad tip exhaust style still needs a little bit more design work to be 100% functional. They have taken what appears to be a base line 2015 Mustang rear bumper diffuser and cut it to fit the dual tip mufflers. From the looks of it, Ford will use different removable rear bumper diffusers on the 2015 Mustang for each model. This will surely become a popular exterior mod by many!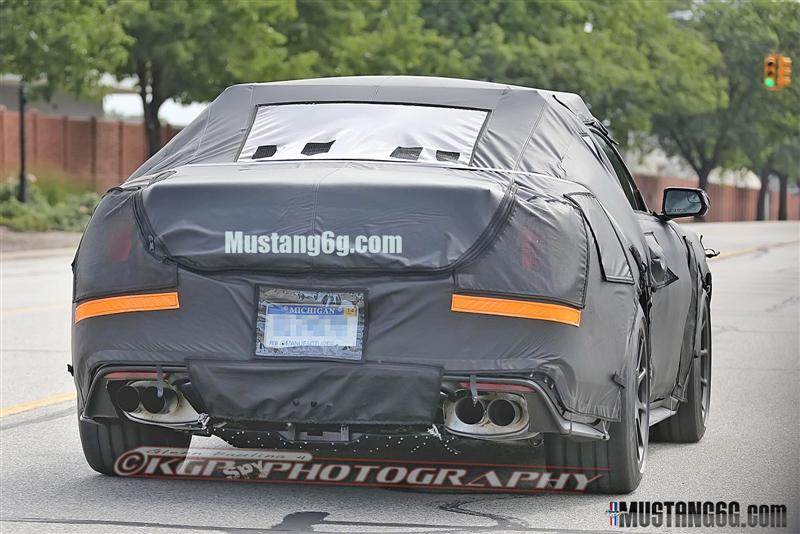 SVT S550 Mustang Rear End
I still spot what appears to be independent rear suspension (IRS) on this SVT version of the 2015 Mustang. I do notice that the rear wheel and tire combination seems to be exceptionally wide compared to previously spied models. Again I would be completely happy if these wheels made it to the final production version. I also notice that this prototype model had a plastic or metal rear air diffuser riveted or screwed into place between the mufflers. I would expect to see a fully functional rear air diffuser built into the rear bumper valance on the final production. This prototype version may be in place to simply hide the IRS.
Final Thoughts
I am truly excited to see a special edition S550 Mustang cruising the streets. That means the baseline and GT models are getting even closer to production. With all the rumors and talk flying around that Ford is dropping the "Shelby GT500" name, I would expect SVT will simple stick to tradition and call this the 2015 or 2016 SVT Cobra depending on what year it gets released. Hopefully we don't have to wait a few years for a SVT version like we did from 2004 to 2007. If it does take a couple years to bring the SVT version to the streets, could we be looking at the 2015 Mustang GT track pack? Give us your thoughts below in the comments!
---