Update
With the official release of the 2015 Shelby GT, we have an update on features and power numbers. With the new S550 Shelby, I am sure we will see tons of high horsepower upgrades, builds, and track time. This car was built with the racer in mind and we can't wait to get our hands on one and take it to the road course!
2015 Shelby GT Key Features:
Exterior:
Carbon fiber hood with customizable hood vents
Carbon fiber front splitter
Carbon fiber rocker panels
Carbon fiber 2-piece rear diffuser
Carbon fiber rear deck lid
Carbon fiber trunk spoiler
Carbon fiber mirror covers
Carbon fiber hood extension
Modular customizable billet aluminum upper and lower front grilles
Shelby GT striping
Shelby GT badging on front grille and on C-pillars
Shelby faux gas cap
"Powered by Ford" front fender badges
SHELBY lettering on trunk lid
Washer relocation kit
Interior:
Shelby branded custom headrests
CSM dash plaque and engine plate
Carbon fiber dash pod with 3 gauges
Shelby GT door sill plates
Shelby branded floor mats
Performance:
Ford Racing 627+HP supercharger
Ford Racing by Borla exhaust with Shelby oval tips
Ford Racing half-shafts
Ford Racing handling pack with upgraded shocks, springs and sway bars
Ford Racing short throw shifter for the manual cars
Wilwood performance front brake upgrade
Shelby Venice wheels by WELD Racing, 9.5x20 front and 10.5x20 on rear
Michelin tires 275/35/20 on front, 305/30/20 on rear
3:73 rear gears
Additional Options:
700+ HP performance upgrade
Painted carbon fiber options
Rear brake upgrade
Shelby custom interior on both stock and Recaro seats
Front brake cooling system
Carbon fiber intakes
Fog light re-location
Air injection plate with channeling
Shelby Extreme Cooling system
Adjustable track suspension package
Engine dress up package
Track Delivery Experience
Dec 12, 2015
Hot off the heels of Shelby American's debut of the iconic GT 350 we now have a sneak peek of the latest Shelby fortified Mustang, the Shelby GT. Spied in Palm Springs California, this red and silver example shows us what we can expect using Mustang GT trim upgraded to Shelby GT specs. Questions about this cars' authenticity were raised as these shots were leaked to the press but it is the real deal, so let's take it all in for what it's worth.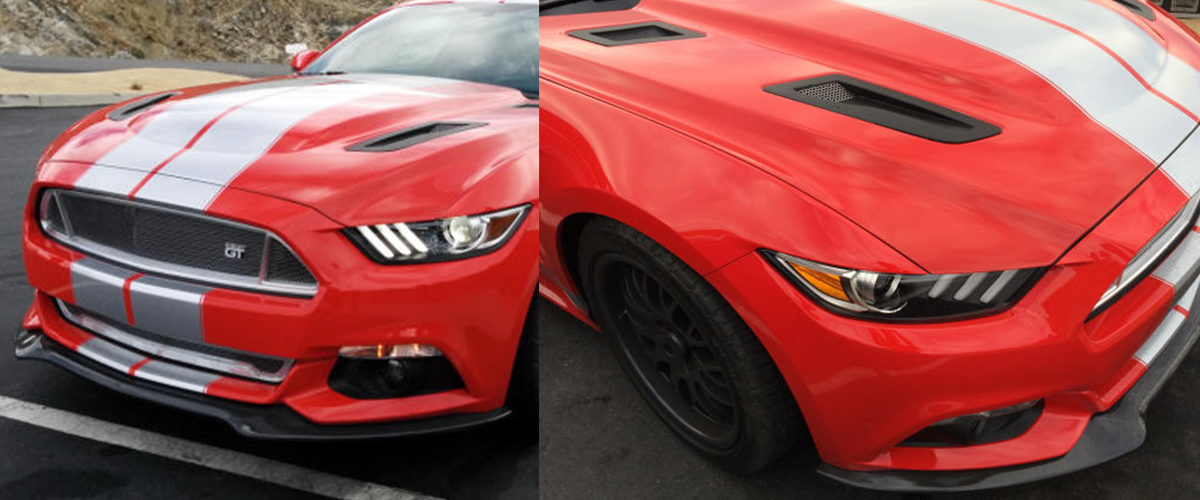 The most obvious departure from stock is the hood, now sporting a power dome with vents in either side. The front upper and lower grilles set this car apart and is a handsome touch giving the car a more aggressive look than the stock Mustang GT. Capping that off is an aggressive lower splitter on the bottom of the bumper making this Shelby GT look track ready. We see the "Powered by Ford" badges making a return to the front fenders. A throwback to the Shelby GT's from 2006, these are more modern and fit the new car's appearance. A different rocker treatment changes up the stock side splitters and incorporates a scoop at the rear, another cue to the Shelby Mustang heritage dating back to 1966. Just above a distinctive rocker stripe identifies the car and ties this all together.
We can't tell a lot about the wheel and tire package but we can see a red caliper peeking through the wheel spokes alluding to a brake upgrade as well. Just behind the quarter window sports a badge further linking the car to its Shelby origins. Rounding out the rear of the car we see a subtle rear wing spoiler with Shelby lettered below and a great looking filler panel between the taillights sporting more Shelby badging with the Cobra snake logo.

The LeMans stripes are quite complimentary to the lines of the new S550 platform Mustang and an obvious nod to Peter Brock's styling done on the 1960's Shelby Mustangs.
Power on this car was coming from a naturally aspirated Coyote 5.0 but undoubtedly a Ford Racing supercharger will be available as an option. It looks like Shelby American is jumping in with both feet on the new S550 platform Mustang offering the Shelby GT and the all new GT350. We can be excited to see Carroll Shelby's vision for performance Mustangs should carry on well into the future.
---