Twin Turbo 2015 Mustang GT
Being true Mustang enthusiasts here at Late Model Restoration, we were more than ready to tear into our 2015 Mustang project cars. Since we had already finished up our Supercharged 2015 Mustang, we decided to take a different route on our triple yellow S550. Thanks to Hellion Power Systems, we are turning this mild bolt on 5.0 to a high horsepower twin turbo 2015 Mustang GT! This first round of mods to our Triple Yellow Project Car included a JLT cold air intake kit, a Bassani mid muffler catback exhaust kit, Eibach pro kit lowering springs, DF5 5 spoke wheels, a Roush hood scoop, and redline tuning hood struts. All of these parts were great first mods to get our S550 grabbing attention, but we wanted more. With the addition of the Hellion 2015 Mustang turbo kit, we ditched the cold air and swapped out the exhaust for a Bassani 3" catback for better exhaust flow.

Hellion's 2015 Mustang Twin Turbo Kit
This Hellion twin turbo kit for the 2015 Mustang was a great fit on our S550 with only minor modifications necessary. The kit we opted for included twin 55mm turbos, a Precision Turbo PW46 wastegate, a Hellion BOV, a large vertical flow dual inlet intercooler, and all of the needed tubing and hardware. One of my favorite parts of this whole kit is that there is no cutting of the body when installing this kit. All of the parts were made with quality and functionality in mind and it really shows when installing this kit. We opted for ID1000s and an E-Boost 2 boost controller to get the most from this turbo kit. We will have more updates once we finish buttoning this bay boy rip and get it strapped down onto the dyno!

Installation
Installation of this 2015 Mustang Hellion Turbo kit was pretty straight-forward. When we unboxed all of the parts, we could tell that this kit was made from high quality parts and designed to fit perfectly on the S550 chassis. With all of the parts we needed being included, we were able to quickly install this kit and do a little custom oil line work to satisfy our meticulous taste. The twin 55mm turbos fit nicely in the engine bay to give our underhood a great new look. Lastly, we added a 3" Bassani exhaust to really let this kit open up and make the power it needed to! Overall we were thoroughly impressed by the quality and ease of install with this kit.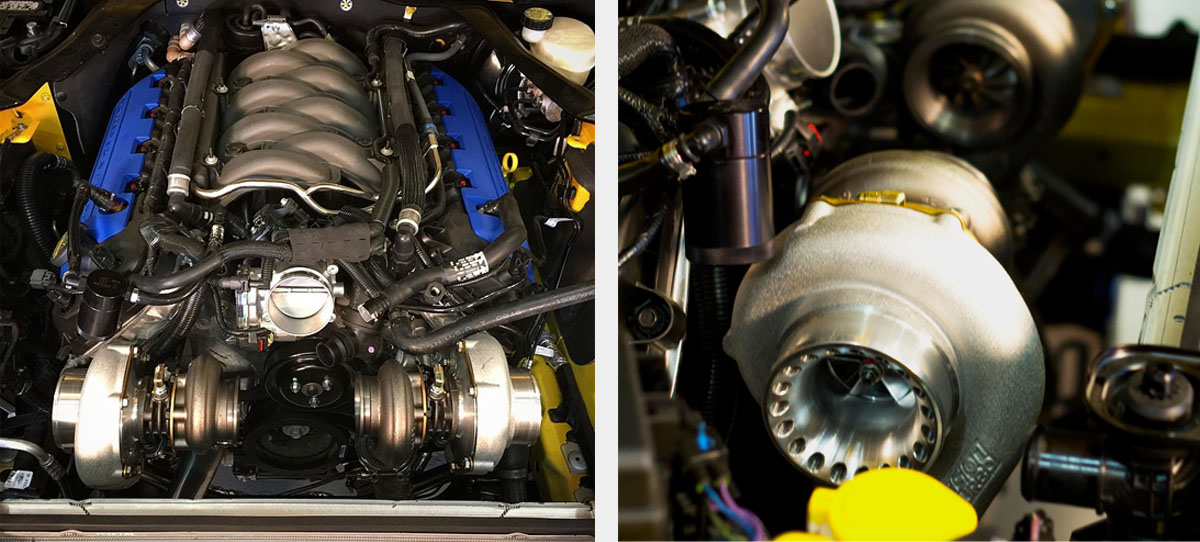 Power Numbers
Once we got the car put back together we were ready to put our turbo 2015 Mustang on the dyno! Running on pump gas and on 10psi we were able to make 711 horsepower and 625 ft/lbs of torque with a conservative tune. This custom tune was chosen for daily driving and reliability in mind. Yes, we could have turned it up and made plenty more, but for what we were looking for with this project, this amount of power will be perfect for everyday driving!
---