Within the first few days of having our 2018 Mustang GT, we have already tested the line lock feature, put down some impressive numbers on the dyno, and now, we have tested the 10-speed auto at the track!
Being as the new 10-speed automatic is the center of a lot of talk between the Chevy and Ford camps, we decided to take it to the track and see what it was all about. Here are some quick breakdowns on the 2018 Mustang 1/4 mile times:
2018 Mustang GT 10 Speed Automatic 1/4 Miles Times
12.02 - Stock
11.88 - SVE Springs, SVE Resonator Delete, Weld RT-S Wheels, Mickey Thompson Tires, Passenger Seat & Rear Seats Removed /li>
November 10th, 2017
After putting an SVE resonator delete, SVE lowering springs, Weld RT-S Wheels, and Mickey Thompson Tires on the car, we were able to bring that down to an 11.92. We removed the passenger and rear seats from the car and ran two runs back to back. The first run being an 11.89 and the next run being an 11.88 at 119.81.
October 31st, 2017
The first time we took our 2018 Mustang to the track, we wanted to take it in its factory stock form. With factory tires still on and an all-stock car, we were able to put down a 12.0 at 117mph.
2018 Ford Mustang GT Performance Pack 10 Speed Automatic
BASE PRICE
$41,828
VEHICLE LAYOUT
Front-engine, RWD, 4-pass, 2-door coupe
ENGINE
5.0L/460-hp/420-lb-ft DOHC 32-valve V-8
TRANSMISSION
10-Speed Automatic
CURB WEIGHT (F/R DIST)
3860 lb (54/46%)
0-60 MPH
3.9 sec
STOCK 1/4 MILE TIME
12.1 sec @ 120 mph
MPG
16 City/25 Highway mpg


The 2018 Mustang GT Performance Package with 10 Speed automatic weighed in at 3860lbs with a fuel tank of gas. The car was tracked with half a tank of gas.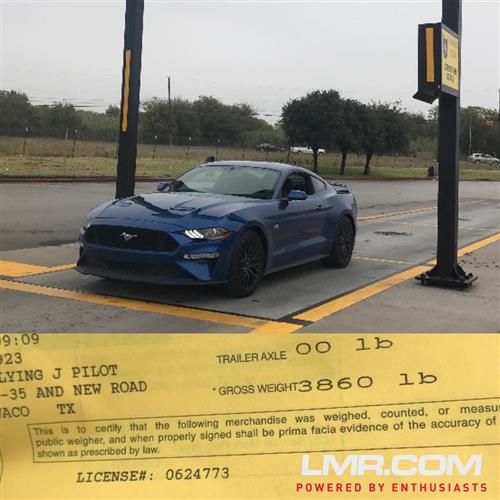 ---