Don't let the word "Economy" scare you when it comes to the 5.0Resto short blocks! We recently had one of our customers use the 5.0Resto Economy Forged Short Block as the foundation for his 1986 Fox Body race car. Craig McCormick races this 1986 Mustang in the National Auto Sport Association (NASA) Camaro Mustang Challenge (CMC) races. For those of your who aren't familiar with the CMC races, they are an American muscle car race series that puts GM and Fords Pony Cars against each other on the road course. Here is the official statement from NASA:
The intent of the Camaro Mustang Challenge (CMC) racing series is to provide National Auto Sport Association (NASA) members a racing series featuring production American pony cars. Modifications will be limited to those necessary to promote safety, close competition, and flexibility to enable drivers to learn and experiment with the principles of race car setup within boundaries intended to limit expenses, thereby providing the drivers with fun, exciting, and challenging yet approachable racing.

Nation Auto Sports Association www.nasaproracing.com

These races allow the following American cars to race:
Manufacturers
Ford Motor Company
1979-95 Ford Mustang with 5.0 V8 including 1993-1995 Cobra (1993 and 1995 Cobra R models excluded)
1979-86 Mercury Capri with 5.0 V8
1996-2004 Ford Mustang with 4.6 2valve V8
1996-04 Ford Mustang with 4.6 DOHC N/A V8* (2000 Cobra R and 2003-2004 Cobra models excluded)
* IRS cars must replace the IRS with standard Mustang live axle
General Motors
1982-92 Chevrolet Camaro (all submodels with V8 motors eg – RS, Z28 etc)
1982-92 Pontiac Firebird (all submodels with V8 motors eg Formula, Trans-Am, WS6 etc.)
1993-02 Chevrolet Camaro (all F-Body models with LT-1 or LS-1)
1993-02 Pontiac (all F-Body models with LT-1 or LS-1)
To race in one of these races, your car must be compliant within the class and safety rules. The drivers must hold a NASA racing license as well. A typical race will consist of a full weekend of grueling full throttle racing which puts some wear and tear on engines and its components. It was this stress that finally put Craig's old motor out of business. Craig turned to LMR.com for an economical solution to replacing his engine. Craig and his team quickly purchased one of our 5.0Resto Forged Short Block assemblies and got to work putting his engine back together.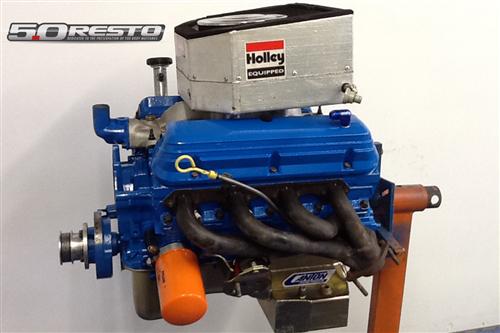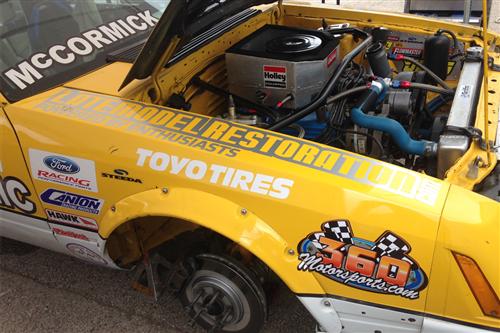 Due to race limitations, Craig and his team could only use iron GT40P heads, B303 Cam, Edelbrock air gap manifold & Holley 600 Carburetor. This combination made for an impressive 297 HP and 307 TQ on the dyno before being restricted down to comply with class rules. Once fully assembled, Craig was ready for some seat time again. The first race with the new 5.0Resto Economy Short Block got to show off what its true potential was at the NASA Texas World Speedway event in April 2014. Craig piloted his Fox Body to 1st, 4th & 5th place finishes in races that weekend.
When asked about how this race season was going, Craig gave us all the confirmation we wanted to hear when it came to our 5.0Resto short block!
I had a rough start to the season with the first two race weekends plagued by engine issues from my previous motors, I had been through two engines before I found the 5.0 Resto Short Block which straight out of the box has performed well. The third race weekend at TWS is where I am building my season from and I plan on being at the pointy end of the field for the rest of the year.
Have you used one of the 5.0Resto Economy Short Blocks? We want to hear what you built with this awesome short block! Be sure to share pictures of your build on social media. Don't forget to tag us in your pictures and videos and use hashtags #LatemodelResto & #50Resto to show the world your Fox Body Mustang Pride!!
Want More information about Craig McCormick his Fox Body Mustang?
You can follow him on his Facebook page here - McCormick Motorsports
---