Benefits & Features
So The anti-moan brace was first seen on the 1993 Cobra R and after that, the same concept was used on other Mustangs with rear disc brake setups. Its job is to triangulate the caliper mounting bracket to get rid of caliper vibration and, hence, that irritating moaning noise whenever the brakes are applied which is why they're referred to as anti-moan braces. SVE's anti-moan braces feature heavy-duty stamped steel brackets that incorporate the proper bolt hole spacing so it properly aligns with the caliper bracket and the seams around the clamshell section of the bracket has been fully welded for added strength. The brackets are finished in a black e-coat to resist corrosion. Along with the bracket will be heavy-duty, zinc-coated u-bolts, and serrated locking nuts. These are side specific and the way you verify which brace goes on the correct side of the axle is to locate the notch near the bolt holes in the bracket. This notch will face down.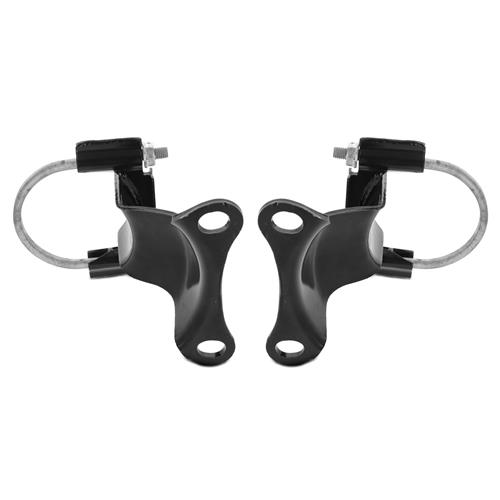 Fitment
As far as fitment is concerned, these Cobra-style anti-moan braces are designed to fit solid-axle equipped 1979 to 2004 Mustangs that have been converted to rear disc brakes while utilizing Cobra-style rear rotors. This rotor measures 11.65-inches in diameter. It will not fit any other rear disc brake setup or configuration. During the r&d phase of these braces, LMR made it to where these will work with both Fox-length axles and SN-95 axles in conjunction with the 11.65-inch Cobra-style rear rotor.
The only small fitment note for these braces is that depending on the location of the rear brake hoses on the axle, you may have to slightly relocate this so that the fittings clear the welded seam.
In the box you will get the following:
driver side and passenger side anti-moan brace
u-bolts
retaining hardware (the retaining nuts will have a torque spec of 25 lb-ft.)
---
Wrapping things up, these have been a long time coming. LMR is very excited to have these on our site and we're confident that you'll appreciate the availability of our SVE Cobra-style anti-moan braces.
---