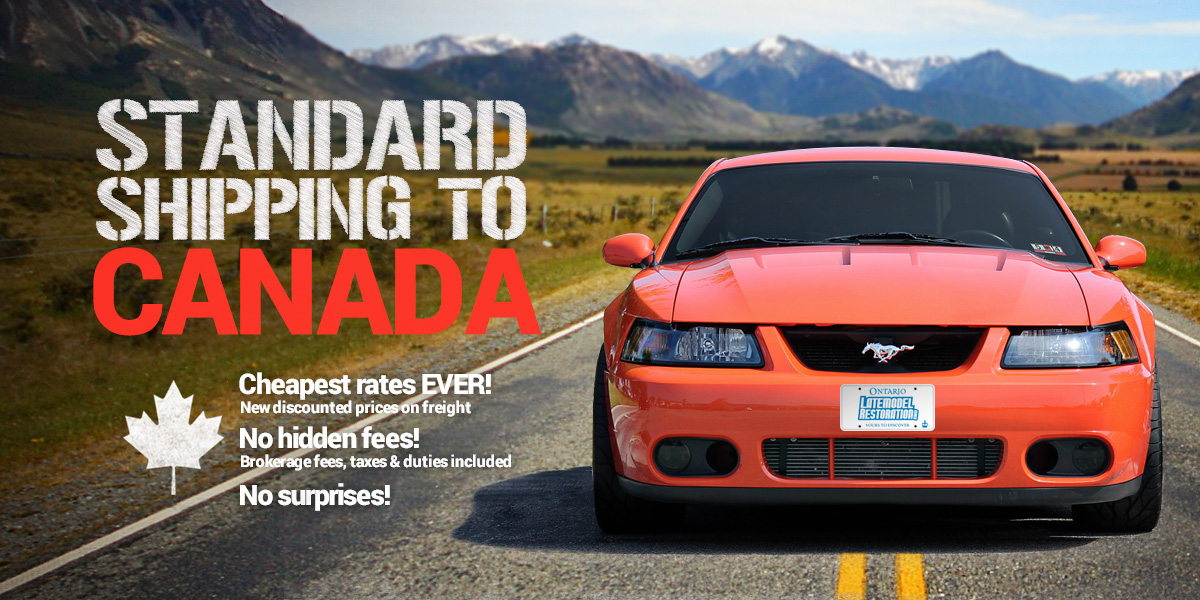 There are NO HIDDEN fees or taxes due at the end of the day. To take the guesswork out of shipping, all fees and taxes are paid up front.
Notice
UPS & FedEx Delivery Services are experiencing minor delays in delivery times nationwide. Please allow an additional 1-2 business days for delivery of your items, especially in areas and States that are more widely impacted such as the Northeast United States.

LMR.com is proud to offer easy Standard shipping to Canada. We've been hard at work nailing down our shipping agreements to construct a shipping policy that is light on the pocketbooks for our friends from the north. We are committed to providing our Canadian customers the best quality Mustang parts with industry-leading customer service and of course shipping cost that won't break the bank.

Standard shipping to Canada is cheaper than ever! The shipping charges shown to you at checkout are your final shipping charges - no hidden fees. The freight charges you will see include all brokerage fees and shipping charges, we also charge you up front for all duties and taxes, so the price you see in your cart or what you are quoted over the phone is your final cost. No unexpected surprises at your doorstep!!
What does this mean for you?
ALL shipping, brokerage & tax fees are paid upfront
No surprise shipping or handling fees
No hidden fees, duties or taxes due at delivery
Unfortunately there is no way around it, shipping to Canada is not free due to brokerage fees, duties, taxes and bond fees. But to help ease this burden we are covering the majority of your freight cost! Here at LMR.com, we pride ourselves on our ability to offer you the biggest assortment of high-quality late-model Mustang parts and accessories at industry leading prices. Also, we can now offer shipping prices to our Canadian friends that are cheaper than ever!
NOTE: Larger truck freight items do require a quote. Please give us a call and let our knowledgeable customer service team help you with your large Canadian orders!!
CANADIAN SHIPPING PROCESS
Here at LMR we are happy to ship to our neighbors to the north. When it comes to Canada shipping, there are a few things to keep in mind that are different than normal US shipping procedures.
Unfortunately, at this time, we are unable to convert our prices to Canadian Dollar, so all prices are listed in United States Dollar.
All of our shipping to Canada will travel via UPS Ground. This is the safest way to ensure that your package is protected and arrives without any additional fees.
UPS will ensure that your packages will arrive at the US/Canadian border within 3-5 business days of your order shipping out. Once your order arrives at the US/Canadian border it will be cleared by customs, normally within 1 business day.
Once your order is cleared by customs, UPS Canada will be contacting you to declare a broker. You will need to declare UPS as your broker. Please keep in mind that if declare a broker other than UPS, you will waive all insurance and delivery guarantees. Using a different broker might also cause you to incur additional fees.
Once a broker is declared with UPS, your order will be shipped out to your location from the border. The typical time from the border to delivery is 2-5 business days.
Please keep in mind that canceling, deleting, or abandoning Canada shipments will result in restocking fees and return shipping being deducted from your return refund.
CANADIAN RETURNS
Refunds are not adjusted for differences in the dollar conversion
We do not refund original shipping, duties or taxes incurred
We can not at this time provide return shipping labels - customer are responsible for their own return shipping
All international returns subject to restock fee
If you are returning apart from Canada, please give us a call at 1-866-507-1616 or send us an email through returns@lmr.com. For more information about our return policy, visit the following link: LMR.com Returns
---