Here at Late Model Restoration we are always happy when we find a project car to support in the Mustang community. Those of you who made it to Mustang Week last year saw the electric Fox body sitting in our booth. We helped donate some parts to the students at McMichael High School in Mayodan, North Carolina who built this unique project. It was great to see some Mustang enthusiasts in training working on a unique project. Recently, we got involved with another great group of guys and gals on a project we're very pleased to be a part of - Project Fallen Hero.
Project Fallen Hero has been working hard to restore the 1988 Mustang GT that belonged to the late Major Jeffery R. Calero. A true American hero, Maj. Calero lost his life while serving in Kajaki, Afghanistan. He had a degree in Mechanical Engineering and was commissioned as Infantry 2nd Lt in the US Army. In 2001 he earned the coveted "Green Beret". Maj. Calero won countless awards and decorations while serving in the Army & Special Forces.
Project Fallen Hero is planning to have the car finished and returned to Maj. Calero's father by the end of the month. We'd like to thank all of those who have also given to this project. We want to give a very special thanks to Bruce Bigelow for contacting us and helping facilitate getting all the parts to the right people. The high school students at Lynn Tech deserve a big thank you for all the hard work they put into the body and paint, which was donated by Kwik Auto Body Supplies, Inc.
The students did an amazing job on the paint, body, and interior work. They began with a rough Mustang, but with the right parts and a lot of dedication, they hit a homerun on the project. The students used the new parts (87-93 GT front bumper, rear 87-93 GT bumper, GT Body Moldings and 87-93 Headlights) and turned the exterior of this car into an amazing looking Fox. They didn't want to stop at the exterior. They used the interior parts we donated, including headliner, Mustang weatherstripping and other miscellaneous pieces, to finish off a great interior.
We would also like to thank all of the other companies that donated to this project. Southern NH Undercar donated the parts and labor to finish off the custom exhaust which features a BBK H Pipe and mufflers. While they had the car on a lift, they added a set of subframe connectors. TMI Products donated the Mustang seat upholstery kit for the project, and Protree Performance and Dyno donated a new set of struts and shocks go a long with the SVE control arms and SVE Springs we donated. The list keeps going on and on:
Midas of Stoneham, MA: Brakes
Advance Auto Parts of Hookset, HM: misc parts need throughout the build
TASCA: Ford Racing front lower control arms
1-800-Radiator: A/C Compressor
Many others that I didn't know of or name – Thank You
Feel free to leave a thank you and comment for those who were involved in this project. They all deserve a big thank you. To read more about the project , check out Project Fallen Hero's website.
Last and most importantly:
Thank you to Maj. Jeffery R. Calero, his family, all servicemen, all servicewomen and all of their families. You all make daily sacrifices to secure our freedom. Thank you from Late Model Restoration and all of our families.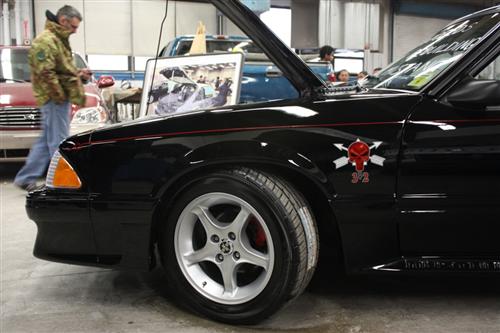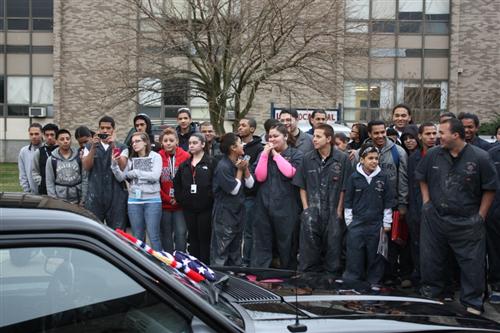 ---