Tools Needed:
Common Tool Box Tools
Impact
Install Time:
Approximately 1 Hour 30 Mins
Difficulty:
3 out of 5
Step 1:
Disconnect the negative battery terminal.
Step 2:
Loosen the bolts on the water pump and crank pulleys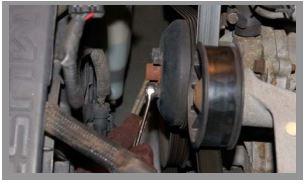 Step 3:
Remove the serpentine belt by shifting the adjuster to the passenger side.
Step 4:
Remove the bolts from the water pump and crank pulleys the rest of the way and remove the stock pulleys.
Step 5:
Install the BBK under-drive pulleys to the water pump and vibration dampener using the stock bolts.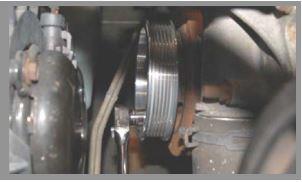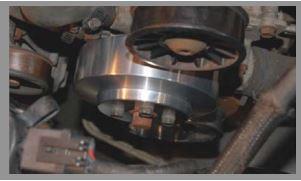 Step 6:
Remove the alternator mounting bolts, lift the alternator out of its cradle to access the pulley. Using an impact, remove the stock pulley and install the BBK Pulley. Re-use the stock nut and/or washer.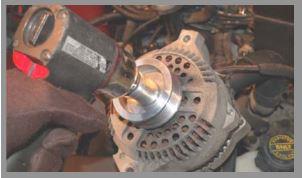 Step 7:
Re-install the alternator and mounting bolts then tighten.
Step 8:
Inspect the serpentine belt for wear. Unless recently replaced, BBK highly recommends the purchase of a new serpentine belt to compliment the new pulleys, and install.
Step 9:
With the serpentine belt on, tighten the water pump and crank pulley bolts.
Step 10:
Check that the serpentine belt is properly seated on all the pulleys, Insure the tensioner arrow is within the indicator marks on the tensioner. If adjustment is required, relax the tensioner from the belt, loosen the upper 9/16" hex alternator mounting bolt, shift the alternator towards the air cleaner or allow it to move in as required within the clearance of the diameters. Tighten while holding the alternator.
---