Win a free Mustang and test your personal fitness endurance. If you are considering attending the Mustang 50th Anniversary celebration in Las Vegas, they are offering a unique way to show your Mustang pride. At the Las Vegas event, you can test your Mustang's performance and endurance on the road race course. You can also test your own personal performance and endurance in the Mustang 50th Half Marathon and 5K Race. These races will be held at Las Vegas Motor Speedway. You are sure to be in good company of many Mustang enthusiast as well as nice Stangs. What more could you ask for in a half marathon?
Mustang 50th Shelby GTS Giveaway
Well how about a free Shelby Mustang! Anyone who registers for the half marathon will be entered to win an authentic 2014 Shelby GTS convertible! You don't have to win the marathon to win the Mustang. All you need to do is simply register for the half marathon for your chance to win this awesome ride! You are visit the following link for more information – Mustang 50th Half Marathon.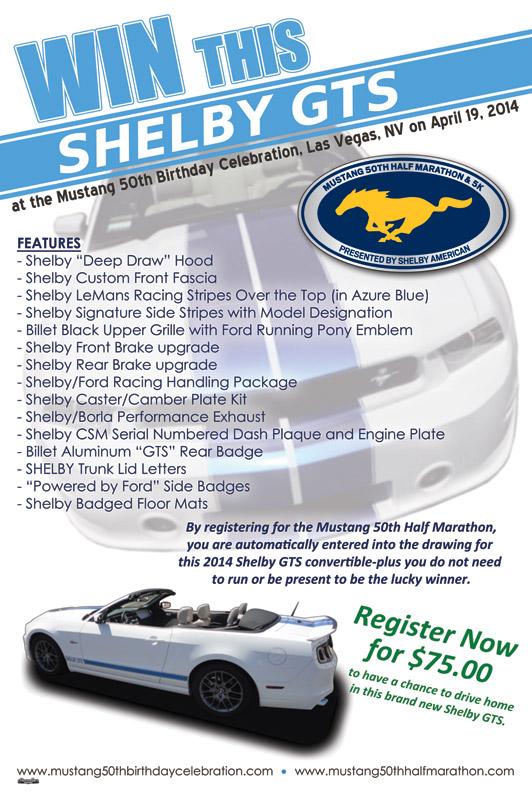 Official Statement From Mustang 50th Marathon Website
Join in a one time only can't miss event! Only in Vegas can all Half Marathon registered participants have a chance to win a custom convertible Shelby Mustang. Participants will be given the ultimate experience of running on the Las Vegas Motor Speedway oval track, inner road course and Drag Strip. These areas are the same ones that NASCAR and the Indy Racing league race on. Participants will also be treated to spectacular views of the mountains and Nellis Air Force Base. Don't miss out on a one time only event and your odds of winning the Shelby Mustang are better than 1 in15,000.** You don't have to win the race to win the car, all you have to do is register for the Half Marathon. **Only registrants who sign up for the Half Marathon and are 18 years of age or older will be entered to win the car.

Mustang Club Of America Mustang 50th Anniversary Website
---