The Mustang 50th Anniversary is quickly approaching. This once in a lifetime event will take place in Charlotte, NC and in Las Vegas, NV. So mark your calendars! The week of April 17th, 2014, will be the largest Mustang birthday celebration ever! You can count on a wide variety of clubs and organizations hosting cruises and drives to both locations. If you want to take part in one of the largest cruises, you have to look into Mustangs Across America (MAA) 50th Anniversary Drive.
The MAA 50th Anniversary Cruise already has 300 Pony Cars registered to make the epic drive from Los Angeles, CA, all the way to Charlotte, NC. If their previous anniversary cruises are any inclination of how big this drive will be, the number of registered cars will surely grow as the Mustang's birthday approaches. This cruise will depart on April 10th, 2014 from Los Angeles and will make stops in Arizona, New Mexico, Texas (twice), Mississippi and Georgia in route to North Carolina.
"Mustangs Across America has always been the 'Drive Of A Lifetime'. We are proud to continue to carry that mantle. This event is the big one for the 50th and our plans will reflect the moment in history as we pull out all the stops."

Sam Haymart MustangsAcrossAmerica.com
The MAA Drive is open to all Mustangs from 1964 ½ to present. Each stop will have plenty of sightseeing and places to visit. You can choose to travel at your own pace and do even more sight-seeing at each stop. If staying with the crowd is more of your thing, you can follow the Late Model Restoration sponsored MAA GT Pace Car all the way to Charlotte, NC. There are also discounted hotel room rates available to those on the drive. With registration you will get a package of keepsake items to help you with your drive and to put away in your Mustang scrapbook.
Mustangs Across America 50th Anniversary Drive Schedule:
Day 1 – April 10, 2014: Los Angeles, CA to Phoenix, AZ
Day 2 – April 11, 2014: Phoenix, AZ to Las Cruces, NM
Day 3 – April 12, 2014: Las Cruces, NM to Midland, TX
Day 4 – April 13, 2014: Midland, TX to Dallas, TX
Day 5 – April 14, 2014: Dallas, TX to Jackson, MS
Day 6 – April 15, 2014: Jackson, MS to Atlanta, GA
Day 7 – April 16, 2014: Atlanta, GA to Charlotte, NC
UPDATE 11/1/2013: MAA Pace Gets Some Resto!
Watch the video above to see the latest restoration and updates that were done to the Mustangs Across America Pace Car. It got a professional wrap that features the American flag along with some restoration parts from Late Model Restoration. Be sure to stay tuned as we will bring you all the latest updates for the Mustang 50th Anniversary!!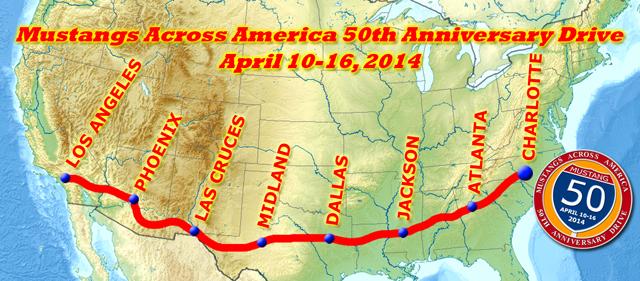 For More Information On This Cruise Click The Following Link
---