Is it time to upgrade the exterior of your New Edge Mustang? If you are looking to add a 2003-04 Cobra front bumper or a new cowl hood to your Stang, you may need to know your paint code before having it painted. We often get asked what color is my Mustang or where can I find my paint code.
This is much easier than you think! You can find your paint code on the vehicle identification sticker located inside your driver's door (see picture below). The paint code for your New Edge Mustang is located in the bottom left hand side of the manufacturer ID sticker. It is labeled "EXT PNT".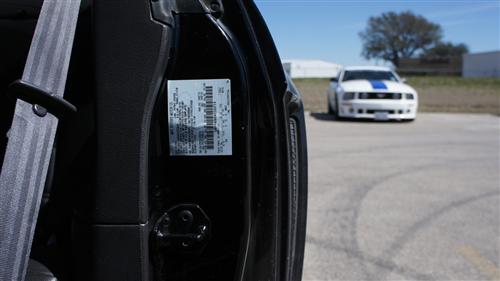 Once you have the paint code you can use the simple chart below to find the official Ford paint name for your paint code. Hopefully this will help you get your exterior restoration project underway. Be sure to leave a comment below and share some pictures of your New Edge Mustang on our social media sites! Use #LatemodelResto to help us find and share your pictures!!
B7 - Zinc Yellow
BP - Sunburst Gold
BZ - Chrome Yellow
CX - Dark Shadow Gray
CY - Competition Orange
D3 - Torch Red
D6 - Screaming Yellow
E8 - Rio Red
E9 - Laser Red
ES - Performance Red
FU - Dark Green Satin
FX - Crimson Red (40th Anniversary Edition)
G2 - Redfire Pearl Metallic
G6 - Mystichrome Metallic (Terminator Cobra Only)
K6 - Atlantic Blue
K7 - Bright Atlantic Blue
L2 - True Blue
L5 - Azure Blue (Mach 1 only)
PY - Highland Green (Bullitt only)
SN - Sonic Blue
SU - Amazon Green
SW - Electric Green
TK - Mineral Gray
TL - Satin Silver
UA - Black
YN - Silver
Z1 - Oxford White
ZR - Crystal White
---