There nothing quite like the thrill and excitement of adding a supercharger kit to your Ford Mustang. The boost in horsepower is significant and the supercharger whine is intoxicating. While having all the new found power on tap is amazing, you might be losing some potential horsepower due to belt slippage.
You might be asking, what is supercharger belt slippage? To make a very technical long story short, your blower is powered or spun via a belt that is connected to the crankshaft. Often times at high RPM ranges or during hard launches the belt that powers your blower will slip along the supercharger pulley. When this occurs you lose horsepower and see decreases in boost (PSI).

How Can You Eliminate or Reduce Supercharger Belt Slip?
Easy! Get back that lost power and boost by installing a Mosaleen Mustang idler pulley kit. This idler pulley kit mounts directly to your engine and accessory drive system. The Mosaleen kit adds extra tension on the belt to help keep it firmly connected to the supercharger pulley. It is this tension combined with more surface area of the pulley making contact with the belt that helps eliminate and/or reduce belt slippage.
The Mosaleen Idler Pulley Kits are a direct bolt on installation and include all needed hardware to complete the installation in your own driveway. This install can be completed with simple hand tools – no cutting or drilling! Some applications may require shorter belts depending on supercharger pulley combinations. These kits are designed to work with the Ford Racing Whipple Supercharger kits and the Roush Performance Supercharger kits on all 2011-14 5.0 Mustangs as well as Saleen supercharger kits for 05-09 4.6L 3V Mustangs. Each kit includes:
1 CNC aluminum anodized pulley
1 aluminum spacer
2 8mm bolts with 1 washer and 1 lock washer
1 bracket
1 spacer
1 10mm bolts
Click on the Mosaleen Idler Pulley Kit to fit your system below!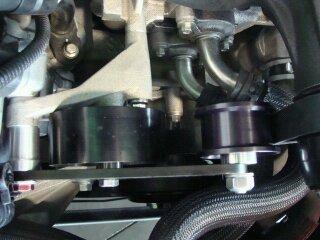 ---