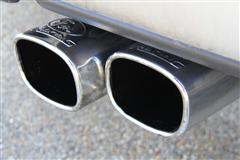 There is no denying that the 2011-14 Ford F-150 SVT Raptor is one of the 'baddest' trucks on the road. These factory lifted off-road capable trucks are flying off the showroom floors faster than Ford can build them. Our Raptor features the full four door design and monstrous 6.2L V8 that puts out 411hp at 5500 RPM and 434 ft lbs torque at 4500 RPM. While these trucks feature a mod list a mile long from the factory, there is still a lot of room for improvement.
Being gearheads we figured we would start by improving the exhaust system on our SVT Raptor. For this we turned to Ford Racing and purchased their 2011-2014 F-150 SVT RAPTOR 6.2L CAT-BACK TOURING EXHAUST SYSTEM (M-5200-F15R145C). The Ford Racing M-5200-F15R145C is designed for the 145 inch wheelbase SVT Raptors and features a high quality T-304 stainless steel construction. The performance mufflers and 4 inch exhaust tips feature a stamped Ford Racing logo to further add to the styling. The performance mufflers are designed to give you an aggressive sound all while still being 50 state legal!
Check out the pictures and let us know what you think!


---