Photo Courtesy of Muscle Mustangs and Fast Fords Magazine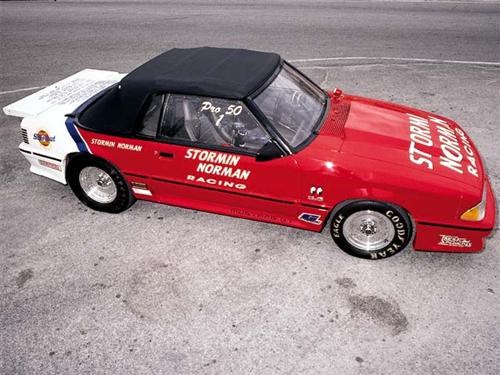 Stormin' Norman Gray was one of the pioneers of Fox Mustang drag racing. He and his red, white, and blue Fox Mustang convertible were a fixture in the foundation of both the Fun Ford Weekend event series as well as the PRO 5.0 racing class. Not to mention his own contribution of the Stormin' Norman Invitational races.
His Roush built car, driven by Steve Grebeck, allowed them the honor of being the first PRO 5.0 race program in the 10 second zone. They only got quicker from there. This may not seem noteworthy by todays standard, but for the late 80s and early 90s, this kind of Mustang performance was unheard of. Not to mention expensive. It has been rumored that there was over $100,000 invested in the Stormin Norman Racing program circa 1991.
June 2nd, 2013 closed out the last chapter of the book of life for Stormin' Norman Gray, at a far to young age of 75. Not only was he highly regarded in the Mustang community, he was a loving husband, father, son, and a true inspiration to any who crossed his path. He will be fondly remembered by all.


Matthew 11:28 "Come to Me, all who are weary and heavy-laden, and I will give you rest."
---