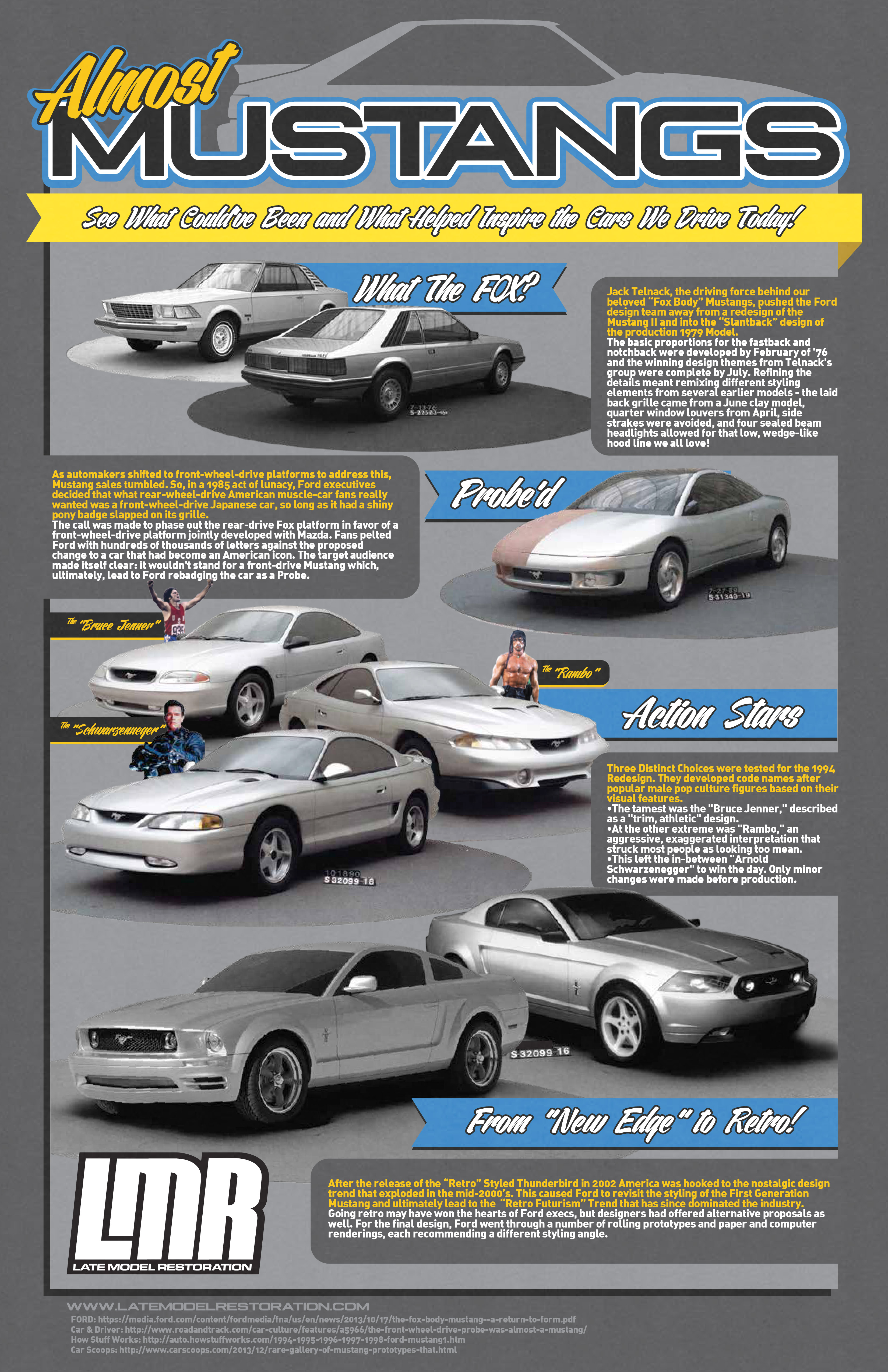 Mustang Prototypes
When the designers at Ford Motor Company look into designing a new Mustang, there are usually a lot of prototypes that don't make the cut. Keeping the iconic Mustang traits, body lines, sporty looks, while keeping everything aerodynamic can be a daunting task. Luckily, Ford nails it every time. Let's take a look at some Mustang prototypes over the past few decades.
What The Fox?
Jack Telnack, the driving force behind our beloved Fox Body Mustangs, pushed the Ford design team away from a redesign of the Mustang II and into the "slantback" design of the production 1979 model. The basic proportions for the fastback and notchback were developed by February of '76 and the winning design themes from Telnack's group were complete by July. Refining the details meant remixing different styling elements from several earlier models. The laid back grille came from a June clay model, quarter window lovers from April, side strakes were avoided, and four sealed beam headlights allowed for that low, wedge-like hood line we all love!
Probe'd
As automakers shifted to front wheel drive platforms, Mustang sales tumbled. So, in a 1985 act of lunacy, Ford executives decided that what rear-wheel-drive American muscle-car fans really wanted was a front-wheel-drive Japanese car, as long as it had a shiny pony badge slapped on it's grille. The call was made to phase out the rear-drive Fox platform in favor of a front-wheel-drive platform jointly developed with Mazda. Fans pelted Ford with hundreds of thousands of letters against the proposed change to a car that had become an American Icon. The target audience made itself clear; it wouldn't stand for a FWD Mustang, which ultimately lead to Ford rebadging the car as a Ford Probe.
Action Stars
Three distinct choices were tested for the 1994 redesign. They developed code names after popular male pop culture figures based on their visual features.
The tamest was the "Bruce Jenner" described as a "trim, athletic" design.
At the other extreme was "Rambo", an aggressive, exaggerated interpretation that struck most people as looking too mean.
This left the in-between "Arnold Schwarzenegger" to win the day. Only minor changes were made before production.
From "New Edge" To Retro!
After the release of the "Retro" style Thunderbird in 2002, America was hooked to the nostalgic design trend that exploded in the mid-2000's. This caused Ford to revisit the styling of the First Generation Mustang and ultimately lead to the "Retro Futurism": trend that has since dominated the industry. Going retro may have won the hearts of Ford execs, but designers had offered alternative proposals as well. For the final design, Ford went through a number of rolling prototypes and paper and computer renderings, each recommending a different styling angle.
---