LMR's SVE Fox Body Disc Brake Conversion Kit for 94-04 SN95 GT brakes are perfect as a foundational kit for SN95 5-Lug Disc Brake Conversion, helps convert drum brakes to disc, and this base kit lets you pick desired calipers, rotors, and much more! Below we will discuss why you should convert to 5 lug disc brakes and how the GT Brake Conversion offers a smaller rotor diameter that is better suited for 15" drag wheels.
Also, please be aware that depending on if you use 94-98 front calipers or 99-04 PBR-style front calipers will determine if some drag wheel combinations might still need clearance to work.
---
Why Convert To 5 Lug Disc Brakes?
Converting to disc replaces weak 4-lug factory drum brakes.
Increased amount of wheel options offered in a 5 lug over your standard 4 lug.
Better safety features due to increased stopping power.

For a more in-depth look on this check out our Fox Body 5 Lug Conversion Guide.
Why Convert To GT Brakes Over Cobra Brakes?
Selecting GT style brakes allows customers that drag race, the ability to still install 15" wheels. This is due to the rotor diameter being smaller than the Cobra version.
GT brakes save money over Cobra version.
The rear disc caliper brackets properly locate the 10.5" rear brake rotors and GT calipers you pick up later in your build progress.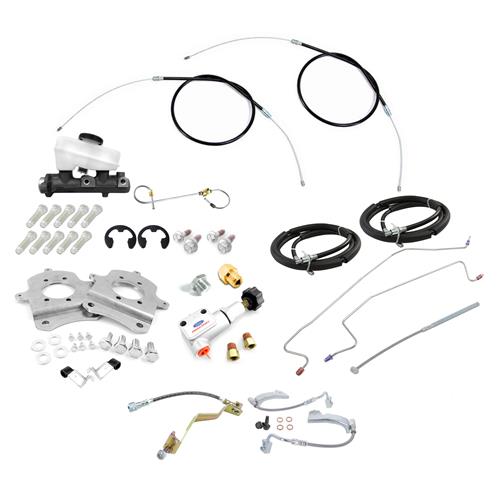 ---
After you buy this disc conversion kit, there are many more steps involved to complete your 5 lug disc set up such as choosing your spindles, axles, brake calipers, brake rotors, and brake hoses. Check our variety of offerings for each step of the conversion process.
---