Looking for the best exhaust kit for your Mustang Ecoboost? At Late Model Restoration, we understand Mustang Ecoboost owners want to upgrade their vehicle's sound and performance with the right exhaust kit. That's why we've compiled a list of the best-sounding, high-quality, performance exhaust kits with the best fitment available to get that quiet stock exhaust off your Mustang. Paired with more mods like an intercooler, resonator delete, air intake, and tune; your Ecoboost Mustang will feel like a Shelby GT500 and look like a Mustang GT!
---
SVE Mustang Ecoboost Exhaust

The SVE axle back is a great way to improve the sound of your Mustang without spending to much of your hard-earned money. Not only is the SVE exhaust system designed to deliver an aggressive muscle car exhaust note that will turn heads, but it also delivers improved performance. The SVE exhaust system is designed to reduce back pressure and improve exhaust flow, which can lead to a noticeable increase in horsepower and torque. With the SVE Axle-Back Exhaust, you'll experience better throttle response and acceleration to get the most out of your Mustang.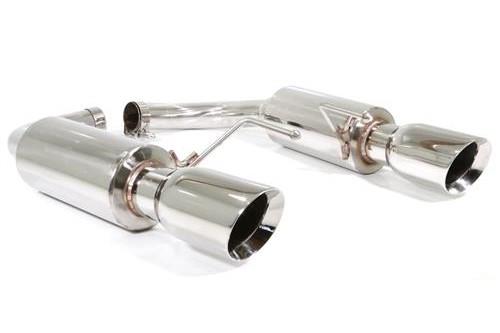 ---
MBRP Mustang Ecoboost Exhaust Kits
MBRP has made its name for providing high-quality exhaust that is less expensive than its competitors. They have many options for cat backs, axle backs, black tips, carbon fiber tips, polished tips, and material construction.
Their Ecoboost cat back systems include a resonator delete y pipe that connects to the factory or aftermarket turbo downpipe and finishes with a black or polished set of straight-through mufflers. These cutbacks provide a very aggressive sound for Ecoboost Mustangs looking for the meanest-sounding Mustang on the block!
---
Roush Mustang Ecoboost Exhaust Kits
Roush is a top-tier brand when it comes to Mustang exhaust. The Roush axle back exhaust kit features a straight-through muffler design that allows for a more aggressive exhaust note without creating an excessive interior drone and a stylist 4" polished tip. The muffler is also constructed with corrosion-resistant 304 stainless steel to ensure long-lasting durability.


Overall, the Roush axle back exhaust kit is a great upgrade for the Ecoboost Mustang owner who wants to improve their car's performance and sound with a bolt-on mandrel bent stainless steel axle back.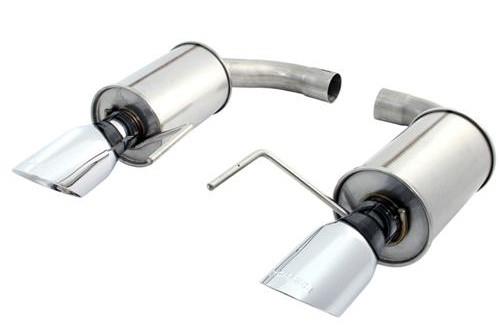 ---
Borla Mustang Ecoboost Exhaust Kits
Borla has long since been a household name in the Mustang community. They provide premium exhaust systems, arguably the best-sounding exhaust for your Mustang. The Borla Atak provides an aggressive exhaust note by removing the center resonator and providing a straight-through performance muffler. This means your Ecoboost Mustang can eliminate power-robbing back pressure. If you are looking for one of the best exhausts for your Ecoboost Mustang, look no further!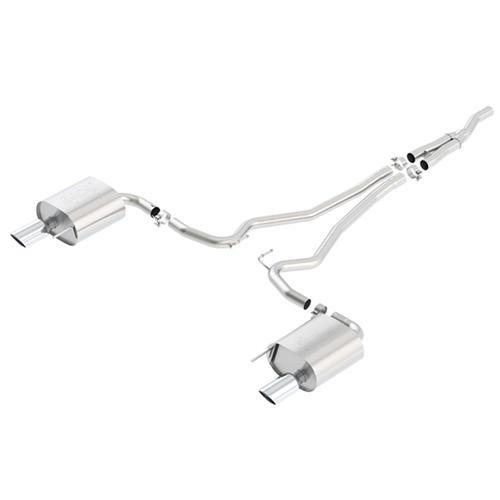 ---
Magnaflow Mustang Ecoboost Exhaust Kits
Magnaflow is another household name in the Mustang community. They have been providing premium exhaust for many years. The Mustang Ecoboost cat back is no exception. Magnaflow is known for providing an aggressive tone without being the loudest on the block. The Magnaflow exhaust is great if you want to add tone without creating an extremely droney interior. Improved exhaust flow increases horsepower and decreases backpressure for faster turbo response!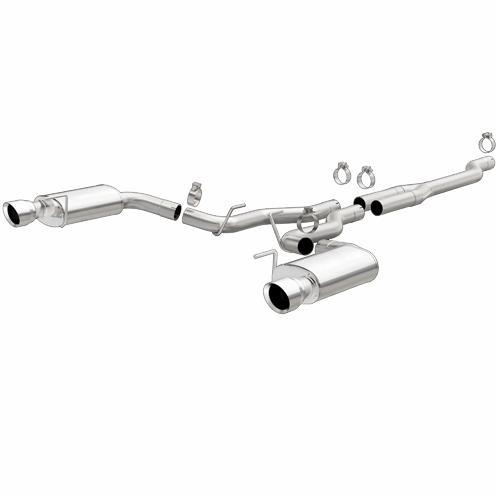 ---
Frequently Asked Questions

What are the benefits of upgrading my Ford Mustang EcoBoost exhaust?
Upgrading your Ford Mustang EcoBoost exhaust with an aftermarket setup can provide several benefits, such as:


Increased horsepower and torque: Upgrading your exhaust system can increase the flow of exhaust gases, which can increase horsepower and torque. This is especially true in the Ecoboost engines, where increased back pressure can decrease turbo performance. This can result in better acceleration and overall performance.
Improved fuel efficiency: A more efficient exhaust system can improve your car's fuel economy improving exhaust flow and reducing back pressure on the engine.
Aggressive sound: An upgraded exhaust system can also give your car a more aggressive deep tone and sporty-sounding exhaust note, which can add to the driving experience. Keep in mind to check local, state, and federal noise laws to prevent breaking the law where you live!
Better appearance: Upgrading your exhaust system can also improve your car's appearance, especially if you opt for a more stylish or custom exhaust tip than the factory exhaust.
Factory Warranty: Most of the time, cat back and axle back exhaust systems do not void Ford's factory warranty. This means you do not have to worry about taking your car into the dealership with a cat back or axle back exhaust system.
Overall, upgrading your Ford Mustang EcoBoost exhaust can be a great way to improve your car's performance, fuel efficiency, sound, and appearance. However, it's important to make sure that any upgrades you make are compatible with your car's engine and won't cause any issues with emissions or other regulations.


How much should I expect to pay for a quality Mustang EcoBoost exhaust system?
Prices of exhaust systems can vary widely depending on the construction material, brands, type of system, and options the car had when it was built by Ford. For example, down pipes with catalytic converters will be more expensive than down pipes without cats. Also, an aluminized steel exhaust system will be cheaper than 304 stainless steel. Overall you will be spending roughly $500-$2000 for a good exhaust system.


Should I get an axle-back exhaust or cat-back exhaust system kit for my Ecoboost?
Understanding the difference between the two types of systems is key to knowing which is best for your Mustang. The main difference between the two is that the axle-back only replaces the muffler and tips, while the cat-back replaces the exhaust system from the catalytic converter back.
The cat-back is a more comprehensive upgrade, which may provide more performance benefits, including increased horsepower and torque. However, it is generally more expensive than the axle-back.
An axle-back exhaust kit is a good option if you are on a budget and want a simple upgrade to increase the sound. But if you're looking for a more significant performance boost, the cat-back exhaust kit is the better choice.
Remember to keep in mind that Mustangs equipped with factory active exhaust may not be compatible with all cat back and axle back exhaust systems.
---