PRODUCT RECALL
RECALL DATE: October 2, 2017
Performance Tire LLC, dba Wheel Replicas has decided to voluntarily recall certain "Downforce DF5" model wheels. The official recall can be found here -
DF5 Wheel Recall
.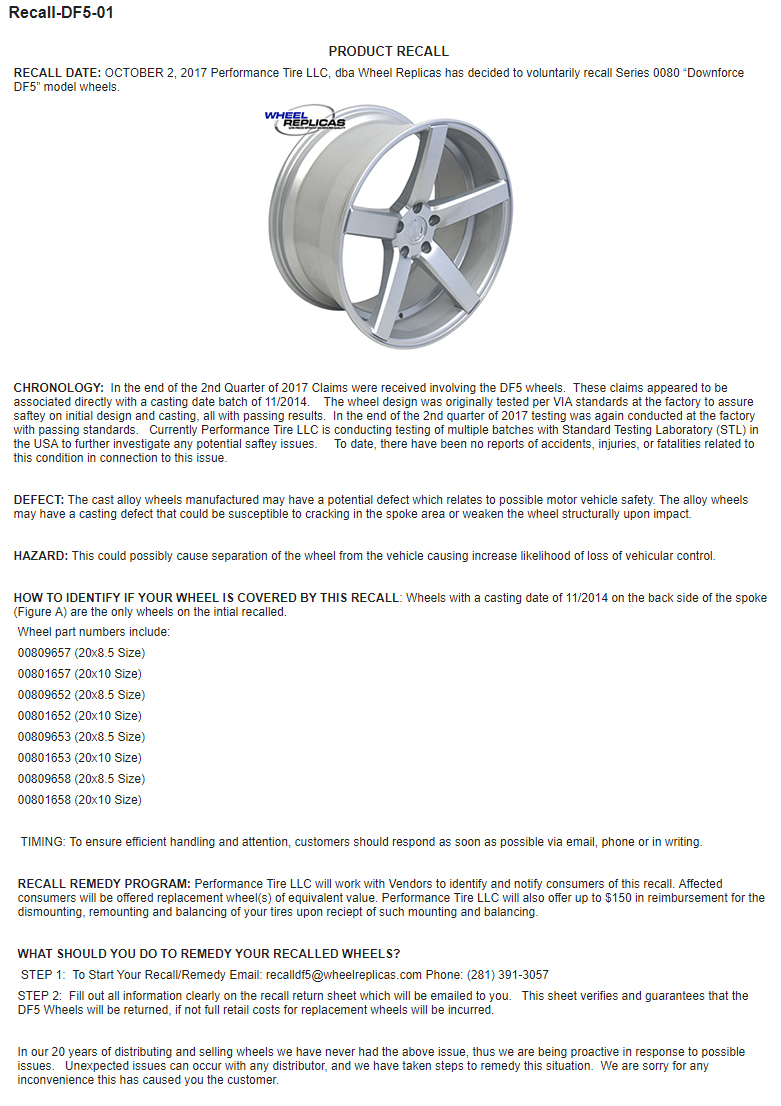 DEFECT:
The cast alloy wheels manufactured may have a potential defect which relates to possible motor vehicle safety. The alloy wheels may have a casting defect that could be susceptible to cracking in the spoke area or weaken the wheel structurally upon impact.
HAZARD:
This could possibly cause separation of the wheel from the vehicle causing loss of vehicular control. To date, there have been no reports of accidents, injuries, or fatalities related to this condition, and only minor property damage (i.e., damage to the wheel end and adjacent components) has been reported in connection to this issue.
HOW TO IDENTIFY IF YOUR WHEEL IS COVERED BY THIS RECALL:
Wheels with a casting date of 11/2014 on the back side of the spoke (Figure A) are the only wheels being recalled.
Wheel part numbers include:
LRS-00809657 (20x8.5 Size)
LRS-00801657 (20x10 Size)
LRS-00809652 (20x8.5 Size)
LRS-00801652 (20x10 Size)
LRS-00809653 (20x8.5 Size)
LRS-00801653 (20x10 Size)
LRS-00809658 (20x8.5 Size)
LRS-00801658 (20x10 Size)
TIMING:
To ensure efficient handling and attention, customers should respond no later than 12/31/2017 via email, phone or in writing.
RECALL REMEDY PROGRAM:
Performance Tire LLC will work with LateModel Restoration Supply to identify and notify consumers of this recall. Affected Late Model Restoration consumers will be offered replacement wheel(s) or wheel(s) of equivalent value if purchased from LMR.com. If purchased from WheelReplicas.com, you will need to email recalldf5@wheelreplicas.com. Performance Tire LLC will also offer up to $150 in reimbursement for the dismounting, remounting and balancing of your tires. WHAT SHOULD YOU DO TO REMEDY YOUR RECALLED WHEELS?
STEP 1:
Remove Your DF5 Wheels To Identify Your Casting Numbers
Be sure to take pictures for STEP 2
Cleaning your wheel with water and dish soap makes it easier to read your casting numbers

STEP 2: Contact LateModel Restoration Supply To Start Your Recall/Remedy
Email: DF5recall@lmr.com
Phone: (254) 296-6500
Please include pictures of each wheel's casting numbers
If you are having any complications sending the pictures via email, please be sure to communicate this in the initial email or phone call.
LateModel Restoration Supply will start the process of sending replacement wheels and return labels
STEP 3:
Return Your Recalled Wheels Along With Your Proof Of Mounting/Balancing
Once you have your new wheels installed, you can use the boxes and return labels to send back the recall wheels to Performance Tire LLC
Be sure to include your receipt/proof of purchase for the mounting and balancing
STEP 4:
Performance Tire LLC Will Mail You A Check To Cover Mounting & Balancing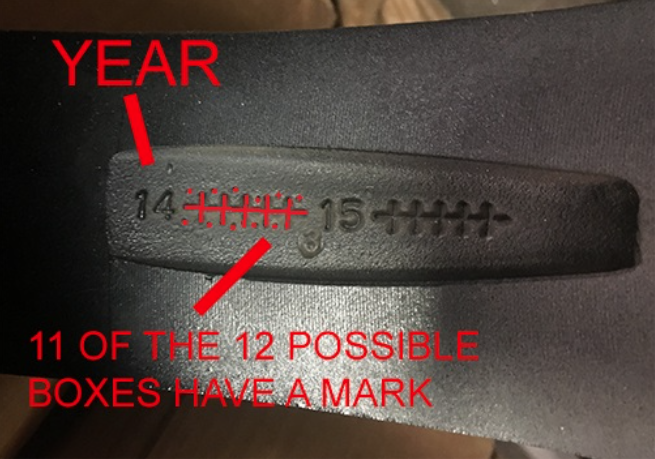 Late Model Restoration is aiding Performance Tire LLC in this recall to ensure that our customers are completely satisfied with their recalled wheels and replacement wheels.
---