A bad water pump can be one of the culprits if your Fox Body Mustang is overheating. We like to warn customers to check their whole cooling system before jumping to the conclusion of a failed water pump as the sole reason for your Mustang overheating. The factory water pump found on the 5.0L Mustang did prove to be very reliable and there are plenty of these that have shown to put well over 100K miles on them with little or no issues. Please read over the following article if you are experiencing overheating issues in your Mustang before replacing your water pump: FOX BODY MUSTANG COOLING ISSUES, PROBLEMS & SOLUTIONS.
If you have determined that the water pump does indeed need to be replaced or you simply want to replace it because it has some serious miles on it, watch the video above for some tips on installing a new water pump in your Fox Body. Also, below we will cover some of the most common questions and added accessories you should replace while doing this job.
How do I know if my Mustang water pump is bad?
If you are hearing a grinding or knocking sound coming from your Mustang water pump, you need to immediately replace your water pump. If you have excessive play in your water pump pulley with the belt removed this can also be a sign of impending failure is about to happen. Also, if you pull the water pump and see any signs of cracks or wear, do not reinstall the water pump as you will not want to have a failure down the road.
Lastly, you can get under your Mustang and use a flashlight to check the weep hole found on factory water pumps. If your water pump is still in good condition, you will not see any coolant coming from this weep hole as the internal seal is still in good condition. If you see any coolant coming from this area, it is time to replace your water pump.
So in short, if your Fox Body Mustang water pump has any of these conditions, you need to replace it.
Grinding/knocking sound coming from it
play/wobble in the pulley/shaft
coolant leaking from the weep hole (see image below)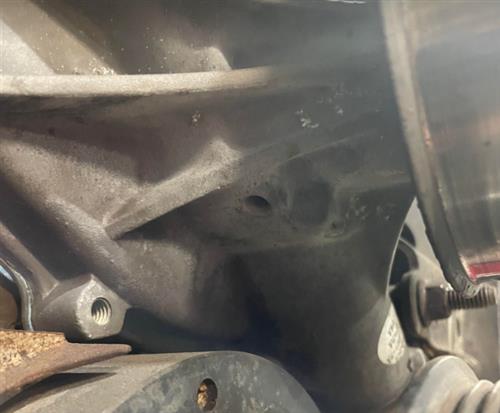 What is the best replacement water pump for a Fox Body Mustang?
As I mentioned earlier, the Ford water pump is a high-quality piece and there are plenty of high-mileage Fox Bodies running around with factory water pumps. The same can be said of high-performance Fox Bodies. There are plenty of heavily modified Mustangs that still use the factory-style water pump.
That leads to a common question we get: Is a high-flow water pump needed for a Fox Body Mustang? A high-flow water pump isn't necessarily needed or required just because you are running a few performance modifications; however, there are some benefits to running one of these high-flow pumps if you have a heavily modified Mustang. For example, the popular Edelbrock Victor Series high volume water pump not only can help you move more coolant but it also is constructed with heavier duty bearings to help it hold up to the stresses of heavily modified Mustangs. This is a great upgrade for a stroked Fox Body Mustang running a belt-driven supercharger.
In the end, you will just need to select a water pump that best fits your build. If you have any questions or need help with this, do not hesitate to reach out to us here: Contact Us Page.
Fox Body Mustang Water Pump Installation Guide
As mentioned above, be sure to watch the video above before starting. Replacing the water pump on your Fox Body Mustang will require you to remove a few other parts to gain full access to the pump. Parts that need to be removed during this installation:
Fan and fan shroud
Fan clutch
water pump bolts
These parts are often times worn out if your water pump needs to be replaced. We highly recommend replacing the fan clutch and water pump bolts. Be sure to inspect the fan shroud and fan before reinstalling them. If you show any signs of damage or cracks, it is time to replace them. This is a great chance to invest in an electric fan as well. One of the most popular electric fan options for 1979-93 Mustangs is the SVT Contour fan upgrade. To read more about this, check out the following tech guide: HOW TO INSTALL CONTOUR ELECTRIC FAN ASSEMBLY ON YOUR 79-93 FOX BODY MUSTANG
We highly recommend using the 5.0Resto water pump timing cover stud and bolt kit when installing a new water pump. These bolts and studs feature ARP hardware that is also coated for corrosion resistance on top of the added strength. These are just good added insurance to help protect against breaking off a stud or bolt in your block at the time of installation.
Be sure to finish off your installation with a good set of gaskets to ensure your water pump doesn't have any leaks down the road.
In closing, we like to tell our customers that replacing your water pump is not a necessity in most cases. If your water pump has failed or showing signs that it needs to be replaced, the video above the advice seen above will help you not only replace your water pump but also ensure you upgrade and restore all of the other components you need to finish your installation.
---