This large rivet gun is perfect for factory rivets on Mustang door handles, window regulators, bumper covers, etc. but will also work great for other vehicles as well as jobs around the house or a workshop. The built-in rivet collection bottle catches spent rivets to keep your work environment clean and safe. This rivet gun comes included with 5 different size nose pieces to work with 1/8", 5/32", 3/32", 3/16", and 1/4" rivets. Just use the included open-end wrench to swap out the nose piece and you are on to the next job. You will also receive 50 general purpose rivets in assorted sizes.
Check out the steps needed to use this rivet gun below!
---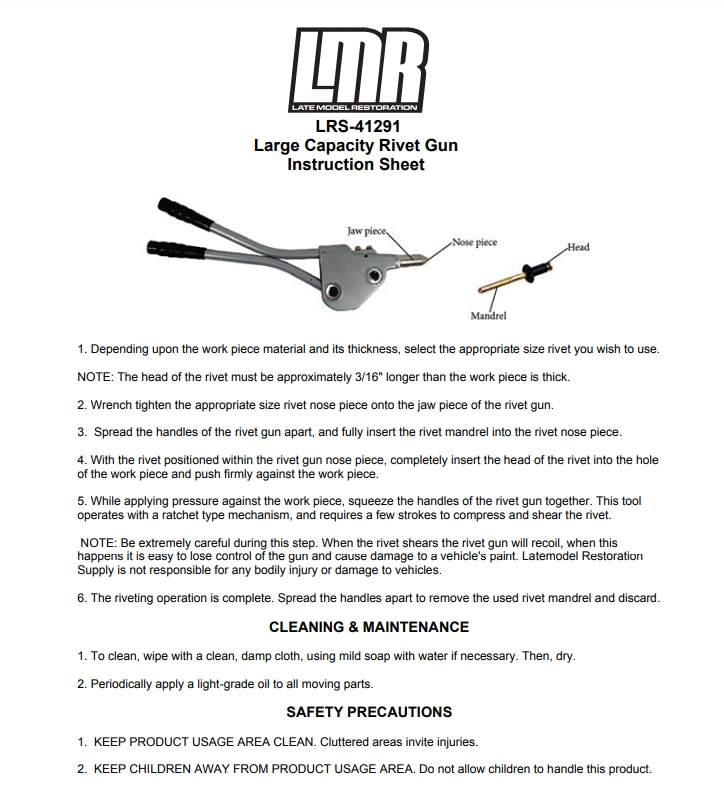 ---
Steps To Use LMR's Large Capacity Rivet Gun
Depending upon the work piece material and its thickness, select the appropriate size rivet you wish to use. NOTE: The head of the rivet must be approximately 3/16" longer than the work piece is thick.
Wrench tighten the appropriate size rivet nose piece onto the jaw piece of the rivet gun.
Spread the handles of the rivet gun apart, and fully insert the rivet mandrel into the rivet nose piece.
With the rivet positioned within the rivet gun nose piece, completely insert the head of the rivet into the hole of the work piece and push firmly against the work piece.
While applying pressure against the work piece, squeeze the handles of the rivet gun together. This tool operates with a ratchet type mechanism and requires a few strokes to compress and shear the rivet. NOTE: Be extremely careful during this step. When the rivet shears the rivet gun will recoil, when this happens it is easy to lose control of the gun and cause damage to a vehicle's paint. Latemodel Restoration Supply is not responsible for any bodily injury or damage to vehicles.
The riveting operation is complete. Spread the handles apart to remove the used rivet mandrel and discard.
Cleaning & Maintenance
To clean, wipe with a clean, damp cloth, using mild soap with water if necessary. Then, dry.
Periodically apply a light-grade oil to all moving parts.
Safety Precautions
KEEP PRODUCT USAGE AREA CLEAN. Cluttered areas invite injuries.
KEEP CHILDREN AWAY FROM PRODUCT USAGE AREA. Do not allow children to handle this product.
DO NOT USE THIS PRODUCT IF UNDER THE INFLUENCE OF DRUGS OR ALCOHOL. Read the warning labels on prescriptions to determine if your judgment or reflexes are impaired while taking drugs. If there is any doubt, do not attempt to use this product.
USE EYE PROTECTION.
CHECK FOR DAMAGED PARTS. Before using this product, carefully check to make sure that it will operate properly and perform its intended function. Check for damaged parts and any other conditions that may affect its operation. Replace or repair damaged parts immediately.
---