An aftermarket 2011-14 Mustang X-pipe or H-pipe is the perfect addition to any GT exhaust system for increased performance and a louder exhaust. These S197 mid pipes come in a variety of options and setups to cater to your specific needs. Late Model Restoration has created this step by step guide to installing an SVE X pipe on your 2011-2014 Mustang. This install can be used to hit the high points of most midpipes, but each manufacturer may have different steps. Remember to always check the included instructions for detailed instructions.
Tools Needed:
Ratchet
Socket Set
Various Extensions
Step 1:
Start by removing your negative battery cable.
Step 2:
Raise the car with either jacks and a jackstand or a lift.
Step 3:
Spray quality penetrating oil on your manifold to midpipe bolts
Step 4:
Starting on the driver side, loosen both nuts with a 15mm deep socket, and do the same for the lower passenger nut.
Step 5:
We had to use a combination of various extensions to break loose the top passenger side bolt.
Step 6:
Once the nuts have been removed, disconnect both 02 sensors
Step 7:
Next, loosen the bolts on the exhaust sleeves on the midpipe with a 15mm deep socket.
Step 8:
Slide back the exhaust sleeve by prying up on the sleeve and tap with a rubber mallet.
Step 9:
With the help of a friend, remove the factory mid pipe from the car.
Step 10:
Remove the factory gaskets and 02 sensors with a 7/8 open end wrench.
Step 11:
Assemble the SVE X pipe and loosely assemble the clamps.
Step 12:
With the included hardware, install the bolts and factory gasket on the exhaust manifold
Step 13:
Grab your friend and position the new mid pipe into place.
Step 14:
Tighten the front bolts where the exhaust manifold meets the new x pipe.
Step 15:
Slide the exhaust sleeves over the new midpipe, tighten down the new sleeves and clamps.
Step 16:
Reinstall and reconnect the 02 sensors.
Step 17:
Reconnect the negative battery cable and you are all done.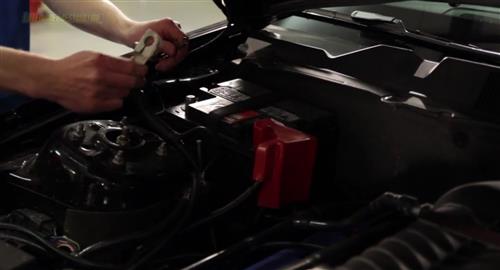 NOTE:
Some off road mid pipes may require a tune. Check with the manufacturer to determine if you need a tune.
---