A Shared Passion
They say couples who mod together, stay together. That is especially true in Justin & Beth's case. These two have shared the passion for Mustangs their whole life and getting married only made that passion stronger. Between the two, they have a total of 16 cars!
Beth remembers seeing the 2015 Mustang for the first time and saying "I have to own an S550, Ford just did a good job on the body lines". They wasted no time in purchasing one - a beautiful Competition Orange 2016 Mustang.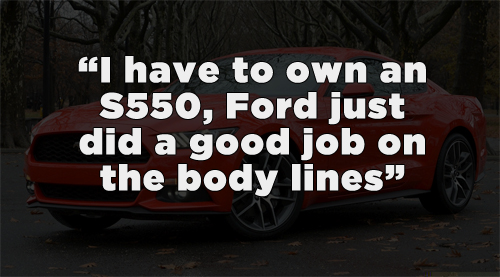 The Mod Bug Bites
Purchased in June of 2016, the S550 nicknamed "Stella", joined her home among a few more Ford powered vehicles in Beth & Justin's fleet. As with previous vehicles (it must be something in car enthusiast's blood) this one wasn't going to stay stock long. Stella was taken for her first road trip to South Carolina for the famous Mustang Week car show. It was here that the first mod was purchased for this S550. Justin surprised Beth with a set of JLT Competition Orange valve covers, engine cover, and oil separator. This brought new life to the Coyote engine bay and was a perfect match to the Competition Orange paint job. Wanting a little something different for the outside, they picked up an aftermarket grille to set it apart from other S550s at future car shows. While they are off to a great start modding this Mustang, something tells us they are far from done!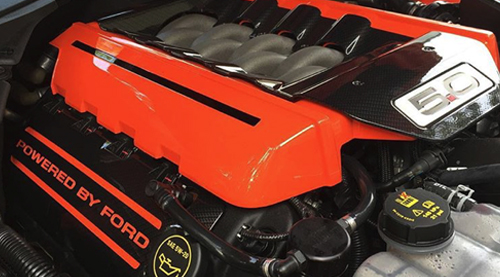 Stella's First Big Mod
When Justin & Beth found out that they were expecting, they were more than excited. A burnout for a gender reveal had always been something Beth has wanted to do, "I knew I wanted to do a burnout for a gender reveal party. It was just so us". The had their ultrasound and only Justin learned the gender of the baby. Once they got home, he got to work finding some colored tires for the burnout. This led him to Highway Max in Australia being the only company they could find who had the color they needed available for purchase. He promptly ordered them and hoping that they would show up in the 10 day window they had before the gender reveal party. To Justin & Beth's delight, the tires showed up in time and were mounted up and ready to go for the party.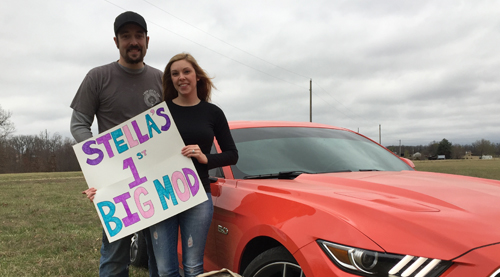 The Big Reveal
The big day was here and Beth was beyond stoked to find out the gender of their baby. The gender reveal party consisted of the happy couple, family, friends, & a few curious neighbors who were just as excited for this original gender reveal. With the line lock set and engine revving, Justin let all 400+ horsepower to the ground revealing a perfect burnout and a huge cloud of pink smoke! The look on Beth's face is priceless when she finds out that they will be having a little girl.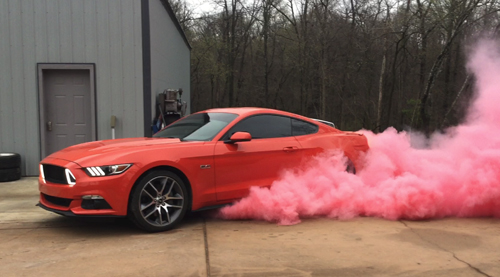 The Gender Reveal Seen Around The World
The video of their gender reveal went viral almost instantly touching the hearts of both car enthusiasts and non car enthusiast. With over 10 million combined views over various pages, it was hard not to have seen this awesome video. Both Justin & Beth were blown away by the amount of people praising them and sharing the video. We here at LMR.com would like to thank Beth & Justin for allowing us to share the video and share their story with us!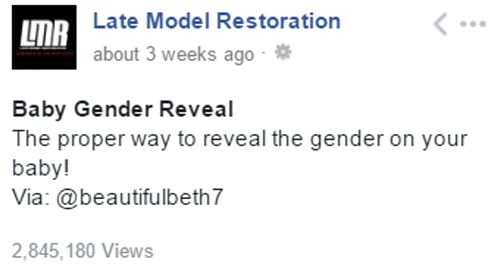 ---