If you find yourself asking "
What is the big deal about the new Shelby GT350 steering wheel?
" then you have come to the right place. In this article we will point out the differences between your stock S550 Mustang's boring steering wheel and the all new, race inspired, GT350 Steering Wheel!
The Basics
The GT350 is no stranger when it comes to the track. Every part of the original S550 platform was changed to make sure the consumer had the best experience possible while ripping up the road course or enjoying a little spirited driving. The steering wheel was not left out of this road course warrior's design. Even though the stock wheel performs just fine, we are mustang enthusiast at heart, we want the best we can get for a driving experience we won't forget!
Side by Side Comparison
Looking at your stock vs the Shleby GT350 steering wheel you can immediately notice the differences.
Some of the features you will notice right off the back will be the flat bottom shape. This paired with the aggressive thumb grips provide excellent control during spirited driving. Shelby also felt the need to add more padding for increased grip in the 10 o'clock and 2 o'clock hand locations.
Another key feature you might notice, which is different from your stock steering wheel, is the honey comb style stitching. Shelby felt it necessary to make performance and looks a major part of this steering wheel's design. We can definitely agree that they did a wonderful job of achieving both!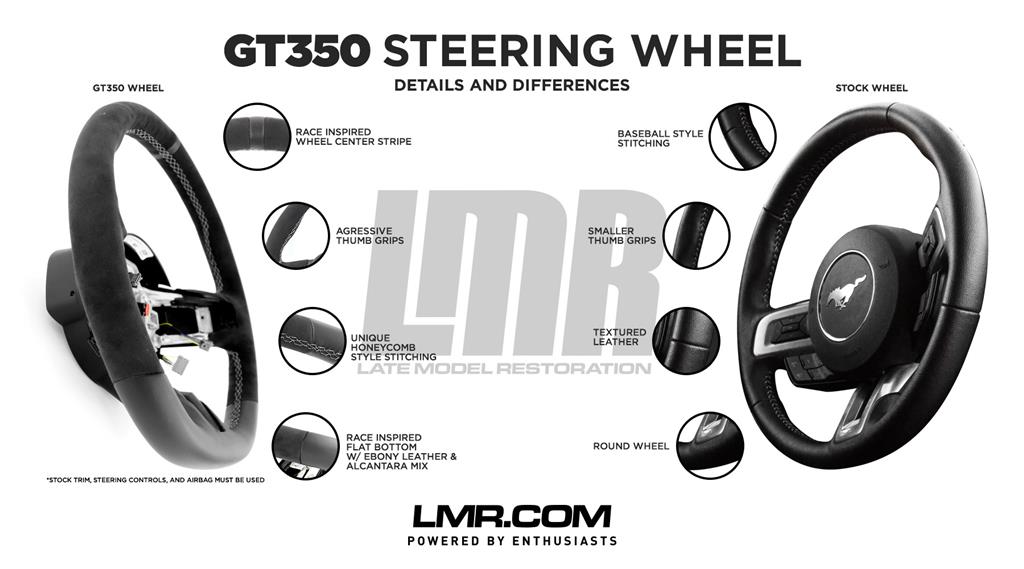 Making the Switch
Ford and Shelby scored a hole-in-one with this swap. All you need to do is remove your old controls, control bezels, air bag, paddle shifters (auto transmission) and horn. Then swap them over to your new GT350 steering wheel. The hard part of wiring it all up was already done at the assembly plant.
Conclusion
We believe this simple swap can improve the interior styling and driver experience drastically. With all these upgrades over the stock texture leather steering wheel, why not make the switch? If you are still asking "What is the big deal about the new GT350 steering wheel?" then take it from the real Mustang enthusiast when we say "The new 2016 GT350 Steering Wheel is the big deal!"
---