Let's face it; The stock exhaust on the 2005-10 GT or Mustang Shelby GT500 is less than impressive. It is too quiet and does not have that throaty, deep rumble that lets everyone know that a Mustang is on the prowl! It's high time you fill those bumper cutouts with something much more attractive, more powerful, and start turning more heads when you hit the street.
The all-new re-designed SVE Axle Back Exhaust Kit for your 2005-10 Mustang GT packs a strong punch and looks great on any S197. With its fully polished stainless steel construction, this kit boasts as much style as it does performance! Featuring 100% T304 stainless steel construction, this SVE system provides a healthy weight reduction over the stock axle backs and even over many popular aftermarket Axle Back systems.
The 2.5" polished mandrel bent tubing flows seamlessly into straight-thru designed mufflers for an exotic, throaty tone, and finishes off with massive 4" polished tips for a much-needed boost to the appearance of your rear end!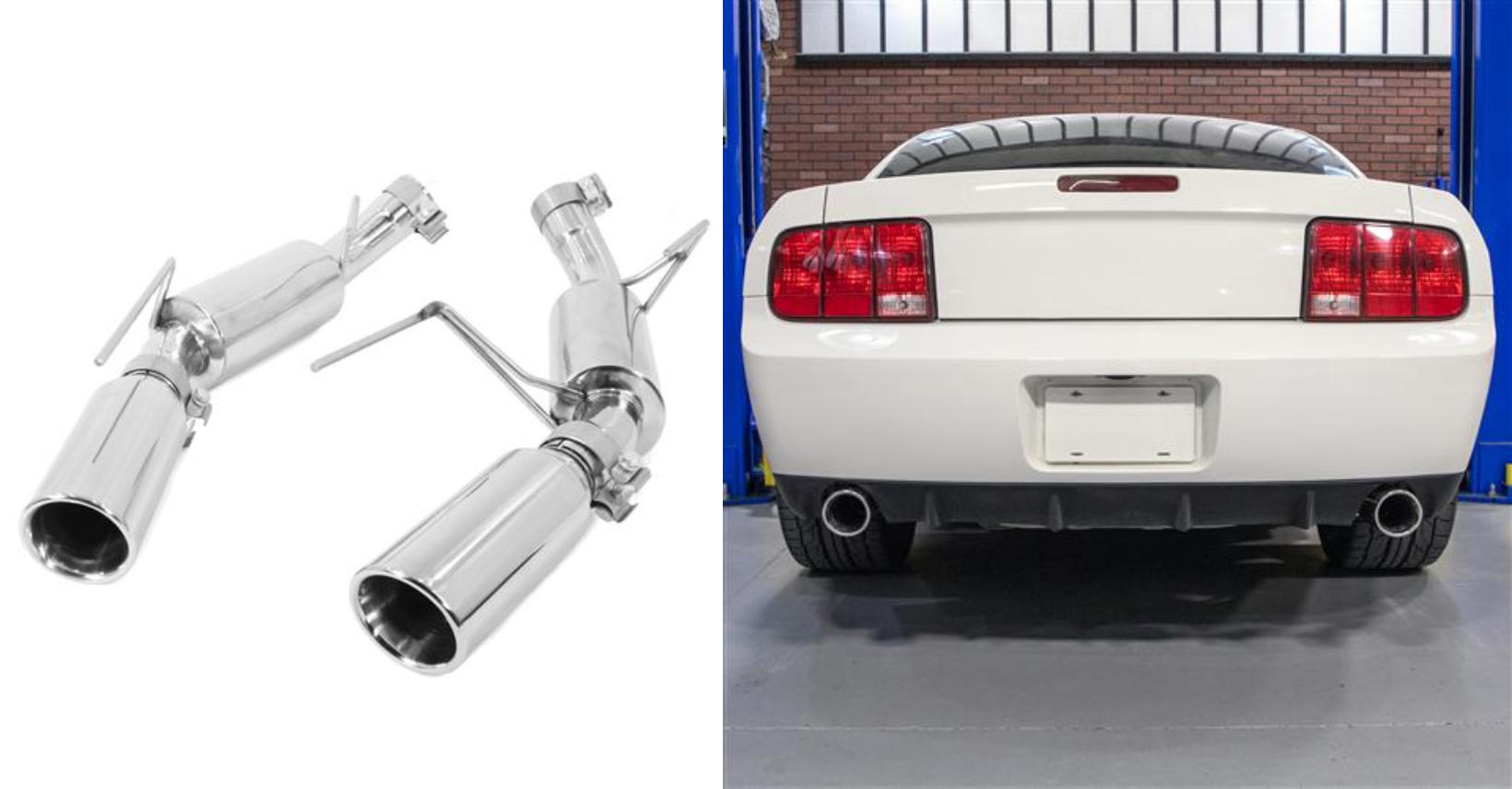 The 2005 Mustang GT exhaust all the way through the 2010 Mustang GT exhaust upgraded with the SVE Axle Back will stand out from the crowd with all of the right tones! Pair these mufflers with a set of Long Tube or Shorty Headers to add even more performance and sound! Do not forget to pick up an X-Pipe to perfectly complement these new exhaust additions that will sing the song that other exhausts will be envious of!
The Mustang Shelby GT500 exhaust system can also benefit from this SVE performance exhaust system! Simply unbolt your stock, quiet Axle Back exhaust, install the SVE mufflers, and your Ford Mustang Shelby will have a sound you can be proud of! The SVE kit will install directly into the factory location with simple hand tools and can be installed in a couple of hours of your time.
Whether upgrading your factory exhaust for the first time or wanting a fresh rumble for your 4.6L or 5.4L, this SVE stainless steel Axle Back exhaust system could be the perfect bolt-on for you this today! Do not spend extra on other brands out there. SVE is a name that you can trust and has the reputation to back it up!
2005-10 Mustang GT/GT500 Axleback Exhaust Features
Increased Performance Over Stock
Improved Exhaust Tone
Saves Weight
100% T304 Stainless Steel
Fully Polished
4" Polished Tips
You will not be disappointed with the quality, sound, and craftsmanship of the SVE Axle Back exhaust! For more exhaust options and all things Mustang, keep it here with the real Mustang enthusiasts, LMR.com!
---