LMR Products Limited Warranty - LMR.com
---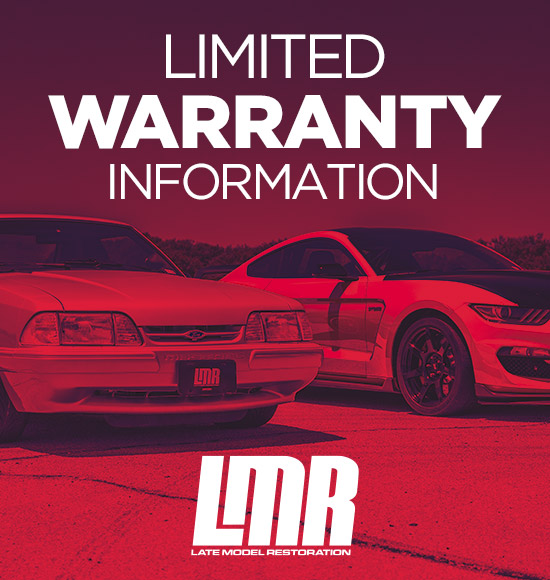 Warranty Contact Info:
If you have a warranty concern or question, please contact us via phone at (254) 296-6500 or via email at productsupport@lmr.com.

LMR Products Limited Warranty
Unless otherwise stated, LMR.com warrants its LMR branded products to be free from defects in materials and workmanship for a period of One Year from the date of purchase as long as they remain installed on the vehicle for which they were originally purchased under the ownership of the original purchaser. Some LMR branded products that are manufactured by other third party suppliers carry extended warranties and must be reviewed by the customer service team for specific details for warranty claims. Any LMR branded product found to be defective shall be repaired or replaced at the sole discretion of LMR.com. This warranty is not transferable and will be voided under the following conditions:


Failure due to abuse, misuse, neglect, alteration, racing or off-road use, or use with incompatible associated parts.
Negligent installation or installation/use in an application not listed.
If LMR.com determines that the product was improperly installed or modified in any way from its original design.
Vehicle collision, severe rust, corrosion, or collateral damage from other failed components.

This warranty applies only to LMR branded products which have been installed in accordance with accepted industry standards by a mechanically competent individual or a recognized service dealer and certified technician. Cost of removal, installation, and incidental or consequential damage are expressly excluded. A warranty claim must be initiated with LMR.com prior to any LMR product return or replacement.

For more information on this Limited Warranty or to initiate a warranty claim, dial 254-296-6500 or email productsupport@lmr.com.