Free Ground Shipping
For regular ground UPS within the 48 contiguous states, we are going to charge you nada. That's right! No handling fees, weight limits, or oversize charges. No hidden jargon you will find out about on the check out page or at the end of your phone order. If we say free shipping then Damn it, its free!
Backordered Items
From time to time parts that you order may be out of stock. You will be notified by email if parts on your order are out of stock. Our standard policy is to ship the items that are in stock and then ship the remainder as they become available. There are rare cases when we will hold the entire order until it is complete. Late Model Restoration will ship all backordered items by UPS ground or priority mail at no additional cost to you!
LMR does not charge your credit card for any item that is out of stock or on backorder until that part is ready for shipment. An effort will be made to contact you when a particular item becomes available for shipment either by email or by phone.
UPS Ground Transit Times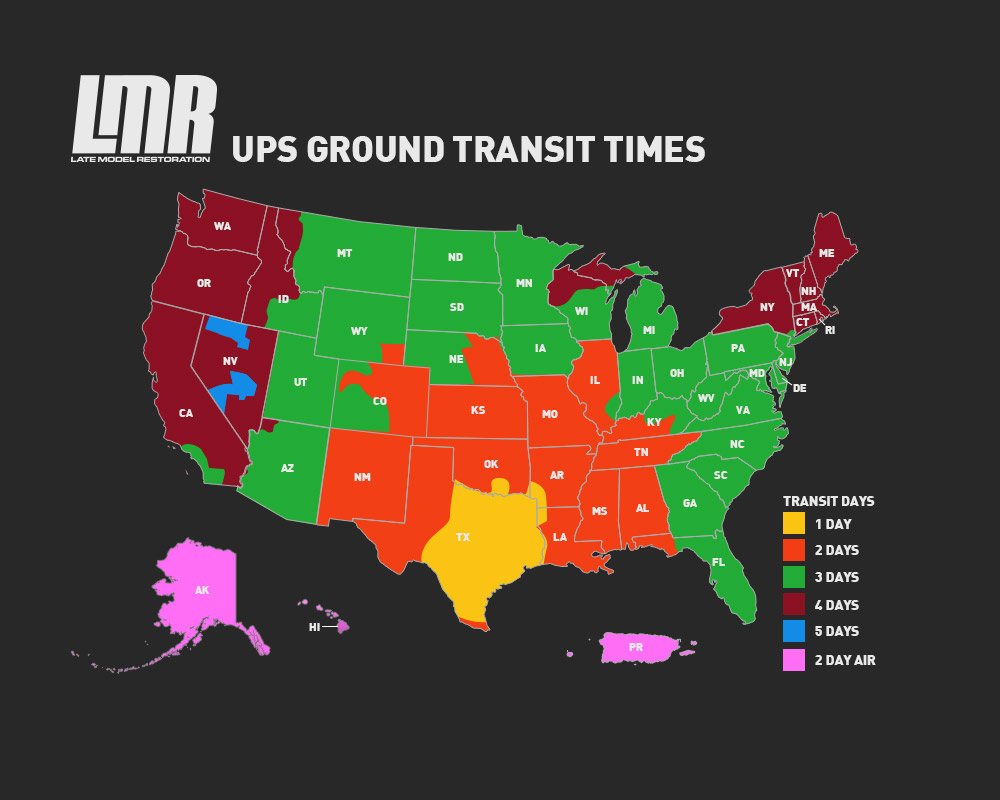 Small Orders (1 lb. or less)
Shipments less than 1lb., may ship Priority or First Class Mail. Orders shipped Priority or First Class Mail are generally received within 2-5 business days. This method also allows an extra delivery day (Saturday) for our customers.
Shipping Process
After your order is placed over the internet it will be reviewed by our sales team. You will be notified, by e-mail, of any discrepancies at this time.
Once that step is complete a pick sheet will print in our warehouse. The orders will be printed out several times throughout the weekday until 3:00PM CST.
The order is then pulled from our shelves, checked, packed and shipped.
Once the order has shipped you will receive your tracking number via email.
Use the Ground Time-in-Transit map listed to determine how long it will take to receive your order once it has been shipped. You may also view this map at www.ups.com/maps. For time in transit from our location to yours enter zip code 76643.
Same Day Shipping
In an effort to better serve our customers, Late Model Restoration now offers same day shipping on most web orders. This service is available to all of our customers at no extra charge. Simply place your web order as usual and wait for your package. Some conditions will apply.
Orders placed on Saturday and Sunday will be shipped the following Monday in most cases.
Same day shipping applies to the following:
Online orders placed between Monday and Friday by 3:00PM CST
Items in stock
Non-truck freight items
UPS Air Shipping
Qualified web orders can be shipped via UPS 2nd Day Air. UPS Next Day Air shipping is no longer available for online orders. If you require UPS Next Day Air shipping you will need to phone in the order.
Free Truck Freight Shipping!
Truck Freight shipping applies to all items too large to ship via UPS. In order to serve you better, we will ship truck orders to either a business or a residential address. Truck Freight items are identified both on our catalog and on the web site. All items shipped Truck Freight are sent FREE of charge.
All truck freight orders need to be checked by the receiver before being signed for. Once the paperwork is signed and given to the driver, the receiver is responsible for all damages to product and Late Model Restoration will not be held liable.
Canadian Shipping Terms
Shipping to Canada has never been easier and cheaper. Canadian customers can simply add items to their cart and checkout like usual. LMR now offers Standard shipping to Canada. When you select the Canadian shipping method (estimated 5-7 business days from date shipped) brokerage fees will be included. Canadian provincial taxes and duties will also be pre-calculated and added to the sales tax field on your order. When you place your order online the amount shown will be the amount you are charged and when your order arrives. No surprise charges!
APO/FPO Shipments
LMR would like to say thanks for your service to our great nation. To show our gratitude for your service, LMR will cover the shipping charges to your APO address. We also want to inform you that depending on your location of deployment, this shipping method can take some time to reach you. Some shipments may take as long as 60 days to reach your location.
International Shipping
Due to increasing freight cost, LMR no longer ships international orders direct. Choose your freight forwarder and set up all info related and we will ship your order to them FREE.