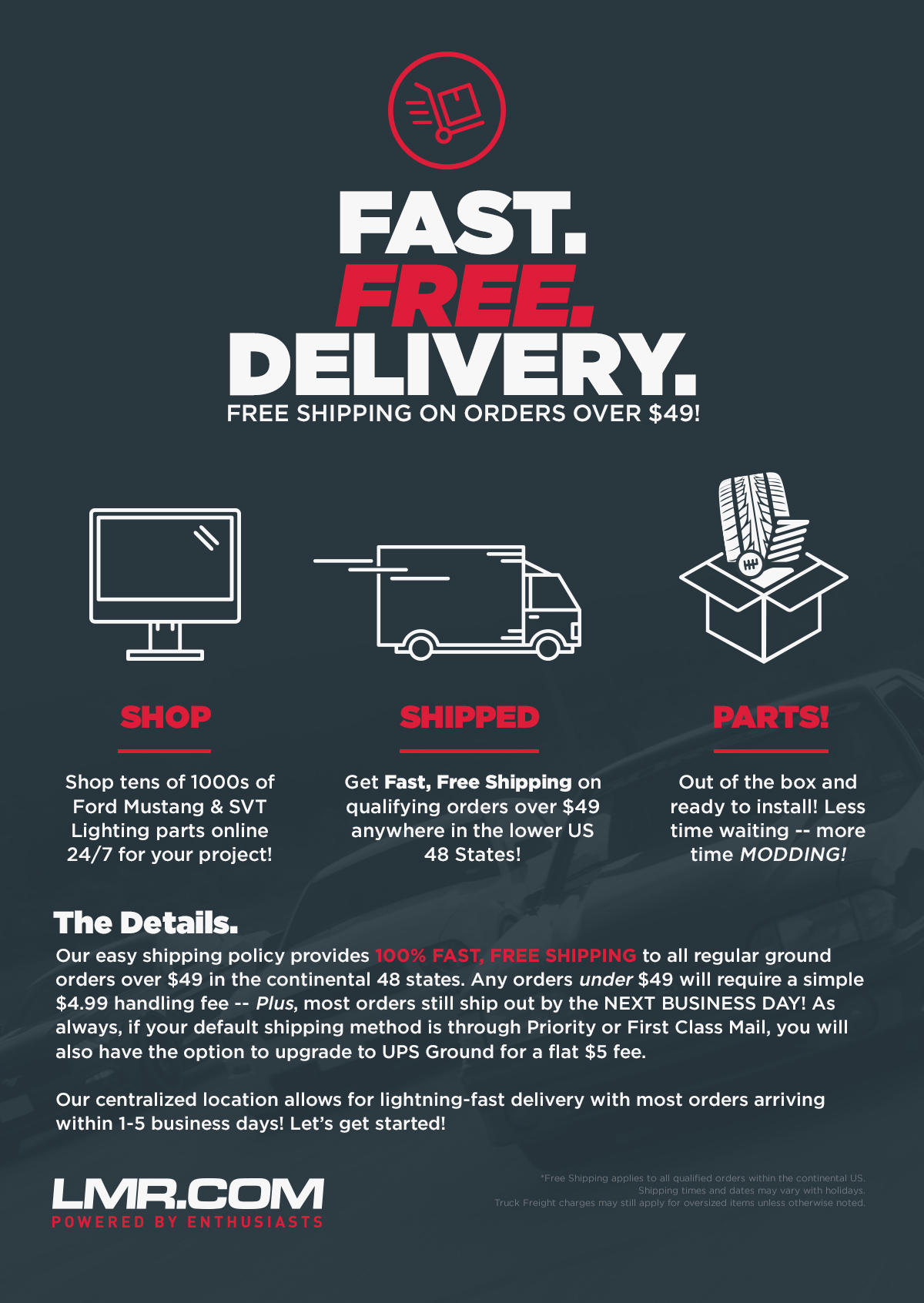 Free Shipping Policy - Orders over $49
LMR offers Fast, Free Shipping to all qualifying orders over $49 within the continental lower 48 states with no additional handling fees, plus most in-stock orders ship out the the next business day from date of placement. Our centralized location allows for lightning fast delivery through UPS Ground with most orders received within 1-5 days. Small shipments less than 1 lb. may be shipped Free with Priority or First Class Mail and are generally received within 2-5 business days. This method does allow an extra delivery day (Saturday) for our customers. You will have the opportunity to upgrade your shipment to UPS Ground for an additional $5 if you prefer.
Shipping Policy - Orders under $49
For orders under $49, there will be a flat $4.99 handling fee assessed, as well the option to upgrade to UPS Ground for $5 if the default shipment method is through Priority or First Class Mail.
Out Of Stock Items
From time to time the parts you're looking for may be out of stock. Our standard policy will not allow you to add these items to your cart, as back ordering is not available. This is in an effort to streamline stock levels and more efficiently supply the demand for fast moving parts & accessories to all of our customers.
Our product pages will alert you to items out of stock where you can setup personal alerts for when these are back on the shelves and ready to ship!
For all other items that are in stock, our standard shipping terms and policies will apply.
UPS Ground Transit Times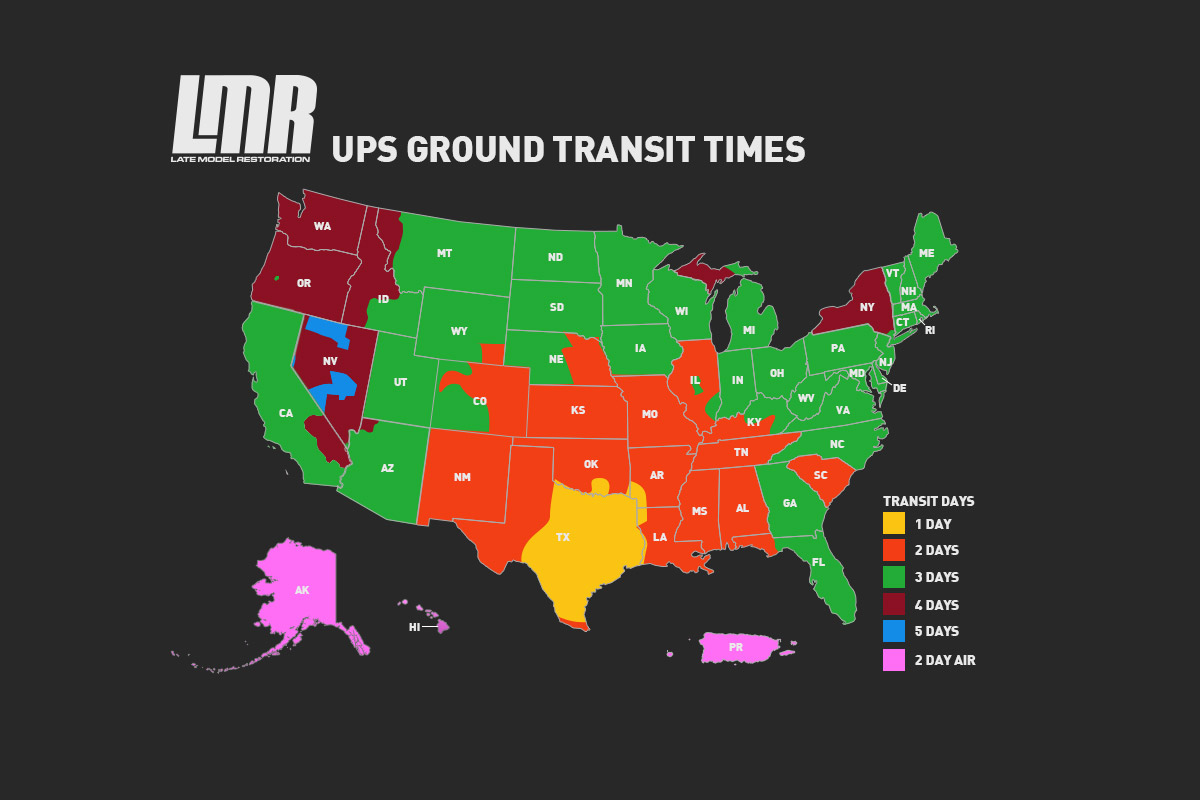 Small Orders (1 lb. or less)
Shipments less than 1lb. may ship Priority or First Class Mail. Orders shipped Priority or First Class Mail are generally received within 2-5 business days. This method also allows an extra delivery day (Saturday) for our customers.
Shipping Process
After your order is placed over the internet, a pick sheet will print in our warehouse. The orders will be printed out several times throughout the weekday.
The order is then pulled from our shelves, checked, packed, and shipped by the following business day for qualifying orders.
Once the order has shipped you will receive your tracking number via email.
Use the Ground Time-in-Transit map listed to determine how long it will take to receive your order once it has been shipped. You may also view this map at www.ups.com/maps. For time in transit from our location to yours enter zip code 76712.
UPS Air Shipping
Qualified web orders can be shipped via UPS Air shipping. Please note there can be some exclusions on products that can not be shipped 2nd or Next Day Air.
Expedited Shipments ( 2nd Day & Next Day Air ) that do not arrive by the end of the day on the scheduled delivery date (due to carrier delays) may be eligible for a refund to reflect the service that was received. Refunds cannot be issued due to delays from unavailability of the recipient, acts of God, acts of public authority, riots, strikes, labor disputes, civil commotions, disruptions in air or ground transportation networks due to weather phenomena or natural disasters, or in the event that an ordered product is out of stock or has limited availability.
Truck Freight Shipments
Truck Freight shipping applies to all items deemed too large to ship via UPS small package. In order to serve you better, we will ship truck orders to either a business or a residential address. Products requiring Truck Freight shipping are highlighted on the product page. All items shipped Truck Freight will be subject to a flat $99 fee.
The LTL Carrier will call the phone number you have provided to schedule an appointment. All truck freight orders need to be checked by the receiver before being signed for. Any possible damage to the package or content must be notated on the receiving ticket as "damaged, pending inspection". Once the paperwork is signed and no damage is identified, the receiver is responsible for all damages to product and Late Model Restoration will not be held liable.
LMR.com does not guarantee delivery times when late delivery results from events beyond our control such as service disruptions, mechanical failure, or rural delivery location.
For further information please refer to the UPS terms and conditions at UPS.com
Also, please review our Freight Disclaimer for special instructions regarding freight shipments.
Canadian Shipping Terms
Shipping to Canada has never been easier and cheaper. Canadian customers can simply add items to their cart and checkout like usual. LMR now offers Standard shipping to Canada. When you select the Canadian shipping method (estimated 5-7 business days from date shipped) brokerage fees will be included. Canadian provincial taxes and duties will also be pre-calculated and added to the sales tax field on your order. When you place your order online the amount shown will be the amount you are charged and when your order arrives. All pricing shown is in USD currency. No surprise charges!
APO/FPO Shipments
LMR.com would like to say thanks for your service to our great nation. To show our gratitude for your service, LMR.com will cover the shipping charges to your APO address. We also want to inform you that depending on your location of deployment, this shipping method can take some time to reach you. Some shipments may take as long as 60 days to reach your location. Please note there are some exceptions to what can ship APO/FPO. Many shippers will limit the size, weight, and number of items that can ship APO/FPO. Please contact us here if you have any questions: Contact Us Page.
International Shipping
LMR does not offer international shipping. We will ship to freight forwarding companies for free; however, you will need to set the freight forwarding company up as a verified shipping address on your USA based credit card or PayPal account. If you have any questions about this, please contact us at our Contact Us Page.