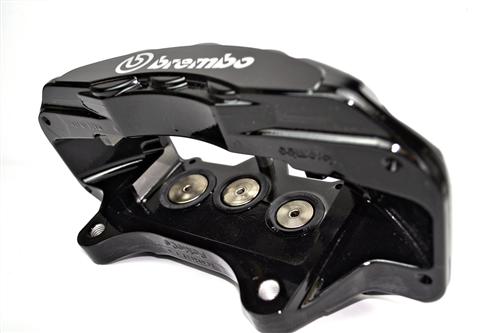 Everyone focuses on adding power to their Mustang to be faster than the next guy. A worthy goal for sure, but what happens when you need to slow all than power down? The Mustang brake system is often the most overlooked performance system right next to suspension.
2005-2014 Mustang GTs were blessed with better than average brakes, but for a good margin of us, they still aren't enough. Ford went a step further for the 2007-2012 GT500, adding in a Brembo front beake upgrade. That upgrade was filtered in as an option on GT production for 2011-2014 and was standard equipment on the 2012-2013 Boss 302.
Then came the 2013-2014 Shelby GT500. Ford did us proud with the most awesome Mustang ever available for public ownership. One of the upgrades that caught our eye was the massive 6-piston Brembo front calipers with 15" rotors and the upgraded rear calipers with 13.8" rotors. Luckily, this caught the attention of Ford Racing Performance parts as well.
Enter the FRPP M-2300-T GT500 style Front and Rear Brake Upgrade Kit. It is a bolt on installation for 2005-2014 Mustang GT, 2007-2012 Shelby GT500, 2008-2009 Bullitt, and 2012-2013 Boss 302. This kit comes in at a price point equal to or below most aftermarket front only kits, offers better performance, and best of all offers all OE Ford parts.
Installation is straightforward and can be done right in your garage or driveway with common tools. Ford Racing includes an awesome Installation Instruction Sheet that takes you step by step through the process giving you all the needed torque specs along the way. The M-2300-T kit is all inclusive save for brake fluid, gear oil, and friction modifier. With the diff cover removed, it is a great time to pick up one of our Lube Locker gaskets!
After driving the our 2011 Mustang GT Project Car, I was beside myself with how much better the car stopped with the M-2300-T Brake ugrade kit versus the stock Brembo package. For those of you who remember the FRPP catalog during the heyday of the Fox Body will remember the M-2300-K Brake Kit. Well, this is that same kit for a newer generation. Don't skimp on your brakes, upgrade to the stopping performance of the 2013-14 GT500 today!
How To Install Mustang Ford Racing GT500 15" Front Brake Kit (05-14)
Increase your stopping power, and enhance the styling of your 2005-14 Mustang with this front brake kit from Ford Racing! This kit is the same kit found on 2007-12 Shelby GT500s featuring 4 piston Brembo Calipers, 15" brake rotors, Cobra brake pads, and Goodridge brake hoses!
Tools Needed:
Jack and jack stands or lift
10mm,15mm,
Loctite
Ball Peen Hammer
Installation Instructions
Front Brakes

Start the installation by jacking the car up, and support it with jack stands





Remove your wheel, and loosen the brake hardline from the softline





Cap off the vehicle side of the brake line





Remove the two 10mm bolts that retain the hose to the car, and to the strut







Remove the two 15mm bolts that retain the caliper to the spindle, and remove the entire caliper, and hose assembly from the car





Remove the old rotor from the wheel hub, and slide your new rotor on





Put the new brake caliper over the new rotor, and install the two 15mm retaining bolts. *We recommend using some blue LocTite on the bolts to prevent the bolts from backing out*





Take the new brake line hoes, and reinstall the 10mm retaining bolts, 1 on the strut, and 1 on the frame rail







With the included banjo bolt, attach it to the new caliper, and torque it to spec





Remove the main crosspin from the new caliper, slide your new pads into place, and reinstall the crosspin





Grab the tension spring, and get it oriented in the proper way. Slide one retaining pin into place, hold the other end down, and slide the other retaining pin into place





Pull the cap off of your brake line, and tighten down the hard line to the new soft line





Bleed your brakes, starting with the inside bleeder first, then to the outside bleeder, and finish this process with going back to the inside bleeder





Repeat these steps for the other side



Rear Brake Installation




Start by jacking the rear of your Mustang in the air, and supporting it with jack stands





Remove the 2 panhard bar retaining bolts, and remove the panhard bar from your Mustang





Remove the 10 rear end cover bolts, break the seal between the cover, and the rear end, and drain all of the fluid





Remove the small crosspin retaining bolt, and slide the crosspin out of the differential





On both sides, you'll need to remove the parking brake cable retaining clip, and remove the parking brake cable from the caliper itself





Remove the 2 caliper-to-bracket retaining bolts, and remove the caliper from the rotor





Slide both rotors off, and remove the retaining bolt for the ABS sensors, and slide both ABS sensors out of the bracket





Take one axle, and push it in toward the center of the rear end, until you expose the "C-clip" located in the rear end. Use needle nose pliers to remove the "C-clip" off





Now you can remove the axle. Repeat those steps for the other side





With both axles out of the car, you have full access to the caliper flange brackets that are held on by 4 retaining bolts. Remove the 4 bolts, and discard the old flange brackets





Slide the new flange brackets into place, making sure the machined face, touches the machined face of the axle housing





When installing the bolts, do not hammer them in, there are a couple of threads in the new brake



Tighten down your speed bolts, and install your axles back into place





Engage the "C-clips", and pull the axles towards the outside of the car to keep them in place





Put the crosspin back into the rear end, and tighten down the retaining bolt



Reinstall the ABS sensors, and slide your new rotor into place





Grab your new caliper, and bracket assembly, and remove the caliper from the bracket





Slide the bracket into place on the new rotor, and retain it to the flange bracket with the supplied 2 bolts





Slide your new pads into place, and you can now slide the new caliper over the pads





Reengage your parking brake cable, and install the retaining clip







Do this on both sides



On one side, remove the banjo bolt from the fluid hose, from the old caliper, and transfer that to the new caliper, replacing the copper washers, and torquing it to spec





Do this to both sides



Start bleeding the brakes by starting at the right rear brake, then the left rear





Clean up your surfaces on the rear end, and tighten your rear end cover back down, and refill the rear end with fluid





Slide your pan hard bar back into place, and tighten it down





Reinstall your wheels, lower the car, and you're all done!



---