For this dyno article, we will cover our new 2012 Boss 302 shop car. This highly modified factory machine is a work of art inside and out. Check out below for more pics, dyno technical data, and of course the dyno results!
Also, check out our 2012-13 Boss 302 Specs to learn more about this limited edition Mustang and how it is considered one of if not the best performance Mustangs Ford ever produced
---
Jump To:
Dyno Numbers & Photos
---
← Swipe For More 2012 Boss 302 Photos →
---
Dyno Technical Data
Engine: 5.0L/444-hp/380-lb-ft DOHC 32-valve V-8
Ford Track Key Tune
MT82 6-Speed Transmission So Dyno Pull Will Be Made In 4th Gear (1:1 ratio)
3.73 Rear-End Gear
OEM Ford Two-Piece Driveshaft
19" x 9" front and 19" x 9.5" rear black-painted aluminum wheels with 255/40R Z-rated front and 285/35R Z-rated rear max-performance Pirelli™ P Zero™ summer-only tires
---
Dyno Results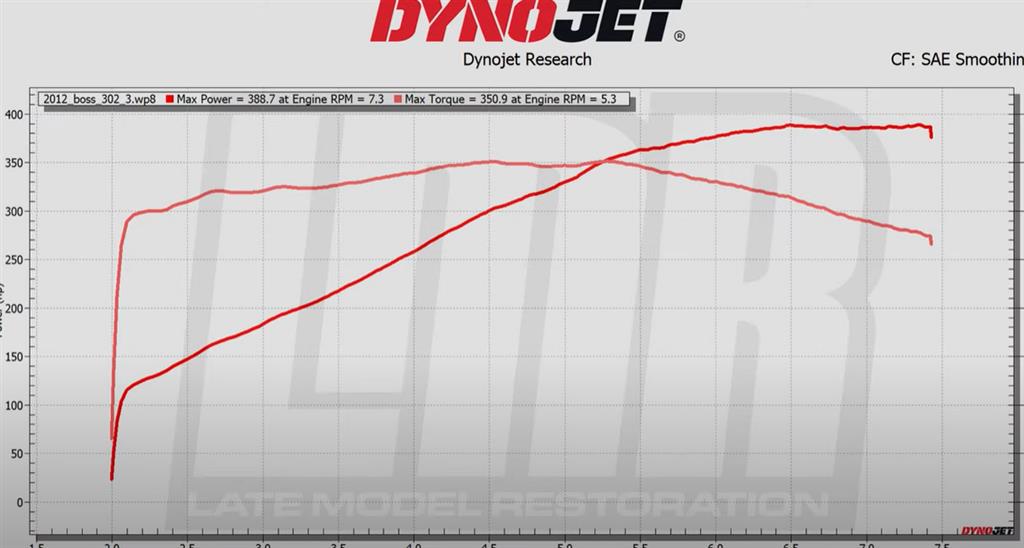 ---
Here are the results! This potent Boss 302 produced 389 RWHP at 7300 RPM and 351 RWTQ at 5300 RPM. We hope this dyno gave you more insight on what these iconic S197 Boss 302's are capable of. As always keep a lookout for more dyno articles and videos right here at LMR.com.
---