SVT Cobra R Mustang History
In 1993, Ford wanted to send off the iconic Fox Body Mustang with a bang! The result, a stripped-down version of the SVT Cobra designated as the Cobra R. This car was a total race minded Snake that went on a diet and beefed up the stopping power over the production Cobra to get the best out of what Ford Racing and SVT had to offer. All of that in a Vibrant Red that screamed, I'm quicker than you! If there was a Fox platform Mustang that brought back the feel of the Race inspired Boss 302 of the late '60s, it was the 1993 SVT Cobra R!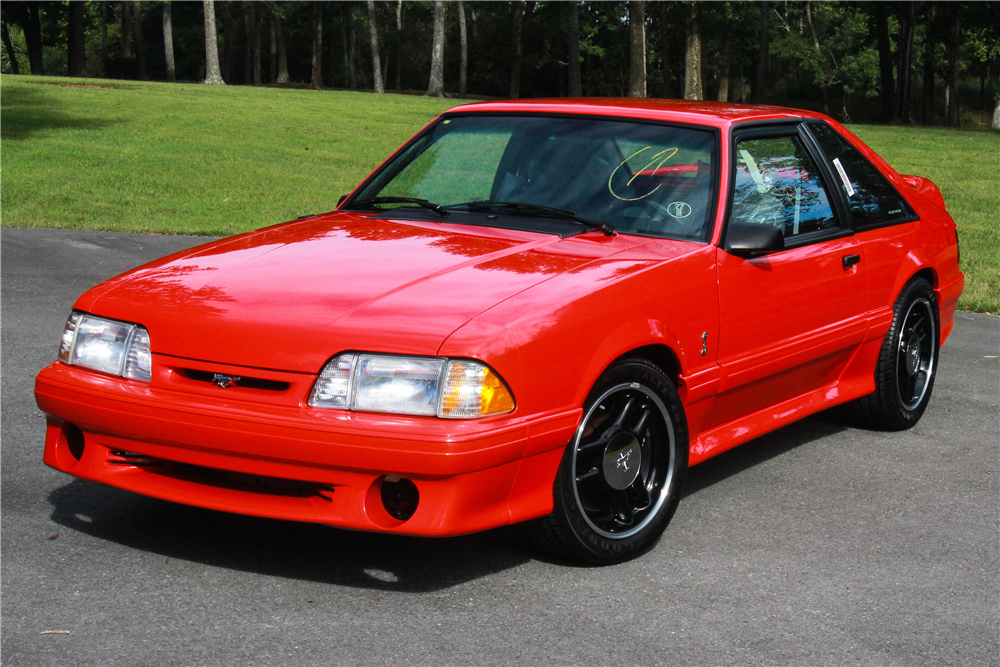 Photo Credits: Barrett Jackson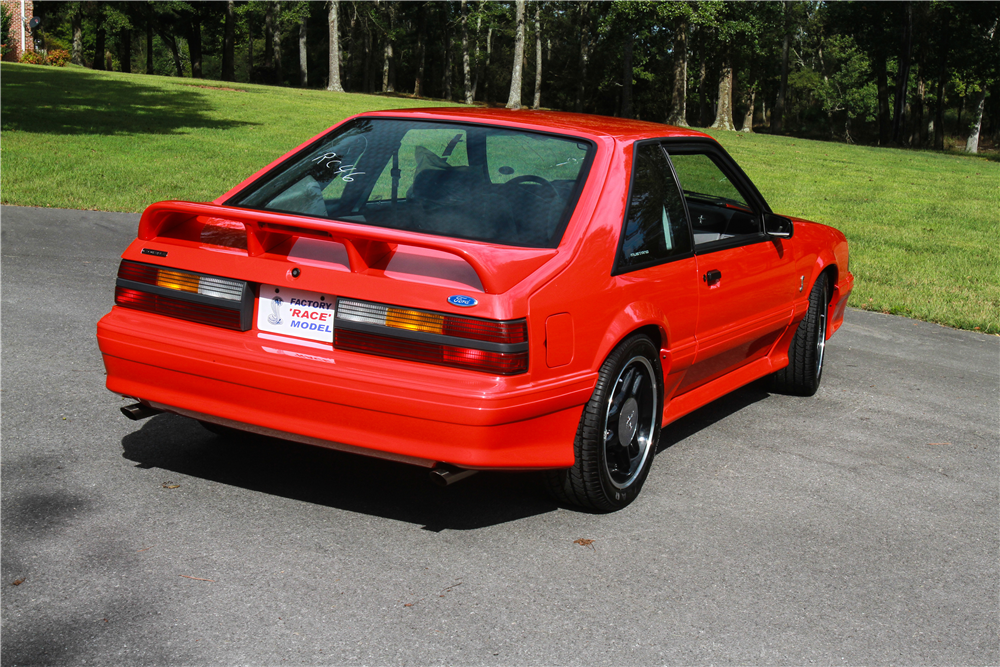 Photo Credits: Barrett Jackson
SVT Cobra R Mustang Specs

Photo Credits: Barrett Jackson
Engine:
Displacement: 5.0L - 302 CID
Type: 90-degree - OHV Windsor V-8
Bore x Stroke: 4.0 in. x 3.0 in.
Compression: 9.0:1
Performance:
Horsepower: 235 HP @ 4,800 rpm
Torque: 280 LB/FT @ 3,750 rpm
0-60 mph: 5.7 seconds
1/4-mile @ MPH: 14.3 seconds @ 99 mph
3.55:1 Rear End Gear Ratio
Wheels/Tires:
Wheels: Cast Aluminum 17 x 8 – 6 Spoke
Tires: Goodyear P245/45ZR-17 BSW
Suspension
Front: Modified heavy-duty MacPherson strut type, 750/850 lb./in. progressive-rate coil springs, front strut-tower brace, 31mm stabilizer bar
Rear: Rigid axle located by four trailing links, 240/260 lb./in. progressive-rate coil springs, stabilizer bar
Brakes
Front: 13 in. Kelsey-Hayes vented cast-iron disc, twin-piston caliper
Rear: 10.5 in. vented disc, single-piston caliper
ABS: Power Assist, four wheel brakes with anti-lock
General:
Transmission: Modified T5 5-speed manual
Curb weight: 3,125 lbs.
Wheelbase: 100.5"
Length x width x height: 179.6 x 69.1 x 51.1
EPA City/Hwy: 12 city/20 highway
1995 Cobra R Production Numbers:
Coupe Only: 107 (Red) with Opal Gray Cloth
What Makes A SVT Cobra R Mustang Different?

Photo Credits: Barrett Jackson
Mechanical
The 5.0L 302 V8 Engine was unchanged from the SVT Cobra. Ford upgraded the Radiator and a purge tank was installed to improve the cooling capacity for this beast! A power steering cooler and an engine oil cooler were also standard on the R Variant.
You cannot have a race car that cannot stop. Therefore, the team at SVT upgraded the brakes with a lot more bit! Huge 13" Kelsey-Hayes vented discs were installed up front and 10.5" vented discs out back. These brakes were the "most expensive brakes ever fitted to a [production] Mustang", according to the executive director of vehicle engineering for Ford Motor Company, Neil W. Ressler. He went on to say, "I bought the brakes for the R model out of my engineering budget. I wanted big brakes, and we didn't have them. The program couldn't afford it. Unbeknownst to the higher-ups at Ford, I spent like $2,100 per car to buy those big brakes. But the last thing I wanted was a fast car that didn't stop. We ended up putting good brakes on all those [Cobra R] vehicles." It is a good thing that he did!
Clearing those large brakes, the Team at SVT installed the soon-to-be-released Mustang wheels from the 1994 GT. To differentiate them from the next year's model, the spokes were painted black and fitted with a Chrome Pony-Style Center cap.
Interior and Exterior
When it comes to the interior of this Snake, the bare essentials are the name of the game! The "R" indeed stood for race because the power options were gone! Manual Door Locks, Manual Adjustable Side-view Mirrors, and Roll-up windows were in place to save weight. Also, there is a list of items that normally are standard on the Mustang GT and Cobra were left off also to save weight: Air Conditioner, Sound Deadener, Fog Lights, Rear Seat with their Safety Belts, Rear Carpet, Roll-up Cargo Cover for the Hatch, Radio, Speakers, Wiring, and Antenna were all gone. SVT used Manually Adjustable Cloth Front Seats from the LX since they were lighter than the GT/Cobra Sport Seats. Ford Even used a thin piece of gray carpet to cover the bare hatch and rear seat area. All of this yielded a loss of 450 pounds but was offset slightly by the necessity of the heavy-duty hardware that was used to help the car stand up to the beating this Beast would take with Track Use.
Overall, 107 of these rare ladies were produced in 1993 and all were in the Vibrant Red Color. This car would start a trend of SVT Vehicles that would put bow-tie owners to shame!
Long Live The SVT Cobra!
---