Ford Mustang enthusiasts have been begging for an EcoBoost engine for some time. Ford gladly answered this wish in the new S550 Mustang platform. For the first time in the Stang's 50 year history, the 2015-17 Mustang will feature Ford's super impressive EcoBoost power plant. The EcoBoost engine that will power the new Stang will be the 2.3L in-line four-cylinder engine. Fox Body Mustang fans don't get too nostalgic as you reminisce about the "old days" of the turbocharged 2.3L SVO Mustang.
The 2.3L EcoBoost engine is estimated to make an impressive 305 horsepower and 300 ft-lbs of torque. The amazing power will all be made while still taking it easy on your fuel consumption. So you get turbocharger performance and fuel economy – hard to beat combination right?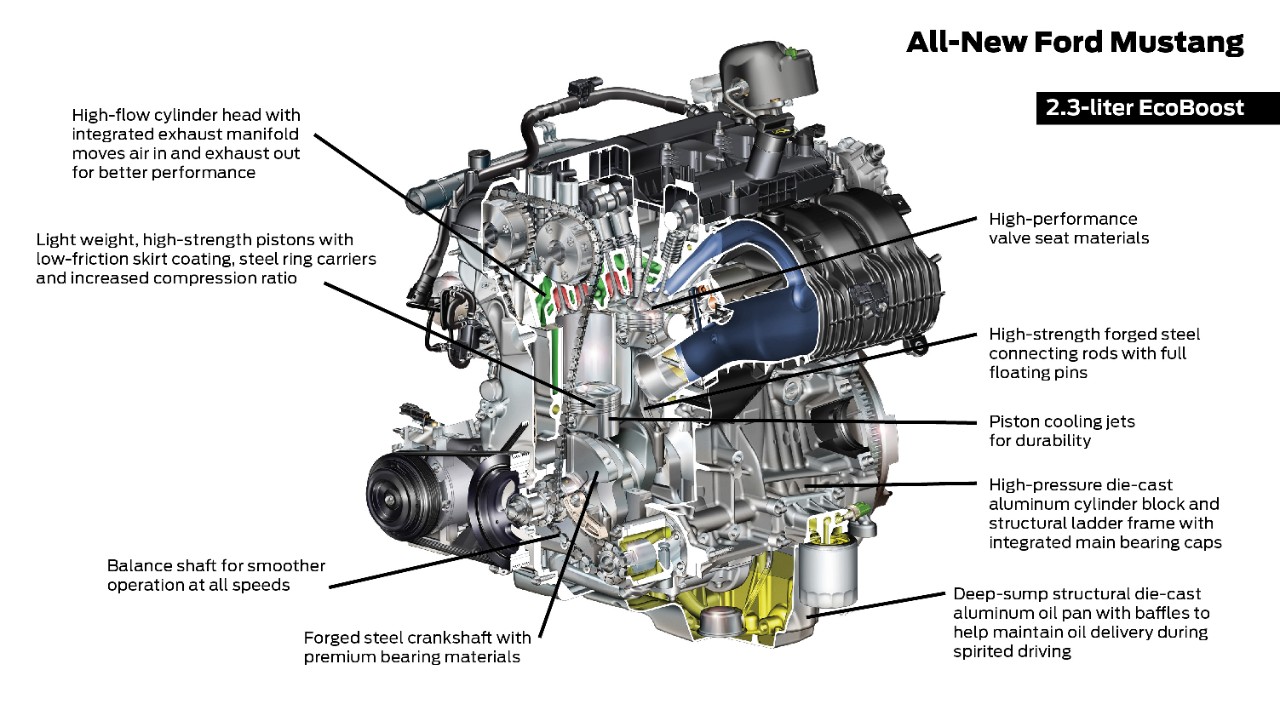 Below you will see more engine and transmission specs about this motor. Some of the most notable features are the lightweight aluminum construction, piston cooling jets and forged rotating assembly. I am sure you will see plenty of aftermarket performance parts and tuners hit the market shortly after the release of the 2015-17 Mustang.
Be sure to subscribe to our newsletter and YouTube channel to get all the latest updates and products! Comment below and let us know what you think about the new EcoBoost Mustang. Be sure to check out the other 2015-17 Mustang Engine Specs below while you are here!
2015 Mustang Engine Specs: EcoBoost 2.3L Four Cylinder
EcoBoost 2.3L In-Line 4 Cylinder
Configuration
Aluminum block & head
Intake Manifold
Composite
Exhaust Manifold
Three-port integrated
into aluminum head
Valvetrain
DOHC 4V
twin independent variable
camshaft timing
Valve Diameter/Lift
Intake 31mm/8.31mm
Exhaust 30mm/7.42mm
Pistons
Cast Aluminum
Connecting Rods
Forged Steel
Bore x Stroke
3.45x3.7 in
87.55x94 mm
Displacement
140 cu. in/ 2,300 cc
Compression Ratio
9.5:1
Recommended Fuel
Regular Unleaded
(87 Octane)
Fuel Delivery
Direct Injection
Oil Capacity
Six quarts 5W-30
2015 Mustang Transmission Specs: 2.3L EcoBoost
Standard Transmission - Six Speed Manual W/Hill Assist
2.3L EcoBoost

First Gear

4.236

Second Gear

2.538

Third Gear

1.665

Fourth Gear

1.2387

Fifth Gear

1.00

Sixth Gear

0.704

Final Gear

3.15:1
3.55:1(Performance Pack)
Automatic Transmission - Six Speed W/ Paddle Shifter
2.3L EcoBoost

First Gear

4.17

Second Gear

2.34

Third Gear

1.665

Fourth Gear

1.14

Fifth Gear

0.87

Sixth Gear

0.69

Final Gear

3.15:1
3.31:1(optional)
3.55:1(Performance Pack)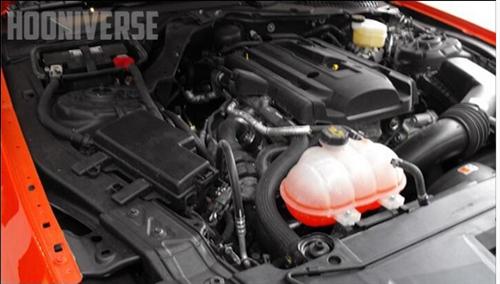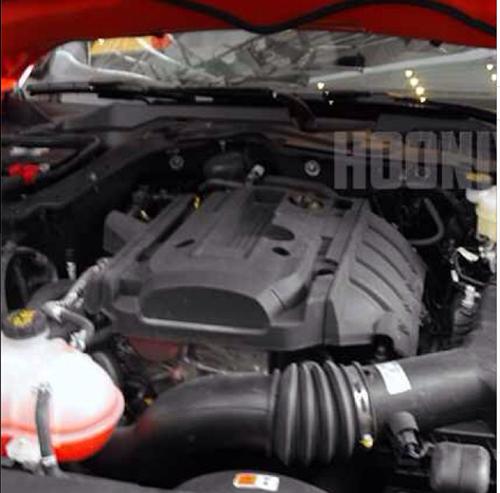 More 2015-17 Mustang Engine Specs:
Click any of the links below to see more motor specs for the new S550 Mustang!
---