For this dyno article, we will be covering our team member Tyler D's 2015 Mustang GT. This Mustang has a potent 5.0L with a Procharger, T-56 swap, full suspension, and much more! Check out below for more pics, dyno technical data, and of course, the dyno results!
Also, check out our 2015 Mustang Engine Specs to learn more about this S550 Mustang and how it is considered one of the best all around Mustangs Ford ever produced.
---
Jump To:
Dyno Numbers & Photos
---
← Swipe For More 2015 Mustang GT Photos →
---
Dyno Technical Data
SVE 19-inch R355 Wheel
T-56 Magnum 6-Speed Transmission So Dyno Pull Will Be Made In 4th Gear (1:1 ratio)
3.73 Rear-End Gear
GT350 Intake Manifold
Aluminum One-Piece Driveshaft
Methanol Injection Kit
BBK Long Tube Headers
Corsa 3" Sport Catback
Complete Fuel System
ID1000CC Injectors with BAP
93 Octane Fuel
Custom Tune
Stock 2015 5.0L Long Block
---
Dyno Results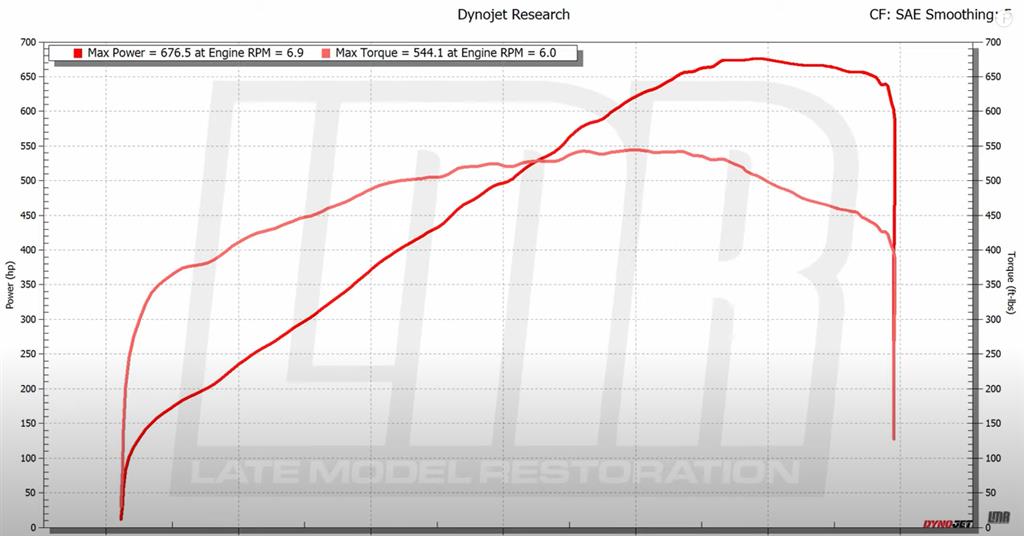 ---
Here are the results! Tyler's S550 produced a whopping 676 RWHP at 6900 RPM and 544 RWTQ at 6000 RPM. This Procharged Mustang is a blast to drive on or off of the boost. Tyler daily drives this car to work every day and has a handful of track days where this car has performed many respectable time slips. We hope this dyno gave you some more insight into what these S550 Mustangs are capable of. As always, keep a lookout for more dyno articles and videos right here at LMR.com. Shop our featured 15-21 Mustang Performance Parts below!
---