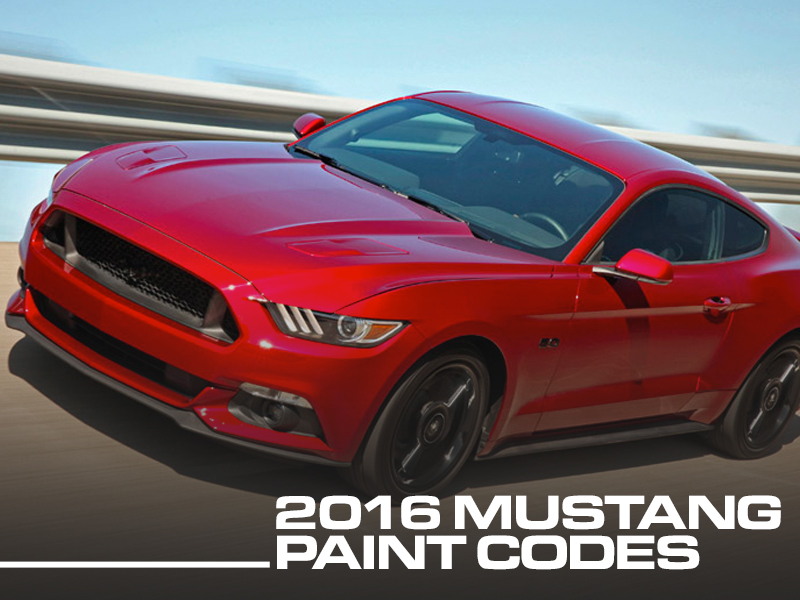 2016 Mustang Color Options | 2016 Mustang Color Codes
Competition Orange

Deep Impact Blue

Guard

>

Oxford

Ingot

Magnetic

Race Red

Ruby Red

Shadow Black

Triple Yellow
_________________________________________________
2016 Mustang Competition Orange
One of the most famous colors on a Mustang, competition orange, makes a return after its re-debut in 2015. Originally a Boss 302 color, competition orange saw a return in 2003-2004 and then again in 2015-2016. The bright orange is a must for any Mustang owner looking to make a statement with their car. It was most famous for the Boss, Mach, and Cobra models.
2016 Mustang Deep Impact Blue
A crowd favorite from the late S197 models, Deep Impact was a beautiful dark blue color that really shined in direct sunlight. Being a lighter color than Kona, Deep Impact gave the 13-14 Mustang owners a nice contrast color for light and dark wheels without being too dark.
2016 Mustang Guard Metallic
A new color brought to light in 2015, Guard was a very interesting color to try to decipher. While most called it want to be dark highland green, it took a different shade depending on the sunlight. Pictures do not do this paint justice and this is one color you will just have to see for yourself in person!
2016 Mustang Oxford White
It seems like just about everyone you talk to knows someone who had a white Mustang. The 2016 Mustang oxford white paint code is no different in highlighting every curve of the S550 chassis. While Oxford White has seen it's fair share of Mustangs in the past, the S550 body lines may compliment it the best. The best part of owning a white Mustang is the endless color possibilities for wheels and the perfect contrast when adding blacked out Mustang parts.
2016 Mustang Ingot Silver
A fan favorite, Ingot Silver, will also be returning. Debated as one of the most popular colors of the Mustang, silver has always found a soft spot in most Mustang owner's hearts. The 2016 in Ingot Silver will be a perfect platform for enthusiasts to add black accents to and even add some more colorful additions.
2016 Mustang Magnetic
A close relative to Ingot, Magnetic offered a darker shade of silver/grey that appealed to many Mustang owners. As with Kona, this color looked completely different depending on the light source. Going onto the S550, Magnetic is sure to be another huge hit and a rival of Ingot.
2016 Mustang Race Red
Nothing is more classic than a red Mustang. The 2016 Race Red is no exception as the bright red paint really helps make the S550 body lines pop. Some call it aggressive, others call it classical, but either way, a bright red Mustang has to be on your list of Mustangs to own.
2016 Mustang Ruby Red Metallic
For those wanting a red Mustang that is not as bright as the Race Red Mustangs, the 2016 Mustang in Ruby Red may be the choice for you. With it's deeper red tones and a hint at a burgundy color, the Ruby Red color is sure to attract those wanting a modern car with a less than loud color scheme. While it does not show the body lines as well as Race Red, the metallic flake in Ruby Red Metallic paint shines amazingly in the sunlight.
2016 Mustang Shadow Black
One of the most common colors on a Mustang, black, makes a return in 2016 with Ford's Shadow Black paint color. This shade of black is perfect for the Mustang enthusiast wanting a dark, sinister look and is a perfect canvas for blacking out your car. It also contrasts well with many colors of wheels to make the customization options endless!
2016 Mustang Triple Yellow
One of the brightest colors of the 2016 Mustang lineup, triple yellow, makes a return for the 2016 year. Deeper than your common yellow, triple yellow really accents the curves and body lines of the S550. We have noticed from our personal Triple Yellow, that the yellow really compliments black accent pieces and black wheels.
---