---
For this dyno article we will be covering our employee Hunter Lindley's 2020 Mustang GT. This highly modified machine is a step up from his old 2V New Edge. Check out below for more pics, dyno technical data, and of course the dyno results!
Also, check out our What is a S550 article to learn more about this chassis and how it is considered one of if not the best performance Mustangs Ford ever produced
---
Jump To:
Dyno Numbers & Photos
---
←

Swipe For More 2020 Mustang GT Photos

→
---
Dyno Technical Data
SVE 17-inch Drag Comp Wheel With a 305/45/17 ET Street R Tires
10R80 10-Speed Automatic Transmission So Dyno Pull Will Be Made In 7th Gear (1:1 ratio)
3.55 Rear-End Gear
Factory 2-Piece Driveshaft
Steeda ProFlow Closed Cold Air Intake
E-85 Lund Tune
SVE Resonator Delete
OEM Ford 5.0L 4V Longblock
---
Dyno Results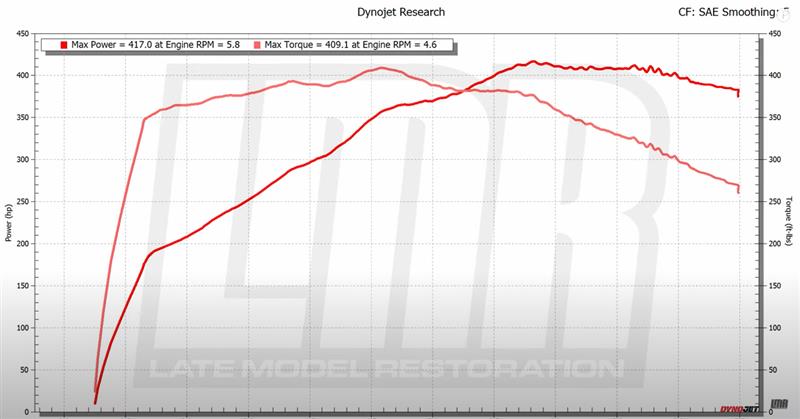 ---
Here are the results! Hunters 2020 GT produced a 417 RWHP at 5800 RPM and 409 RWTQ at 4600 RPM. Could it have made more power? The answer is yes, but with the humidity level in our shop at 80% and an ambient temp of 70 degrees, this does not help the overall numbers. The larger diameter of the drag radials this car has on it also can play into this equation. We hope this dyno gave you some more insight on just what this S550 5.0L is capable of. As always keep a lookout for more dyno articles and videos right here at LMR.com. Shop our featured 2015-2023 Mustang Parts below!
---