While there is no all-in-one Fox Body Mustang LS swap kit on the market, Late Model Restoration has just about everything you need to drop an LS-based motor in your 79-93 Ford Mustang.
Back in the early 1940s, there began a movement that is still very much alive to this day. The quest for speed was an appetite that couldn't be quenched. No matter how fast you went you always looked for more ways to have "just a little more". The most popular platform to start within that era was the Ford Model A's and Model T's. It was easy to understand why these cars were so popular. They were readily available and you could pick them up for little to nothing.
The hobby really took off and went to the next level in the late '50s. Chevrolet introduced the legendary small-block V8. True it wasn't the first V8 available but it made good power and proved to be somewhat more reliable than the earlier flathead Ford engines. The Automotive aftermarket started producing speed parts and it was only a matter of time before the speed junkies realized that the Lightweight Model A was a perfect candidate for the well-performing Small block Chevy.
With an LS Swap Mustang project, immediately you have the die-hard Ford followers forming lynch mobs, but at the same time, you had the hardcore racers looking to strap a seat to a bare frame just to make the "car" lighter. I tend to side with the 'rodder and have a broader perspective, looking to take great ideas and make them better.
The quest for speed is still thriving and has been magnified to a whole new level. All out race cars in the day performed as well as a Mustang GT off the showroom floor. I, too, have been bitten by the "speed bug" and decided to build a car to feed my appetite. Like many beforehand I looked for a solid platform to start with which hands down would be the Fox Body Mustang. There are tons of them out there and you used to be able to pick them up for practically nothing. There is a huge aftermarket following, plus in my mind, they are just plain cool.
I found an 86 LX Coupe that was laid to rest in a field and picked it up for $250.00 It wasn't pretty but it was exactly what I wanted to start with. I have a special place in my heart for 4 eye cars, you either love them or hate them. I chose a 4 eye coupe because #1 coupes are lighter and more sound than a hatchback, # the 4 eyes are lighter than the 87-93 cars. Keeping with the "Lighter is faster" theme I completely stripped the car down to begin the transformation.

---
Part 1 | Fox Body Mustang LS Swap
Since its introduction in 1997, I have been researching the LS1 platform. They come from the factory in 97-08 Corvettes, 98-02 Camaros/Firebirds, and 99-08 GM Trucks/SUVs. Though each engine has its individual characteristics the core design remains relatively the same. So no matter what style you find the same result can be accomplished.
Earlier this year GM performance parts released a front distributor drive conversion for their NASCAR LS motor. Since they can't use Coil packs they have to use a conventional distributor setup. The best part about it is they designed it based on the Ford Distributor. That was the last straw and I knew I had to build one.
I picked up a GM Crate engine locally from Greg May Chevrolet and began my Fox Body LS Swap transformation. After I un-crated the long block, I pulled the Factory front cover off to install the Front mount distributor cover. While it was off I went ahead and took advantage of the situation and installed a "GTP series 4" camshaft which specs out at .568" lift and 232 duration on a 112 LSA. Needless to say, the cam will really wake up the engine to move the little car down the 1320 pretty quickly. I've got more to come and should have some updated pics and info next week.
---
Part 2 | Fox Body Mustang LS Swap
Well, it's time to update the progress I've made on the car. As you can see, after getting the car, I totally stripped it to a shell to do the bodywork and paint it. To me, this is the only way to do a paint job. Yes, it is time-consuming but you don't have to worry about tape lines or overspray on your trim items, really the only thing you have to worry about is remembering where everything goes when putting it back together.

Not the best, but it was ok for my first paint job. I got it kind of thin in some places and it had some orange peel so after sanding it smooth again I had a painter friend that I work with respray it for me. I then proceeded to re-assemble the nice new parts on it.
I wanted to keep this swap as simple as possible. Is it possible to bolt in an LS1 without major modifications? Answer yes, yes it is! Anthony Jones makes a Tubular K-Member for an LS1 to fit in a mustang. I bought that K-member AJE-and for the start of the exhaust system, a set of Ceramic coated Kooks long tube headers so at least the engine would bolt in without any problems. A set of LS-specific engine mounts, also known as motor mounts were also needed.
The next obstacle was which transmission to use. By far the easiest way to go is automatic transmission but it's a whole lot more fun to row through the gears so I decided it would have to be a manual option.
That left me with 2 options:
I could fabricate a hydraulic setup out of a T-bird Turbo Coupe and adapt it to the GM 6 speed
I could find a way to use a ford set up so it would bolt in as well.
I found a Lakewood Bell housing that was designed for a Tremec TKO to bolt to a small block Chevy. Since the LSX motors share basically the same bell housing pattern as a small block Chevy, this would be the easiest bolt in application. I modified the bell housing to accept a 94-04 clutch fork by swapping the pivot stud to the other side of the bell housing and enlarging the clutch fork hole.
Now, this swap will function just like a standard 5.0 5spd and the beauty is that it could be changed back to FORD power in a matter of hours.

Now was the time we've all been waiting for, especially me. I set the engine in its new home. All went in fairly smooth. While we did this we found two areas that needed to be addressed. The engine and transmission are a bolt-in application but you have to use an aftermarket Cross-member made specifically for a Tremec.
Also, the 94-04 Clutch Fork is a little longer than the 79-93 one so it hits the transmission tunnel. Nothing that a little clearance won't cure. Other than that it's easy to drop in and looks great.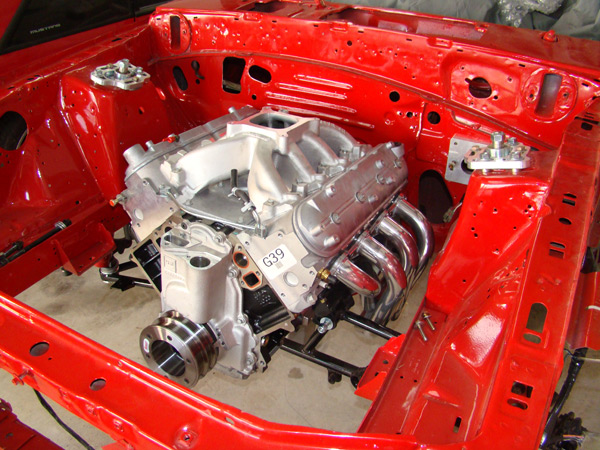 ---
Part 3 | Fox Body Mustang LS Swap
Well, it's been a while since I've updated the progress so I'll bring you up to speed with where I'm at in the build. Since the last entry, I have started the long process of putting the car back together. I have installed the Roll Bar along with some of the interior panels so it is starting to feel like a car again instead of an empty shell. By the way, this is our Cloth upholstery we offer for the 87-93 Sports seats.
After we got that installed, I took the car over to a buddy's shop to have the Rear Anti-Roll Bar welded in. It's designed to keep the car level when launching instead of one side "squatting" more than the other. UPR makes a really nice product and installation wasn't difficult.
While I was there I also had him relocate my Steering Rack. It wouldn't bolt up because it was hitting the oil pan. We welded in a piece of 1" square tubing to drop it down which was enough to do the trick. I still have to get a set of Offset Rack Bushings to get it exactly where I want it.
Here you can see the Crossmember I used to bolt up the transmission. It is specifically designed for the Tremec transmissions to bolt in the factory location on the Mustangs.
While I was there I also installed a Driveshaft Safety Loop as well since the car will see ALOT of Track time.
Another obstacle I had to overcome was the clutch setup. If you remember the clutch fork I used was a 94-04 unit so it was longer than the normal Fox Body one, which in turn caused it to hit the floor pan. I had to clearance the floor pan to clear. This was done with a Precision instrument that is commonly referred to as a "sledgehammer". I'll go back in and do bodywork to it to make it look better and repaint this area.
The second thing to address is the clutch cable mounting location. I'm going to enlarge an existing hole on the bell housing to allow the cable end to fit in it and use a factory retaining clip to hold it in place.
That pretty much gets the Underside of the car ready to go. When the car is ready to Drive I will install the Aluminum Driveshaft to finish out the driveline.
With the mechanical aspect of the build coming together I then turned my focus to the appearance. I started the process of restoring all of the factory trim that I had taken off the car in the beginning. It was all still in pretty good shape so all it needed was a thorough cleaning, scuffing, and a fresh coat of trim paint. After the paint dried I installed new door weatherstripping and reinstalled the parts.
Slowly but surely the build is coming along and hopefully in the near future I will have the final chapter in the build along with some video clips of it at the track.
---
Part 4 | Fox Body Mustang LS Swap
Well, I know those who have been following the build have been wondering what kind of progress has been made. I've been hard at work finishing the little things that plague a project like this. Wiring harness gremlins, fuel system gremlins including installing the correct fuel pump, as well as the weather not being as cooperative as it could have all slowed the build process.
Since the last installment, I have done quite a bit of work. The steering rack has been moved and permanently attached. I had to lower it about an inch so it wouldn't hit the oil pan. The brakes are hooked up and bled, the long tube headers are in place, and I had to lengthen my steering shaft for proper clearance.
Now that those items were taken care of all I had left to do is start putting parts on it. For ignition I used the
MSD Pro-Billet distributor - part# MSD-8579
which is a simple plugin installation to the
MSD Digital 6 ignition box - part# MSD-6520
. I chose this box because it features a 2-step rev limiter, a timing advance feature for nitrous or other power adders, as well as timing retard during startup. All those features were exactly what I was wanting for my application.
Next, I was able to install my water pump. In order to clear the bulge for the distributor, I had my Dad build some custom spacers out of aluminum, It sure is nice to have someone with his fabrication experience on my side.
The Lower radiator hose is a
KM1119
which is the factory replacement for a 5.0 Fox application. The upper was a little more tricky. The water pump inlet is relatively in the same position as the 5.0 but at a slightly different angle. Since I knew the basic shape I needed, the Local Parts supply store was kind enough to let me look through their entire inventory until I found what I needed. I know that it is a Dodge application but don't know the exact model it's for, all I know is it fit like a glove.
As you can see from the photos, sitting on top of the intake manifold is a carburetor set up instead of going with a fuel injection system.
To finish out the cooling system I went with a great radiator/fan Combo from SVE. The Radiator is a MUSTANG 5.0L SVE ALUMINUM RADIATOR for manual transmissions and is a 2-row polished aluminum unit that works as great as it looks. This also has a polished finish so it matches their radiator.
After I got the cooling system out of the way, it was time to put on the finishing touches. So I could finally start the engine for the first time. I made the fuel lines out of braided steel lines and A-N fittings and ordered a Demon 750 carburetor to satisfy the engine's fuel cravings.
I also decided that I was going to use Nitrous as my power adder so I ordered a fogger plate. As for the rest of the kit, I will be calling Nitrous Outlet for them to custom make the rest of my system.
Now the moment, we've all been waiting, especially me, for the time to start the engine!. As I stated in the previous post the Front mount distributor setup utilizes a Ford distributor application. The only difference between a 5.0 H.O. firing order and an LS-based motor is that you swap #8 and #3 cylinders. I used a set of red Ford Racing plug wires and they fit just like they were meant to be there, granted I still have to loom them so they look better. The first attempt wasn't successful due to me installing the distributor 180 Degrees out and resulted in a huge backfire. After I got the distributor in the correct position it was a success! It fired up and idled flawlessly!
Be sure to check out the long-awaited video of it running after I brought it home from the Exhaust shop. Hope you enjoy it… I know I do. The next time you see it, the car will be in action and we'll see how much tire smoke we can make as well as some videos of it at the drag strip.
---
Part 5 | Fox Body Mustang LS Swap
Well, for those who have been following this build you know that I haven't posted in several weeks. The reason for that is I had sent the car to the paint shop to have the front clip finished and installed. It required more work than I was comfortably tackling myself so I had it professionally done. After patiently waiting I finally got it back and started putting all the trim back on it.
I built this car using all the parts we offer. The only aftermarket body panels are the Drivers and Passenger fenders along with the Cervini's 2.5" Cowl Hood. Everything fit up really nice and there weren't a lot of adjustments that had to be made for the gaps to align with each other.
I also painted all the trim on the car the original grey color using our Exterior Trim Paint. The lights were the next thing that needed attention so I bought the 79-86 8 piece headlight kit to take care of the front and the 85-86 SVO rear tail lights (same as 93 COBRA) for the rear, since they matched the charcoal grey trim.
In the next picture you can also see the antenna delete panel I installed since the car won't have a radio.
---
← Swipe For Exterior Images!→
---