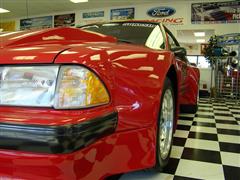 The JBA Dominator is a 351W powered wide-body Fox Body Mustang with IRS and a 6 speed manual transmission – what more can you ask for right! It's a car that JBA built brand-new in 1989 for a high-speed challenge for Road & Track magazine. The car competed against high-end exotics as well as Gottlieb's famous "big red" 1969 Camaro and other factory built concept/tuner cars. The JBA Dominator Mustang ran 173 miles per hour after being built-in just 3 weeks. The body work is hand-made from sheet metal, not fiberglass.
The Dominator's original powerplant was a 320-inch small block with Yates heads and a carburetor. It now has a 351w similar to the 95 Cobra R with a 6-speed manual transmission, and a super-coupe independent rear suspension (IRS). The car was given to JBA by Ford. The mounds of documentation for the car include a letter from Road and Track to Ford recommending the passage of the car to JBA, saying that the car would be used for development of such technology as "modular engines, superchargers, and independent rear suspension". Remember, this was 1989 – long before this technology actually made it to new Mustangs.
JBA wasn't an exhaust manufacturer back then, they were a performance and mail order shop, much like ours, that specialized in Ford and Mustang performance during the 5.0's infancy. The car was given to them because of their standing in the industry at the time. If you were around Mustangs in the early 90's you'll know that this is when the 5.0 started its reign on the streets, and you'll remember all of the articles on this very car. There were many. It's one of the most publicized 5.0 Fox Body Mustangs in history.
---