Fuel injected Mustangs use one of three style fuel injectors: EV1 fuel injectors, EV6 fuel injectors or EV14 fuel injectors. The Mustang EV1 fuel injectors are often referred to as the "fat" style fuel injectors seen on the early model fuel injected Mustangs. The EV6 fuel injectors replaced them in the next line of fuel injector evolution. The EV6 injector is nearly identical in height but the body of the fuel injector is narrower or "skinnier" when compared against the EV1 injector. The third style is the EV14 fuel injector. The EV14 injector is shorter that the EV1 and EV6 injectors and features a slim style body.
Now that you know the overall look of the three injector styles, let's talk about the major differences between these injectors – fuel injector connector style. The Mustang uses two different style connectors – Jetronic/Minitimer or USCAR. The 1999-2004 4.6L 4V Mustangs (SVT Cobra & Mach 1) and 2005+ Mustangs all use the USCAR style connector. 1986-2004 Mustangs use the Jetronic/Minitimer style injectors. Rule of thumb is if the connector is slim rectangular shape it is Jetronic/Minitimer and if it is a square shape then the connector style is USCAR. See the picture below to see the differences between the two connector styles.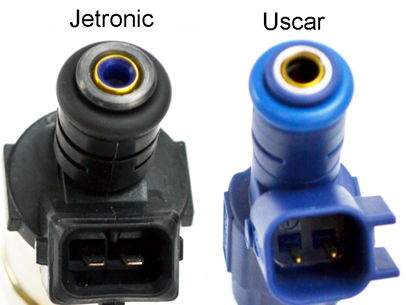 You can now tell the difference between the three types of fuel injectors used on Ford Mustangs but what if you have a set of EV6 Mustang high flow fuel injectors with USCAR connectors and you want to use them on your Mustang that has EV1 injectors with Jetronic style connector – can you use USCAR style injectors on your Mustang if it has Jetronic wiring harness? The answer is YES! Thanks to Ford Racing, they made plug-and-play style fuel injector adapter kits to make this an easy task. The Ford Racing M-14464-A8 Fuel Injector Adapter Kit will adapt USCAR style injectors to a Jetronic/Minitimer style harness. The Ford Racing M-14464-U2J Fuel Injector Adapter Kit will adapt Jetronic/Minitimer injectors to fit USCAR style harness.
---