I recently purchased my first brand new car, a 2010 Mustang GT. Of Course working around here you get the itch to start modifying the day you bring it home. I began with a set of our SVE wheels and tires in 18X9 and 18X10 With 255's up front and 275's out back. We also installed a set of Eibach Pro-Kit lower springs (#EIB-35101) to bring her down a little bit. Next on the list was a Mustang JLT 110MM cold air intake kit, (#JLT-CAIFMG10) this kit along with a tune from JLT made a huge performance difference, but we weren't done yet.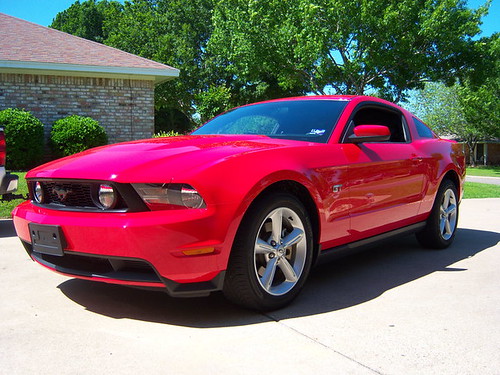 We came across Blow-By Racing's GT500 throttle body adapter plate for the 2005-10 Ford Mustang 4.6L 3V. Most people would say, why in the world would you want to use a GT500 Throttle body vs. another performance brand such as the BBK? Well the answer to this question is simple, the GT500 will plug directly in to the existing wiring harness without having to change out the throttle position sensor and the throttle body motor from your original throttle body, thus keeping everything original and making it easy to put back to stock form if need be. Both the TPS and the throttle body motor are included with the new GT500 throttle body right out of the box.
A stock 05-09 Mustang GT 4.6L throttle body has a 52MM opening, with the GT500 you are given huge twin 60MM openings that will show a significant increase in throttle response and power in your Mustang. The GT500 throttle body is originally machined to fit the 2007-09 Shelby GT500 (duh!) so we had to have all of the throttle bodies mounting holes machined in order to match correctly with the adapter plate and most important your 4.6L 3V intake manifold. Don't worry we have tested all the kits to ensure they are perfectly machined and will install on your Mustang with no issues!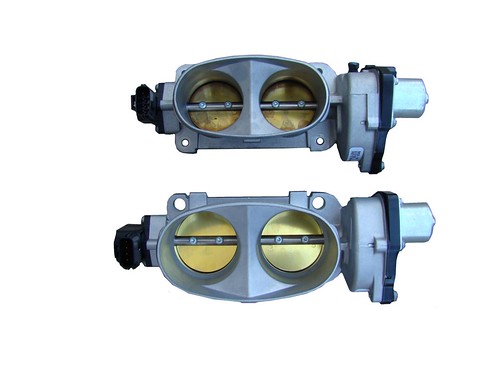 To start off with this install, unhook your negative battery cable.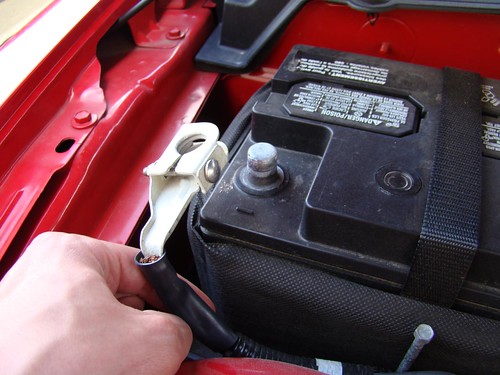 The next step is to remove your factory intake manifold cover (if equipped). There are two nuts that must be removed from the front of throttle body studs and a fuel line harness clip must be removed from the driver's side of the intake cover. Next lift the rear of the intake cover up and slide it forwards to clear the throttle body mounting studs.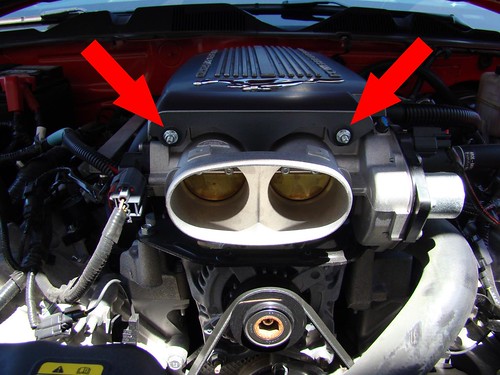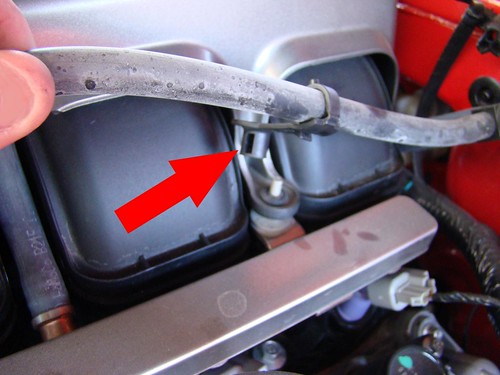 Once you intake cover is removed, it is best to remove your air intake system rather it be stock or after market such as my JLT. This allows easy movement in your work area.
Now you can begin removing the stock throttle body from the intake manifold. There are two studs on the top (same studs you intake cover slid over) that have two 8MM nuts attached to them, remove these. On the lower portion of the throttle body there are two 10MM nuts, these nuts come off leaving the studs inside the intake manifold.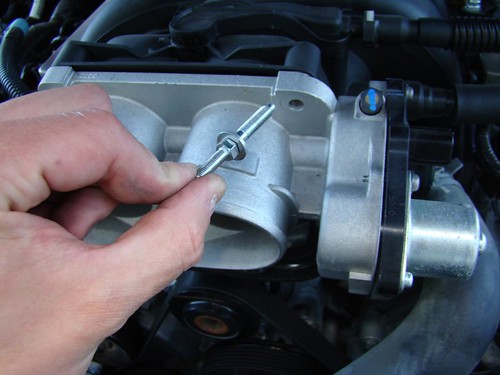 You will need to use a pair of pliers to remove the studs from the intake manifold.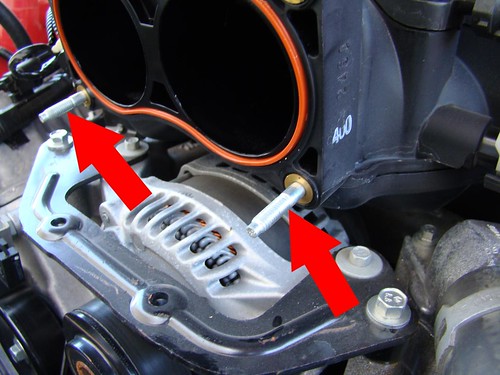 Once this is done, you can begin to install the new GT500 throttle body with the supplied hardware in our kit. All you need for this is a simple allen wrench. The bolts slide through the supplied centering sleeves and bolt directly to the intake manifold. Install all 4 sleeves and spacers with equal pressure applied to all. This will sandwich the spacer in-between the throttle body and intake manifold.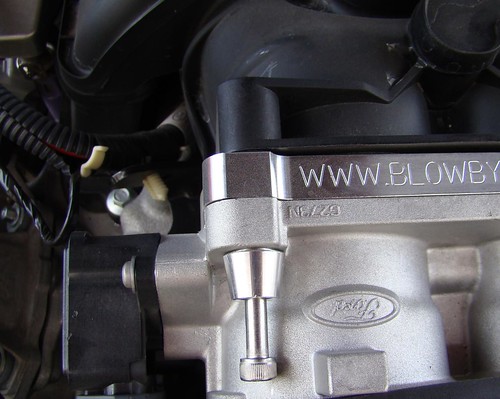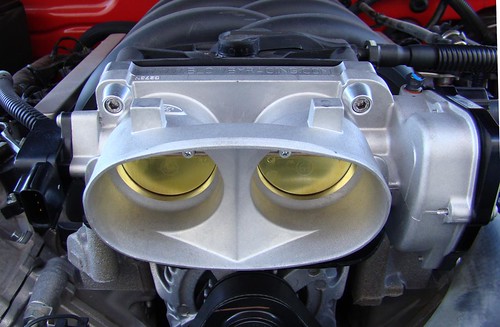 You will notice that the throttle body sticks out just a little farther than your original due to the spacer's thickness.
Once the throttle body and spacer have been installed, you can now re-install your air intake. If you are using an aftermarket intake such as my JLT, you will need to stretch your coupler over the new throttle body. This can be a little bit of a struggle and some boots such as in the BBK CAI kit will need to be replaced with the supplied silicone coupler that is included in the kit. I was lucky and my JLT coupler stretched over just fine. Now just simply tighten the supplied band clamp down and your existing cold air kit hardware.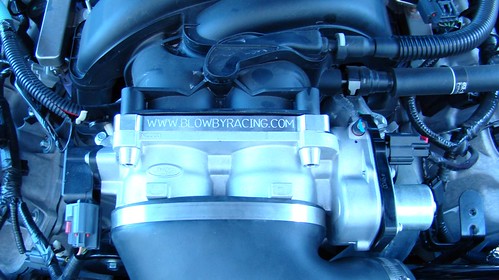 Now that your air intake is re-installed, make sure to plug in all of your sensors and put your negative battery cable back on.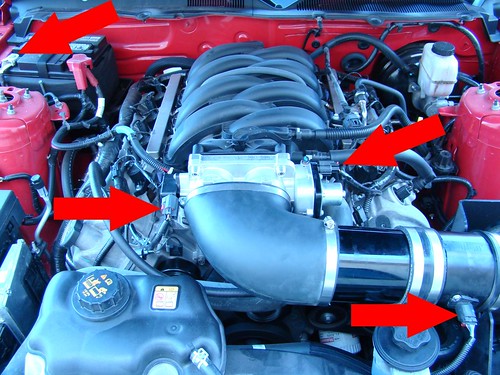 Now you may be wondering why I didn't mention reinstalling your factory intake cover. Once your install the new throttle body and spacer, your intake cover will not have the same ability to mount on the front of the throttle body. The mounting studs for this were removed and also your throttle body sticks out a little over 1/2 inch more than factory. Now, if you would like to reinstall the intake cover, you can simply trim the front of it to remove the mounting tabs and the excess plastic with a dremel tool or something similar. I chose not to perform this due to my still being under factory warranty and wanting to be able to put back completely stock under the hood if I needed to in the future. So keep this in mind before you trim your intake cover as well.
Here is the finished product without the engine cover installed, and a little more dirt under the hood than usual.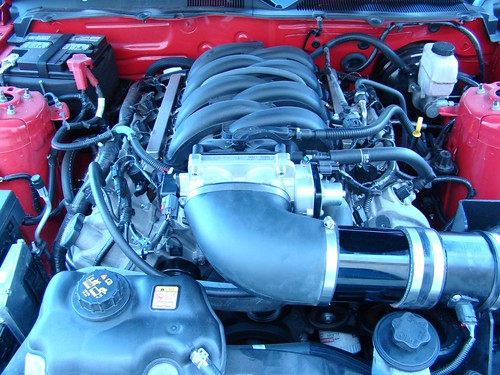 Now some people have stated that you need a custom tune in order to change the throttle body on your 2005-10 Mustang GT. Well I was also curious of this matter and once I installed the new GT500 throttle body I let the car idle for several minutes to see if the check engine light would come on. To my surprise it never did. I have now been driving the car daily for almost a month and have still not seen the check engine light. I think that pretty well says that no tune is needed for our GT500 TB kit. Please be aware that if your car is heavily modified chances are you probably already have a custom tune and it may need some adjustment to use this new throttle body setup.
In conclusion this is a great kit for the money and the performance gains are like nothing I would have ever expected from a throttle body swap. If you're looking for a great mod that will give you awesome throttle response, performance and an overall easy installation our GT500 Throttle body Kit is the way to go.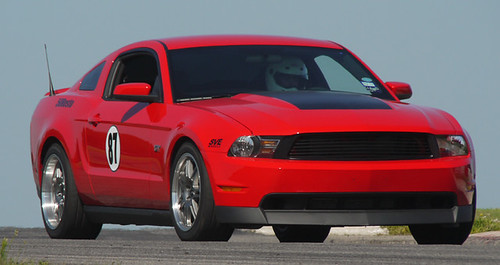 ---