Have you replaced your S197 Mustang cabin air filter recently? Ford recommends that the Mustang cabin air filter be changed every 12 months. After a lot of Googling, I was a little perplexed about where the cabin air filter went. After a quick call to our very own Mustang expert Jmac - this was cleared up. Removing and installing the new cabin air filter was extremely easy and something I would highly recommend doing very often; especially when you see the last picture. After exactly 12 months my filter was beyond filthy. It had a collection of bugs, dried dead plant life, and other nasties in it.
Tools Needed:
Installstion:
You will need to start by removing the two push pins located on the cowl vent cover. These are shown in the picture below. You can use the Philips screwdriver to back out the screw in the middle of the pushpin. Sometimes these can be easier to "pinch" the underside and pry up on the top.
Once the push pins are removed you can now gently pull up on the cowl section. In the picture below you can see the location of the filter once the panel is pulled up. To remove the panel I pulled up and away from the firewall.

You now have access to the filter and the case/frame to it. The case is removed by pulling it up and away from the firewall. In the picture below you will notice the feet at the bottom of the case that secure it in place. You will also notice all the nasties located in the filter.

Once you have the filter out you can wipe off the case and install the new filter. On the new filter, you will notice that the top of it will show you which direction it needs to be installed (see picture below). The airflow arrows need to point toward the cabin/firewall.
When putting the filter into the case you will notice the left and right-hand sides of the case have two flanges (seen in the picture below). These flanges need to go in between the fins on the air filter. They keep the air filter stretched out and held in place. This is very important to do. If not done correctly it will cause you to have open gaps in the case or worse could cause the filter to blow through the case.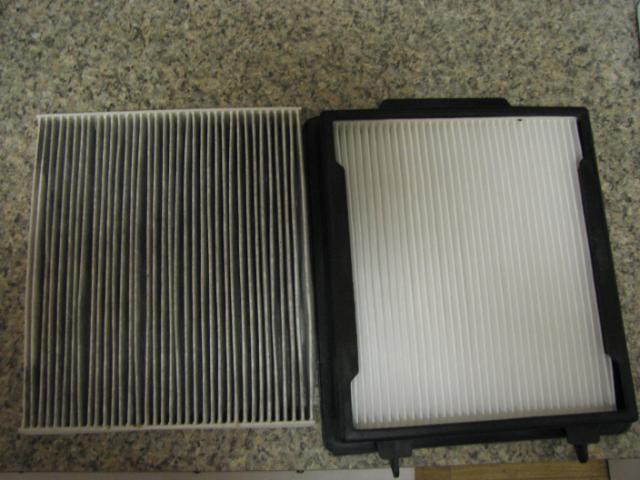 Reverse the removal steps to reinstall and enjoy clean air again.
Overall, the installation was a breeze. I had it all done in about five minutes.... my wife and kids never knew I was in the garage working on my car! I was amazed at how dirty the filter was after only 12 short months. I would rate this as a must-buy for all you 2005-2014 S197 guys and gals. While you are doing some routine maintenance to your S197 Mustang don't forget to replace your Mustang fuel filter!
---