This is quite possibly one of the easiest installations you can do to your second generation Ford SVT F-150 Lightning. This install takes less than 30 minutes and will help prevent performance-robbing oil vapor from entering your intake system. Oil vapor will contaminate your air charge, lower octane levels and clog your intercooler. This will not only hurt your performance, but can also cause serious engine damage if you let this continue for a long period of time!
That is where JLT comes to the rescue with their oil separators, built specifically for the 99-04 supercharged 5.4L SVT Lightning. The JLT oil separator features an aluminum construction that includes all needed hardware and hoses you need for a simple installation. The aluminum container helps to collect the oil vapor that attempts to enter your intake system.
Needed Tools:
Phillips Screwdriver
Drill with 9/32 drill bit
SVT Lightning JLT Oil Separator Installation
Step 1:
Start by removing the vacuum hose from the PCV and supercharger plenum.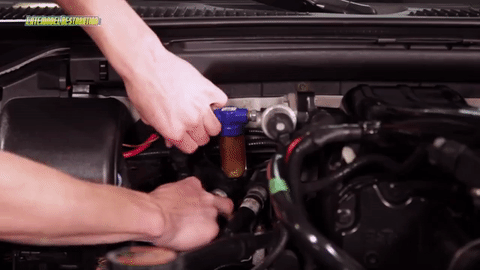 Step 2:
Next, install the short hose to the JLT oil separator fitting marked with a "J," and the long hose that connects to the other side of the separator marked with a "T." You will re-use the plastic coupler, and attach it to the short hose.
Step 3:
The next step is to attach the bracket to the top of the separator with the 2 fine-threaded screws supplied with the part. The small Phillips screwdriver will take care of that. Place the oil separator against the plastic wire loom at the top of the firewall, and mark it with a center punch, scratching awl, or magic marker.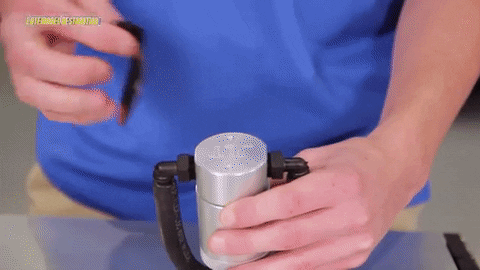 Step 4:
Drill the holes with a 9/32 drill bit while being very cautious to not go too deep. The course thread screws will secure the JLT part to the wire loom. Be careful not to over-tighten the screws. Step 5:
The short hose will attach to the PCV that is located right above the valve cover, and the long tube will be attached to the supercharger plenum. Fire up your Ford SVT Lightning Truck and check for vacuum leaks!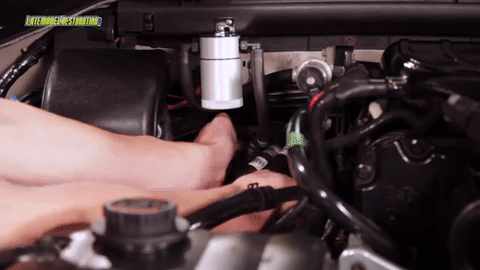 ---