Off The Lot
When we first picked up this 2015 Mustang GT the Guard color really took us by surprise. We have been waiting for something similar to the Highland Green used on the 2001 Bullitt to make it's return, and the Guard color was a pretty close match. We gave this S550 a nice little makeover in the wheel, suspension, and engine department!

Time For Some New Wheels
This S550 is equipped with the GT performance package that featured 19x9 and 19x9.5" wheels, but that didn't stay for long! We wanted to give this 2015 Mustang a new set of wheels that was a little different than the normal wheels you see everyday. We also wanted the new wheels and tires to help fill in the wheel wells for a more aggressive look. With all of that in mind, we opted for a set of Gunmetal Velgen VMB8 wheels. These 20" wheels feature a multi spoke design and a matte gunmetal finish. They gave us both great looks, and great functionality for the power and suspension we were about to add.
Let's Get Low
With the new wheels on our Stang, we noticed there was too much wheel gap for our liking so we knew just what we needed to do. We swapped out those factory springs with a set of Eibach Pro Kit Lowering Springs to give us about a 1" drop all of the way around. This gave us the stance we wanted while also improving the handling characteristics of the S550 Mustang. Now that we had a new set of wheels and had our car sitting just how we wanted, it was time to add some serious horsepower!
Bring The Noise
Like every Mustang we get our hand on, that factory exhaust had to go! While the stock exhaust is sporty from the factory, there is always room for improvement. We decided to go with a 2015 Mustang GT Ford Racing Sport Catback Exhaust Kit for our S550. With 2.5" mandrel bent tubing and 4" tips, this kit was going to give us the performance, sound, and looks we were looking to achieve. Being 30lbs lighter than the factory exhaust was also a plus! This kit bolted straight up to our factory exhaust system and made for a quick and easy installation. This resulted in a throaty exhaust tone that didn't drone on the highway. That's a win/win for us!

It's Boost Time
This GT packed some serious horsepower with it's Coyote engine putting down an impressive 435 horsepower at the engine from the factory. At the wheels with just exhaust and 93 octane we were able to achieve 394 horsepower, which was good, but we wanted more. This is where things got interesting. We could have added a cold air intake, headers, a midpipe, and more bolt ons, but we wanted more than that. That's where the 2015 Mustang Ford Racing/Roush Phase 1 Supercharger came into play. This kit included everything we needed to make some serious horsepower without having to bolt on a ton of parts. This supercharger added over 150 horsepower to our S550 bringing our final numbers to 546hp/496tq! This was a significant upgrade from our previous numbers and it has completely changed the way this car performs.
Overview
Between driving the 2015 Mustang GT in factory form to taking it for a test drive with all of new mods on it was nothing short of amazing. The Eibach lowering springs and Velgen wheels gave the car a smooth, tight feeling around the corners and had incredible handling improvements. The quiet exhaust was a thing of the past thanks to the aggressive sounding Ford Racing catback exhaust. It didn't drone on the highways and it screamed at full throttle! I thought the car was fast from the factory, but after driving it with the new supercharger, i had a new respect for the word "fast". Overall this car sounds better, handles better, and hauls you know what! Check out our videos and let us know what you think of the car in the comments below.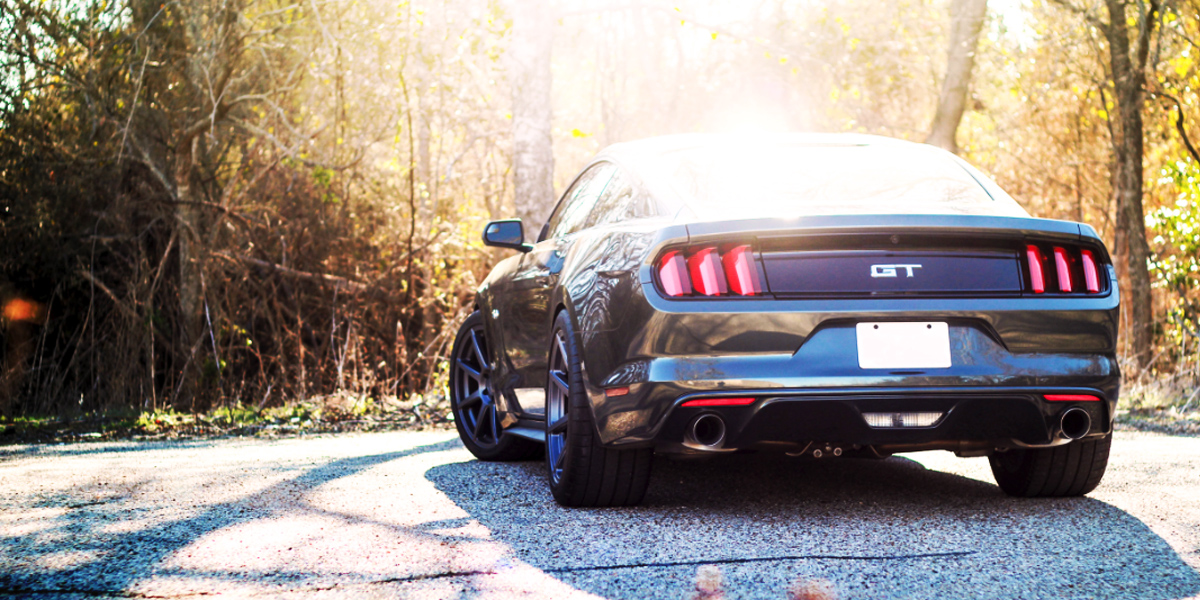 ---