---
Jump To: Engine | Transmission/Driveline | Suspension | Brakes | Exterior | Interior | Packages
---
In this video, we're going to be talking about all-things 2020 GT500 and how the Ford Performance team built the baddest production Mustang, EVER! Before we get into all of the cool details on this car, know that we'll be touching base on all of the standard features and will dissect the different packages towards the end of the article. Let's go!
---
Engine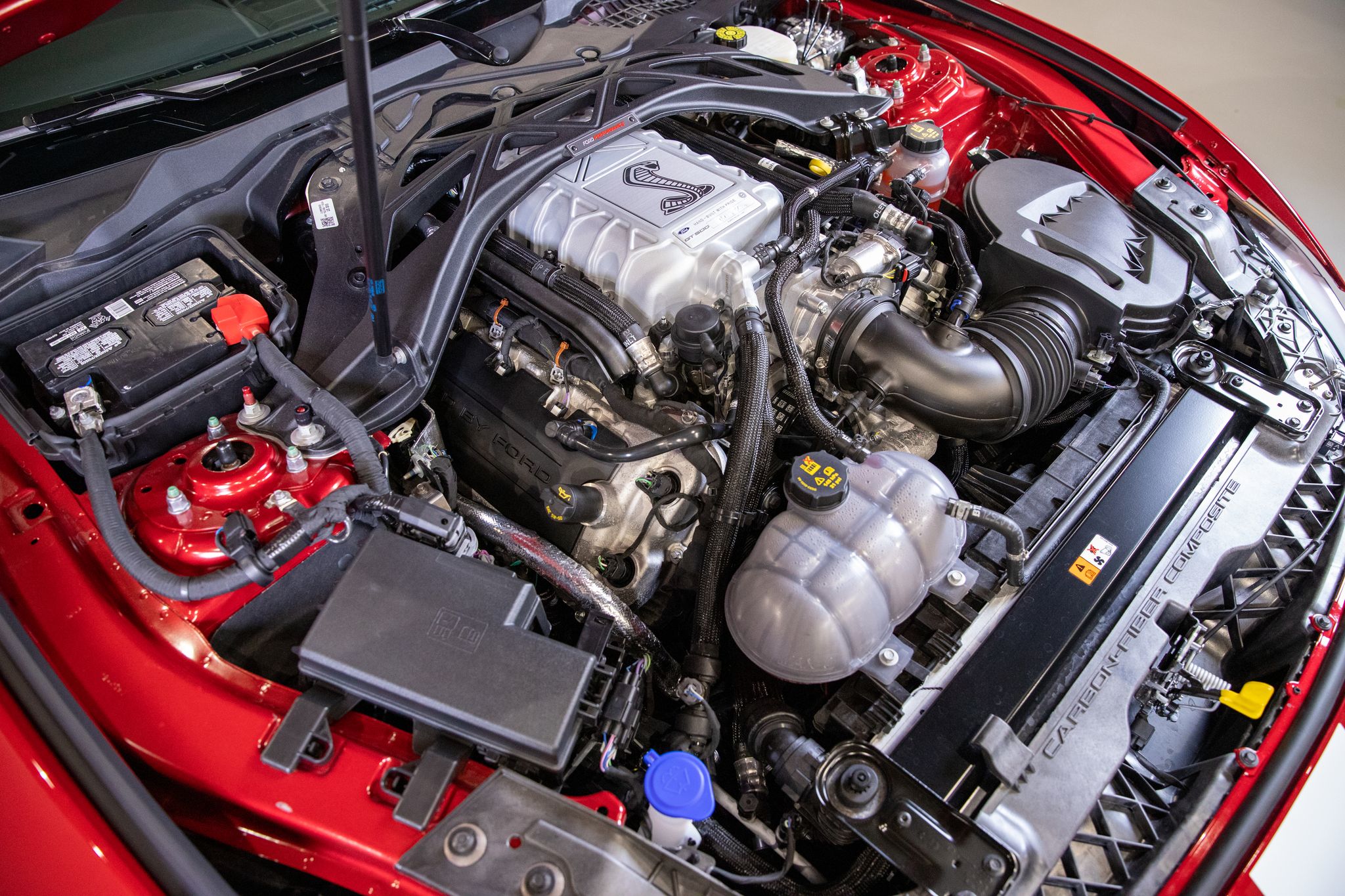 So the power plant in the GT500 is code-named Predator, and rightfully so! This supercharged powerhouse packs 760 HP at 7,300 RPM and 625 lb-ft of torque at 5,000 RPM with 93 octane fuel. This allows the 2020 GT500 to be crowned the most powerful street-legal Mustang Ford has ever produced. The driving force for all of this power is a 2.65-liter roots-style supercharger that spins 12-pounds of boost. Unlike the superchargers on past GT500s, the blower on the 2020 GT500 is an inverted design that positions the intercooler at the top instead of down in the engine valley. According to the Ford engineers, this adds a lower center of gravity for the supercharger itself and offers lower charge temps which are always a good thing with forced induction. Now the Predator does share close DNA to that of the Voodoo engine found in the GT350s and 350R.
The aluminum block has a displacement of 5.2-liters or 315 cubic-inches, a 3.70 bore and 3.66 stroke, a 9.5:1 compression ratio, but utilizes a traditional cross-plane crankshaft. The short block is loaded with weight-saving wire-arc cylinder liners, forged connecting rods, forged pistons, and that forged cross-plane crankshaft. In typical Ford modular engine fashion, the cylinder heads are a dual overhead cam design with GT500 specific camshafts that have a supercharger-friendly lobe design. Along with all of that neat stuff, the engineers even designed a unique structural oil pan that adds strength, reduces vibration, and even has a patented active baffling system to keep the oil where it's needed.
---
Transmission/Driveline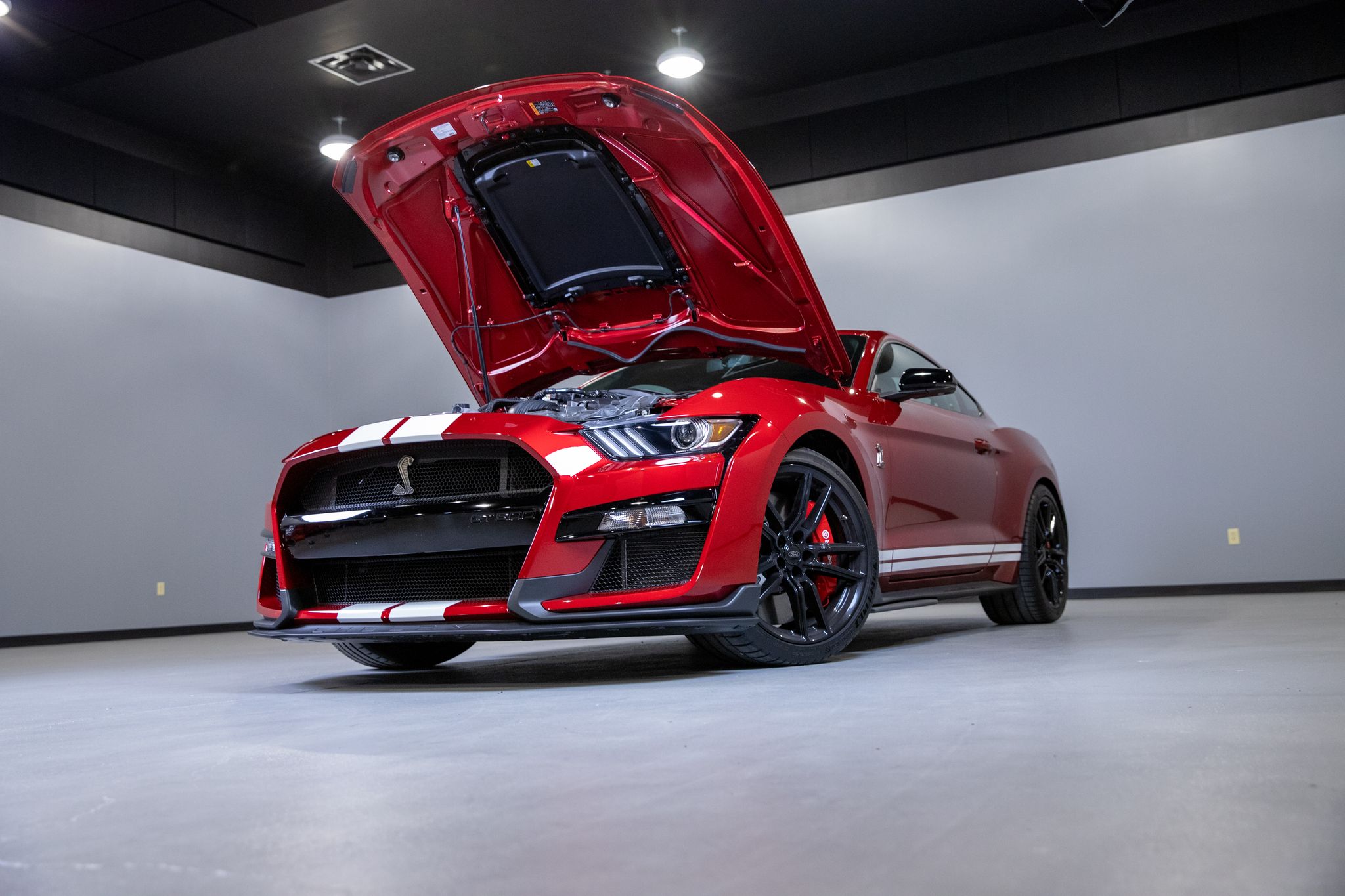 So how does Ford channel all of the Predator power through the driveline? With a Tremec 7-speed dual-clutch transmission. The 7-speed DCT is capable of jaw-dropping shifts under 100 milliseconds and is another "first" for the Mustang. This dual-clutch transmission is designed for multiple drive modes, including, normal, weather, sport, drag, and my personal favorite, track. Each of these modes offers a customized driving experience utilizing the vehicle's high-tech systems to optimize vehicle dynamics and powertrain response based on the selected mode. Now without question, this transmission has honestly been the topic of discussion amongst die-hard Mustang enthusiasts. We for one love a manual transmission, but the DCT is by-far in a league of its own and is without question extremely cool in its own way. Whenever the transmission is in drive, you can select the manual option which gives you full control of upshifts and downshifts via the paddle shifters.
Continuing through the driveline, a carbon-fiber driveshaft connects the DCT transmission to the Torsen differential and its 3.73 rear gear ratio. As far as axle shafts, those were one of the first things we looked at whenever we got the car on the lift. From what it looks like, they appear to be made from a different material which could yield a stronger axle shaft because of the increase in horsepower and torque. There isn't much information available right now, but as soon as people start to beat on these cars, we'll find out how strong they really are.
---
Suspension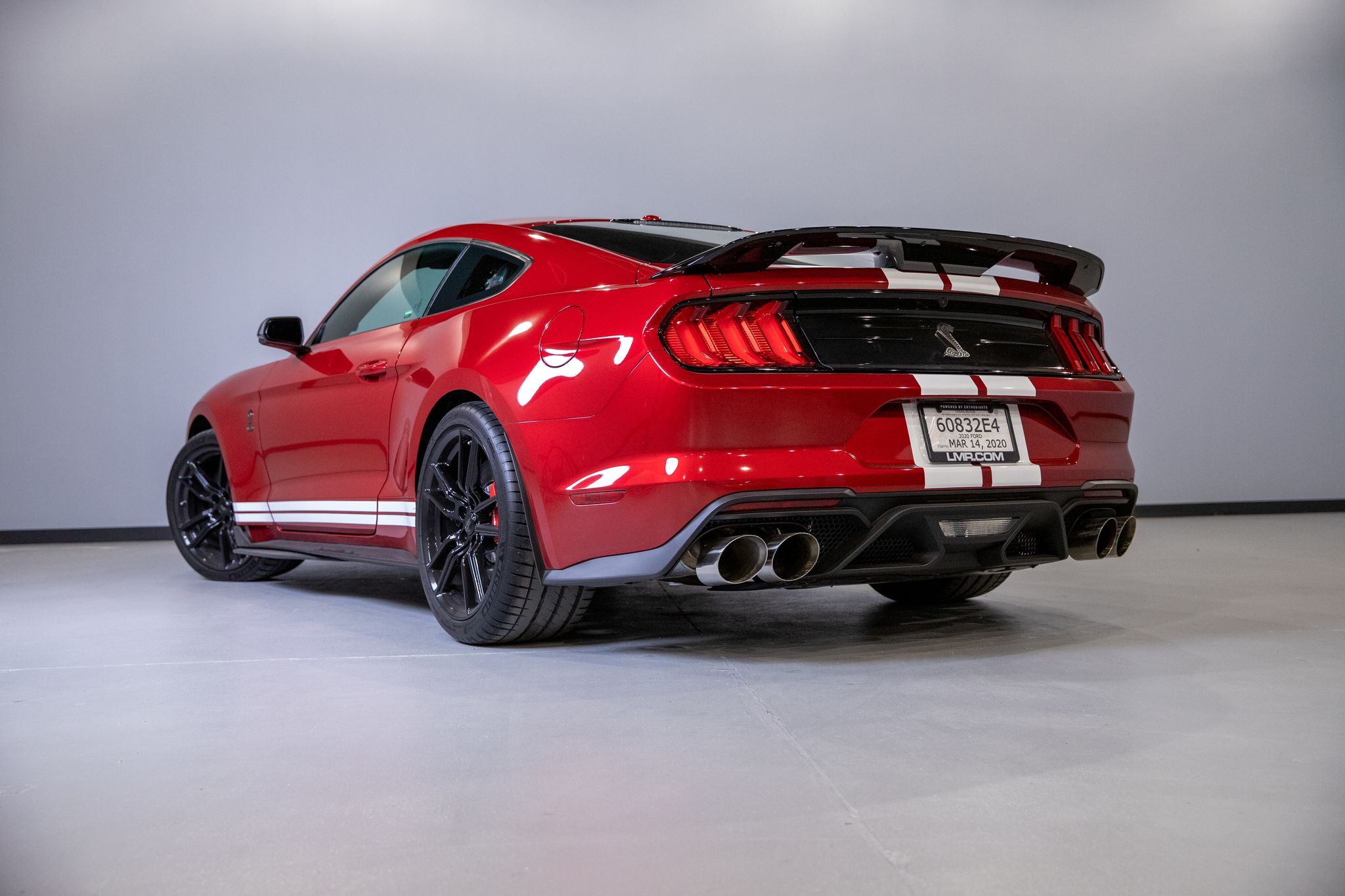 In order to accompany a great drivetrain, Ford Performance's engineers knew they had to deliver a remarkable suspension. The GT500 takes advantage of revised suspension geometry with inspiration from the Ford GT and Mustang GT4 race car. A new electric power steering unit is also onboard along with lighter-weight front and rear springs, and Ford's Magneride shock and strut system. Add all of that stuff together and the payoff is the highest-ever lateral acceleration from a Mustang.
---
Brakes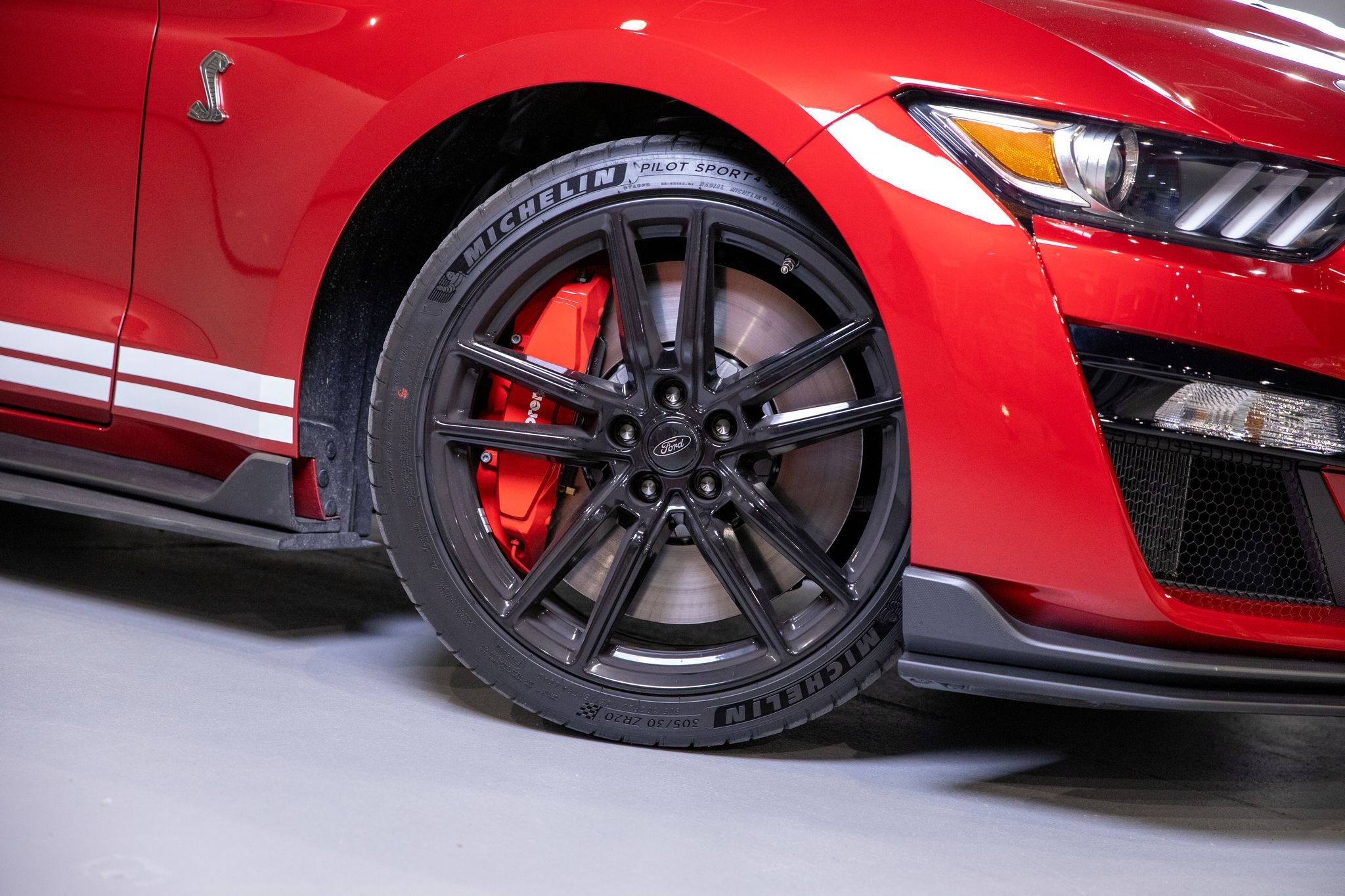 Now we all know that a fast car typically needs to come to stop… well, Ford didn't play around with the braking system for the 2020 GT500. Bringing this car to a stop are MASSIVE 16.5-inch front rotors accompanied with Brembo 6-piston calipers and 14.6-inch rear rotors with 4-piston Brembo calipers. The rotors themselves are a multi-piece design which includes aluminum hats to reduce weight and traditional iron brake rings. Now for the data-junkies out there, the front brakes on the new GT500 have 20-percent more swept and 30-percent more thermal mass than the GT350s. The GT500 also utilizes an electronic-assist parking brake and a 3D-printed ABS sensor bracket.
---
Exterior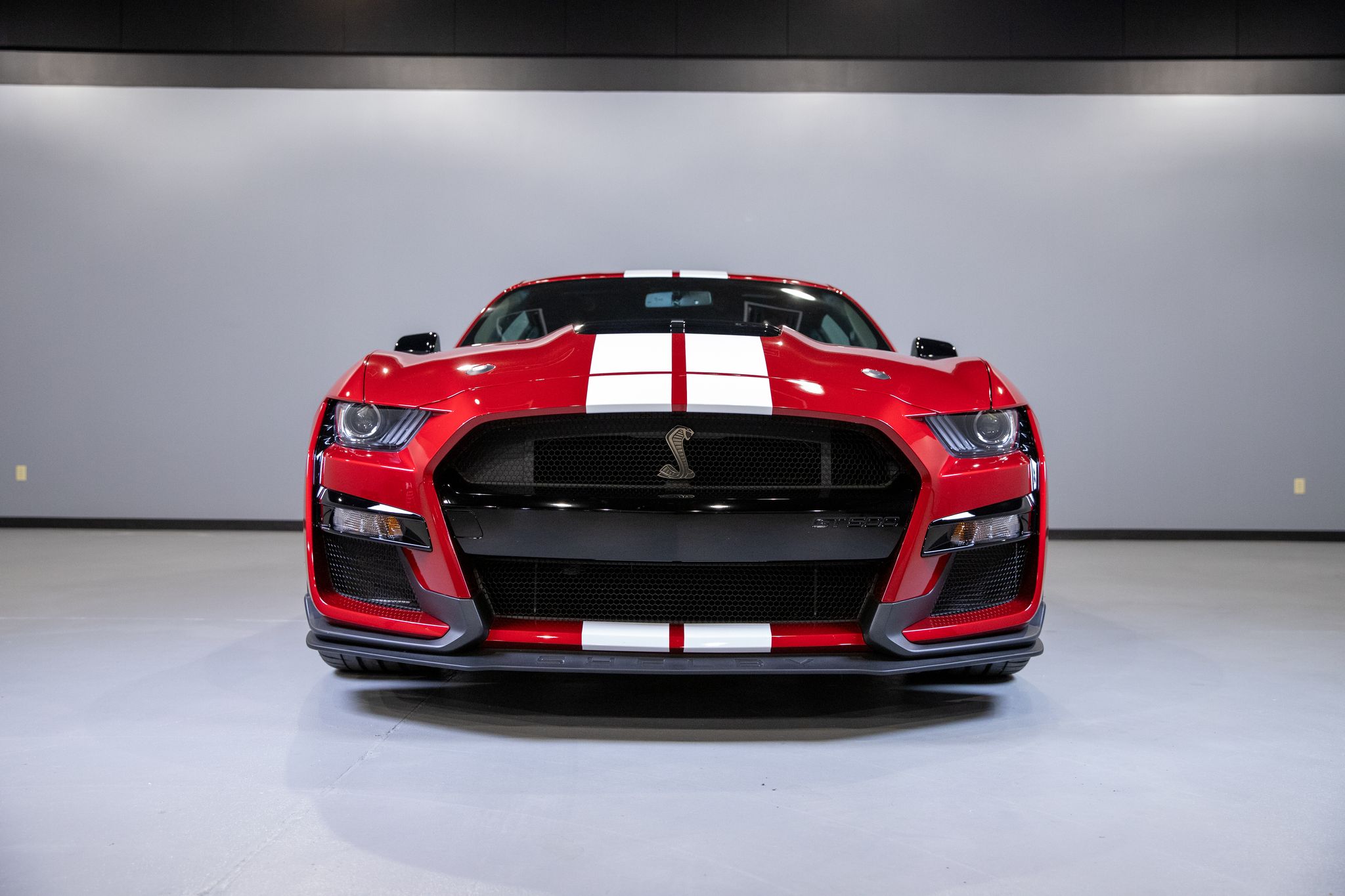 Switching gears to the exterior, the GT500 received frontal and rearward enhancements which is very typical for Ford engineers and designers when developing a car on an existing chassis. The GT500 not only offers menacing looks but a ton of functional aero components as well. When comparing the front bumper to the GT350s, the Ford engineers increased airflow by more than 50-percent thanks to them doubling the number of openings. This was done to make sure all six of the heat exchangers that are stuffed in there receive all the air that they can. Along with the wide fenders, Ford repurposed the GT350 headlights because of the lightweight carbon fiber composite radiator support.
Both the front and rear wheels measure in at 20x11-inches with specific offsets and constructed from aluminum and utilize the flow-forming process. They're wrapped in Ford Performance-spec Michelin Pilot Sport 4S rubber. The GT500's hood features functional hood release pins as well as a very large 31x28-inch louvered hood vent that incorporates a removable aluminum rain tray for better extraction and increased downforce. At the rear of the car, you'll find the largest snake ever on a Mustang positioned on the deck lid panel and sticking with the largest-ever theme here are 5-inch exhaust tips in that very good looking quad-tip configuration. Now, non-track pack cars receive a traditional style spoiler and if you opt for the handling pack you can add a Gurney Flap which adds additional downforce. Also included are 5-inch exhaust tips which like many other components on the 2020 GT500 are the largest ever on a production Mustang.
---
Interior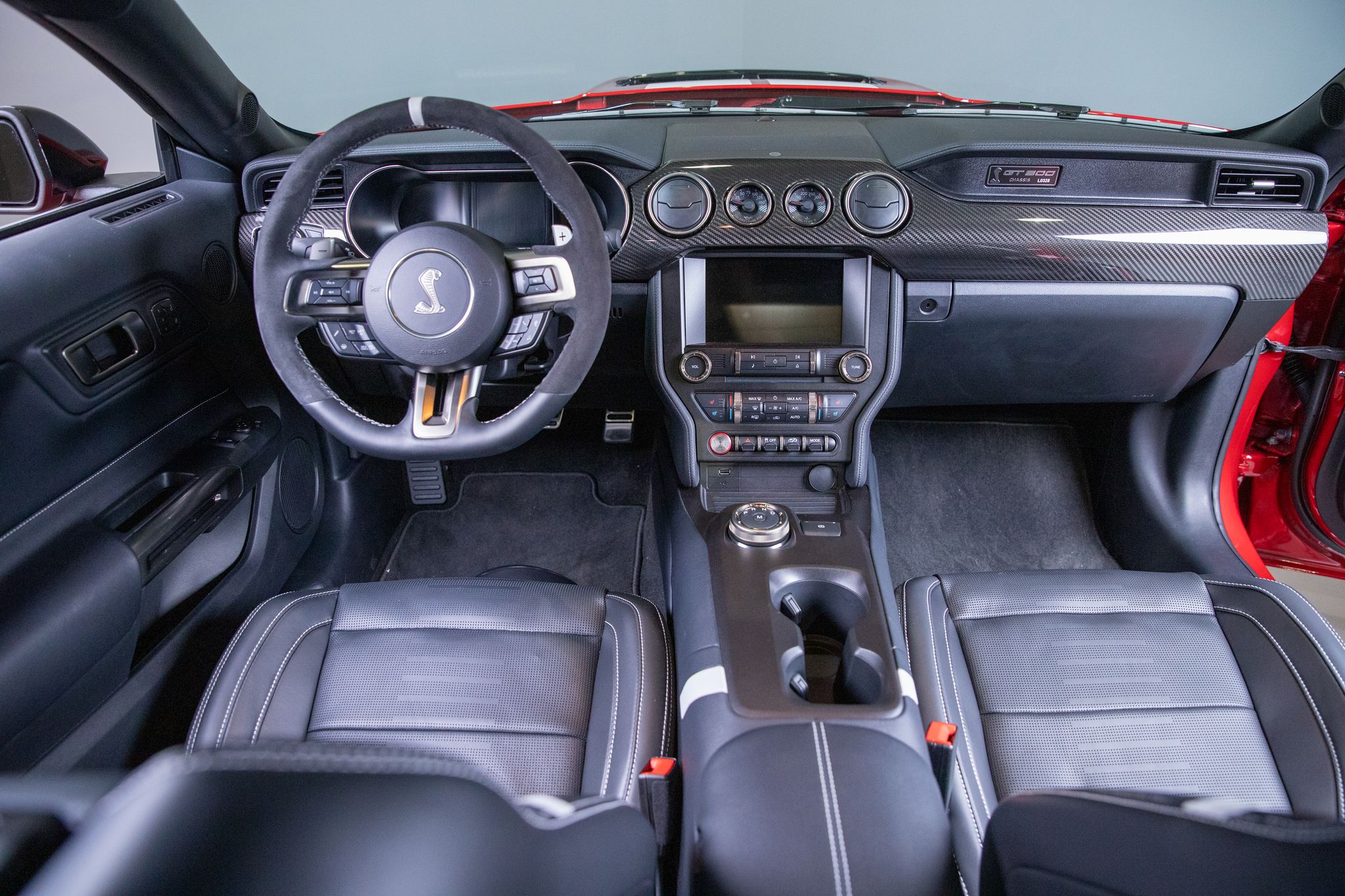 Switching gears to the inside of the car and you'll find standard-issue S550 styling with a splash of GT-500 specific tidbits. Most notable is the gear selector knob which is placed perfectly atop the GT-500 specific center console. The steering wheel feels really nice in the hands and it features premium materials such as leather and Alcantara as well as a sightline for wheel orientation. Standard issue features include the 12-inch cluster, 8-inch infotainment screen, and a 9-speaker sound system just to name a few. Not to mention, the exposed carbon fiber dash applique also looks right at home inside of the 500.
---
Packages
Like many other vehicles that Ford produces, you can mix and match the GT500 with a few different packages. The Carbon Fiber Track Pack is definitely the top dog and pushes the GT500 even further in regards to looks and performance. This packages includes lightweight, exposed Carbon Fiber wheels that measure 20x11-inches in the front and 20x11.5-inches in the rear, and are wrapped in very sticky Michelin Pilot Sport Cup 2 tires. The rear seats are deleted for even more weight savings and Recaro, leather-trimmed front seats come standard. Aerodynamic add-ons include front splitter wickers and a really sweet adjustable GT4 track wing in that very good looking exposed carbon fiber. Handling upgrades include adjustable upper strut mounts that most of us know in the aftermarket as caster/camber plates. Lastly, Ford includes a passenger-side oil separator which will help prevent oil vapor from making its way back through the intake system.
Now if you aren't dropping almost 19-thousand dollars on the Carbon Fiber Track Pack, you'll have the choice of a handling pack and technology package. The handling package is about as simple as it comes and according to Ford's website, you get a Gurney flap and front splitter wickers. The technology package gets you a 12-speaker B&O sound system, Ford's Blind Spot Information System, heated exterior mirrors with integrated turn signals and Cobra LED puddle lamps, a voice-activated touchscreen navigation system, and a very comfortable 6-way driver's seat with (3) memory settings.
---
Related FAQs
How Much Horsepower Does the 2020 Mustang GT500 Have?
The 2020 Mustang GT500 has 760 HP.
What Kind Of Engine Does the 2020 Mustang GT500 Have?
The 2020 Mustang GT500 has a 5.2L Engine (code-named "Predator").
Does The 2020 Mustang GT500 Come In A Manual Tranmission?
The 2020 Mustang GT500 DOES NOT come in a manual transmission, only automatic.
---
There is no doubt about it… Ford went all-in with the 2020 GT500 and has ultimately set the bar very very high for not only the other manufacturers but for Ford themselves. As always, we're extremely honored and very grateful to bring all of you this amazing content on Ford's newest Mustang. That'll wrap things up for this rundown on the baddest production Mustang EVER, the 2020 Shelby GT500.
We'll catch you guys next time, but be sure to hit that subscribe button if you haven't already done it, and for more Mustang content; keep it right here with the real enthusiasts, LMR.com!
---