Some of you may be asking yourself "what exactly are the salt and pepper shakers on my Mustang", I am here to help shed some light on the subject. The salt and pepper shakers are the 10 pin connectors located on the rear of the upper intake manifold. One is white and one is black, this is why they are commonly referred to as the salt and pepper shakers. These connectors are where the main PCM harness meets the engine side of the harness.
These are very common to breakage, or they become corroded causing drive-ability issue throughout the vehicle. Normally the clips break upon removal and can cause many issues. These connectors control a majority of engine functions. This will include EGR, ECT, TPS, ACT, O2's, and all of your injector's functionality. If the 10 pins are not making proper continuity across all of the connections, it can cause a laundry list of issues in the long run.
---
Where Is The Fox Body 10 Pin Connector Located?
One thing I would like to go over is where they are and how to fix some of the common issues. Step one is the location (see figure below). These will be located on the rear of the upper intake manifold. With adding in different aftermarket parts these can break very easily from being removed and replaced multiple times. Normal things to looks for are usually common issues. Any broken clips, chafing or broken wires, and excessive corrosion is common with these connectors. Our test car is a 92 and the connectors on the car are actually in pretty good shape. As you can see everything is how it should be. The main clips on this car are not broke and are holding tight. If these clips are broken you can use a good solid zip tie to help keep these holding tight, we do not recommend using tape as this one has. If you are replacing your intake or have access to these for any reason this is a great time to go ahead and clean up the internal connections. On the side facing the front of the engine, you will see the connector clip, I normally use a very small flat blade screwdriver to release the clips. Be VERY CAREFUL!

---
Fox Body 10 Pin Connector Cleaning Process
You do not want to break them of course for what we have already gone over. Once removed, you can see the internals of the connectors. If you see the diagram below, you can see the breakdown of each one. Cleaning these can be a breeze. I normally take any quality electrical connector cleaner and spray down all of the pins. Make sure to let this dry fully after spraying them down, and do this for both ends of each connector.
After everything is clean, make sure to visually inspect them for any major corrosion build up. If any is present, you can use a small piece of emery cloth to very lightly knock off any build up. After you are done with the cleanup of the connectors, make sure to use quality di-electric grease back on each pin. Normally, this will help solve a good amount of issues that could be going on with your Mustang.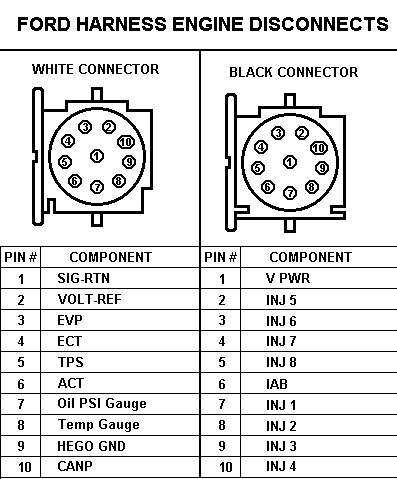 ---
In Conclusion
We hope this has helped you with understanding exactly what the salt and pepper shakers on your Mustang are now. As always make sure to stay tuned into everything LMR for all of your Mustang needs.
---