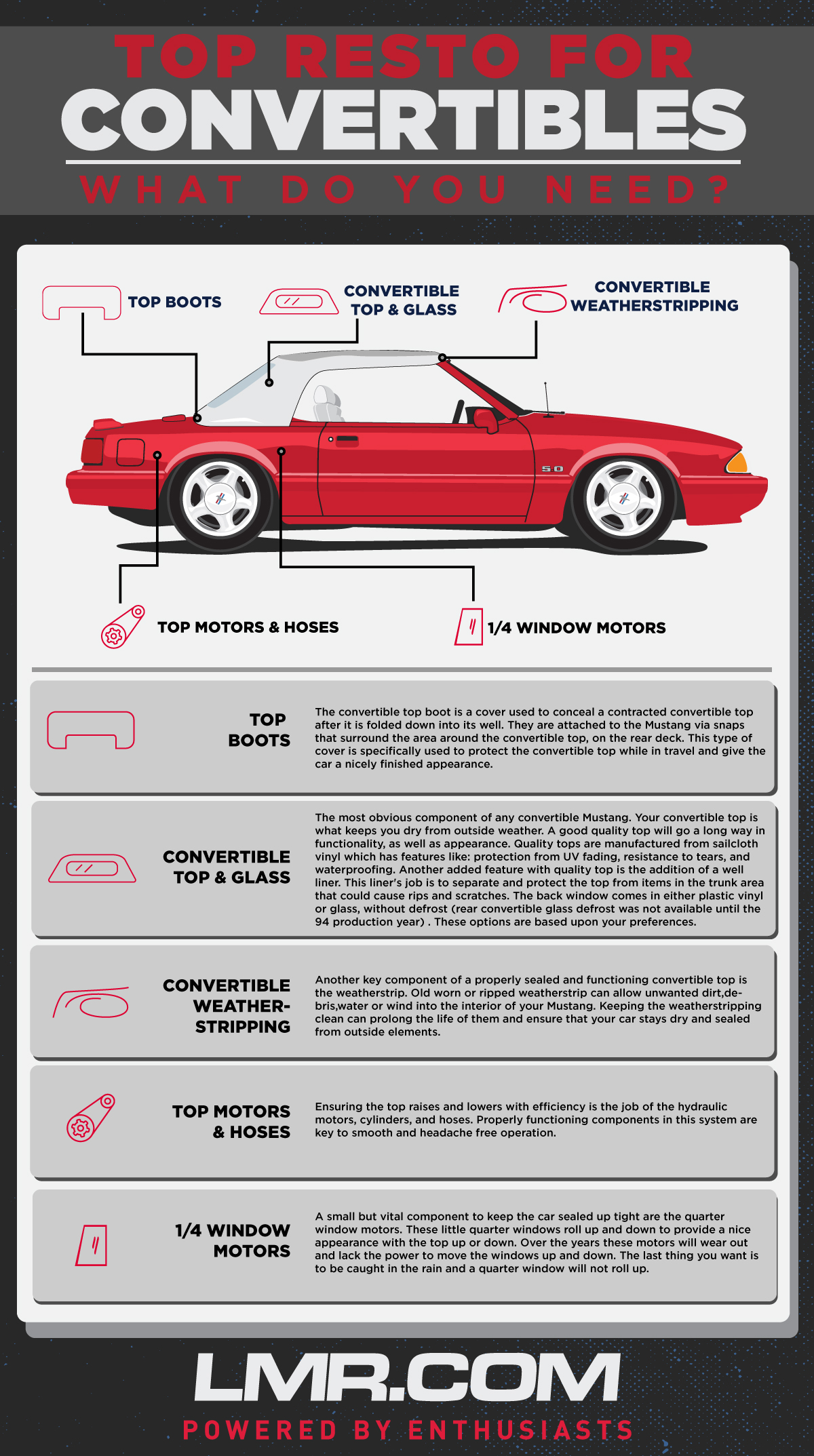 ---
Fox Body Mustang Convertible Restoration
For convertible Fox Body Mustang owners, there are going to be a few different components that you will need to think about when restoring your Fox. Due to the added components to enable you to drop the top in the beautiful weather, there are going to be more parts that can wear and tear over the years. Today, we are going to look at the most common parts needed to restore your convertible Fox Body.
Fox Body Mustang Convertible Top Boots
-
The convertible top boot is a cover used to conceal a contracted convertible top after it is folded down into its well. They are attached to the Mustang via snaps that surround the area around the convertible top, on the rear deck. This type of cover is specifically used to protect the convertible top while in travel and give the car a nicely finished appearance.
Fox Body Mustang Convertible Top & Glass
-
The most obvious component of any convertible Mustang. Your convertible top is what keeps you dry from outside weather. A good quality top will go a long way in functionality, as well as appearance. Quality tops are manufactured from sailcloth vinyl which has features like: protection from UV fading, resistance to tears, and waterproofing. Another added feature with a quality top is the addition of a well liner. This liner's job is to separate and protect the top from items in the trunk area that could cause rips and scratches. The back window comes in either plastic vinyl or glass, without defrost (rear convertible glass defrost was not available until the 94 production year) . These options are based upon your preferences.
Fox Body Mustang Convertible Weatherstripping
-
Another key component of a properly sealed and functioning convertible top is the weatherstrip. Old worn or ripped weatherstrip can allow unwanted dirt,debris,water or wind into the interior of your Mustang. Keeping the weatherstripping clean can prolong the life of them and ensure that your car stays dry and sealed from outside elements.
Fox Body Mustang Top Motors & Hoses
-
Ensuring the top raises and lowers with efficiency is the job of the hydraulic motors, cylinders, and hoses. Properly functioning components in this system are key to smooth and headache-free operation.
Fox Body Mustang 1/4 Window Motors
-
A small but vital component to keeping the car sealed up tight are the quarter window motors. These little quarter windows roll up and down to provide a nice appearance with the top up or down. Over the years these motors will wear out and lack the power to move the windows up and down. The last thing you want is to be caught in the rain and a quarter window will not roll up.
---