In this article we cover everything you need to know about the rare 2009 Shelby GT500KR and will dyno a GT500KR model with only 5,000 miles! This specific model belongs to a mutual friend of LMR and was kind enough to let us review and dyno this vehicle. This is 1 of only 110 units that came in Colorado Red with silver stripes. Check out all of the specs and dyno results below!
---
Jump To: What Is A GT500KR? | '09 GT500KR Photos | Dyno Numbers
---
What Is A GT500KR?
The Shelby GT500KR, the most powerful production Mustang ever, made a comeback in 2008. That year, 1000 units were constructed, but demand for the "King of the Road" was so high that Ford approved a second year of manufacturing. A total of 712 automobiles were produced in 2009, all of which were identical to the ones produced in 2008. The KR's supercharged V-8 produces 540 horsepower, which is 40 more than the original GT500. It also has a short-throw shifter, a 3.73:1 rear axle, and specific wheels, tires, and suspension settings. The KR is distinguished from other GT500s by a custom composite hood with hood pins, as well as unique stripes and badging.
Shelby GT500KR Specs
*Courtesy of Ford Performance*
Engine
Horsepower | 540 HP at 6,250 RPMs
Torque | 510 lb-ft at 4,500 RPMs
Type | 90 degree DOHC supercharged V8
Displacement | 5.4L/330 CID
Bore x Stroke | 90.22mm x 105.8mm (3.552" x 4.165")
Compression | 8.4:1
Suspension
Front | Reverse-L independent MacPherson strut, 34-mm tubular sway bar, Ford Racing front strut tower brace, uniquely tuned struts & shocks
Rear | 3-link solid axle with coil springs, Panhard rod, 24-mm solid sway bar and uniquely tuned shocks & springs
Brakes
Front | 14 in. vented Brembo disc, four-piston aluminum caliper
Rear | 11.8 in. vented disc, dual-piston caliper
ABS | Four-channel ABS system, linked to all-speed traction control & electronic brake force distribution
Wheels/Tires
Wheels | Unique GT500KR 18" x 9.5" machined aluminum wheels with SVT/Shelby center caps and tire pressure monitoring system

Front | 255/45Zx18
Rear | 285/40Zx18

Tires | Exclusive Goodyear Eagle F1 tires made of an all-new compound
Performance
0 – 60 MPH Acceleration | 4.3 seconds (Est.)
60 – 0 MPH Braking | 112 feet (Est.)
1/4-mile @ MPH | 12.5 seconds @ 114 mph (Est.)
Production Numbers
Silver Metallic with vista blue stripes | 278
Ebony Black with satin ebony stripes | 236
Colorado Red with silver stripes | 110
Vista Blue with silver stripes | 88
Total 2009 GT500KR production (Coupe Only) | 712
---
← Swipe For More 2009 Shelby GT500KR Photos →
---
Check Out Our Dyno Numbers!
Before you see the results we wanted to mention some of the modifications that were done to this vehicle:
2.6" Upper Pulley on the Supercharger
Custom Calibration
The pull will be made in 4th gear which is the 1:1 ratio with 93 octane fuel and these models have the heavy 2-piece driveshaft. With all that said let's make a dyno pull!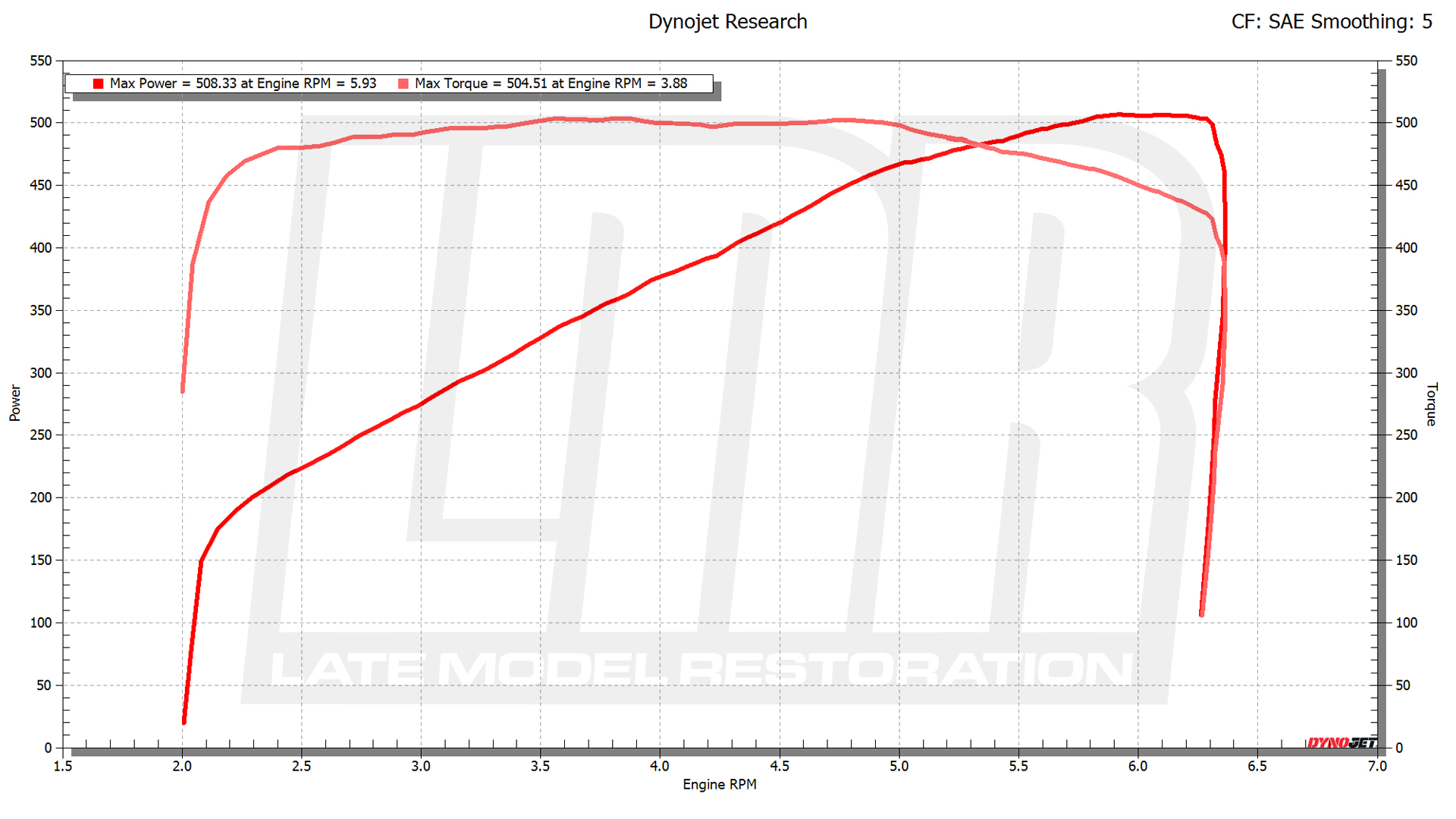 ---
Here are the results! This 2009 Shelby GT500KR made 508 HP at 5900 RPMs & 505 lb-ft of torque at 3900 RPMs. Needless to say that we believe with the smaller pulley and the custom calibration these numbers are right in line with our predictions. We hope this dyno gave you some more insight on just what these rare Shelby GT500KR's can do. As always keep a lookout for more dyno articles and videos right here at LMR.com. Shop our featured 05-09 Mustang Parts below!
---