For this dyno article we will turn our attention to this 2014 Mustang GT/CS. This car belongs to Landan's Fiancée and they couldn't be more excited to see what kind of power this puts out! Below we list all of the modifications that were done to the vehicle and of course the dyno results! Also, check out our What Is A California Special Mustang Article to learn more about all of the different Cali Special year models.
---
Jump To:
Dyno Numbers & Photos
---
← Swipe For More 2014 Mustang GT/CS Photos →
---
Modification List
VMP Gen 2R Supercharger Kit
85mm Pulley
127mm JLT Cold Air Intake
GT500 Throttle Body
Aluminum Driveshaft
3.73 Rear Gears
19" SVE SP2 Wheels
93 Octane In The Tank
Offroad X Pipe
GT500 Quad Tip Mufflers
This car has a 6R80 Transmission so the pull will be made in 4th gear which is very close to the 1:1 ratio.
---
2014 Mustang GT/CS Dyno Results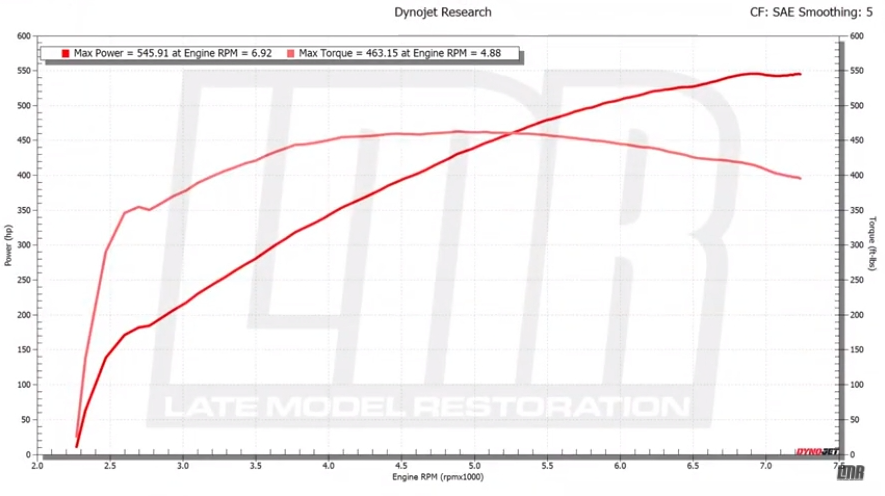 ---
Here are the results! Horsepower comes in at 546 @ 6900 RPMs with 463 lb-ft of torque @ 4900 RPMs. While these numbers are extremely impressive, knowing Landon and his Fiancée we wouldn't be surprised if even more upgrades are done to the car. We hope this dyno gave you some more insight on just what these iconic 2014 Mustang GT/CS's can do. As always keep a lookout for more dyno articles and videos right here at LMR.com. Shop all of our S197 Mustang Parts below!
---