This install from LMR will cover SVE's latest offering with our all-aluminum overflow tank, covering all 1986-1993 5 liter Mustangs. This overflow tank from industry leader SVE will not only give you extra styling under your hood but will also provide you with peace of mind over your stock worn-out plastic tank. SVE has designed this tank to be a direct replacement for all of your factory 1986-1993 5 liter applications. These are designed to bolt to the OEM radiator shroud.
We offer these tanks in a polished or a black finish for added underhood aesthetics. These will be constructed from aluminum, they feature precision welds, which will provide overall strength for your cooling system compared to the stock plastic option. SVE includes a new threaded cap, overflow hose, and a clear sight tube so you can monitor your fluid levels.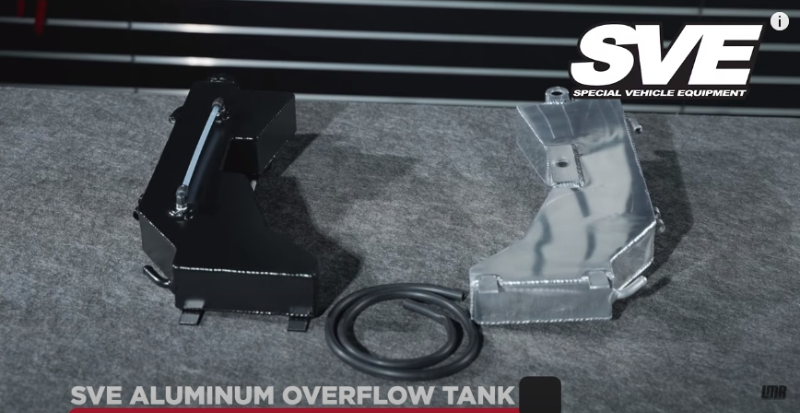 For this install, we have this 1990 Hatchback GT that we will be working on. Follow along, and we will go over the step-by-step instructions on removing and installing this part. Overall this install should take you roughly 30 minutes to complete.
Some of the tools you will need will be:
8mm socket
1/4" ratchet
set of wire cutters
assorted screwdrivers
small band clamps or zip ties are optional
---
Replacement Instructions
Before we begin, make sure to allow the vehicle you are working on ample time to cool down.


Once the vehicle has cooled down, you can start by popping the hood of the car. To give you some extra working room, disconnect the battery and remove it from the car.



If your car has the low coolant sensor-equipped, unplug this connection and then remove the cap and sensor from the tank.



Loosen and remove the (2) 8mm bolts holding the tank to the fan shroud.



Remove the hose going from the tank to the overflow nipple near the radiator cap.



Now you can fully remove the tank from the vehicle.



Now that the tank is removed, take this time to inspect and clean the area.



Because the SVE tank doesn't utilize the low coolant sensor, we chose to wrap the end of the connector in a small plastic bag and then seal it up with electrical tape. This is not 100% necessary, but it will help prevent moisture in the plug.



Now you can tuck the plug out of the way.



Before going back in with the new SVE tank, set it on a clean work surface and thread off the cap.



Then, using the supplied section of hose, slip one end through both of the eyelet tabs and then press the hose over the lower nipple on the side of the tank.



Now you can tuck the hose in the top of the tank; this will keep the hose from dropping down while installing it.



Moving over to the vehicle, set the two lower tabs on the overflow tank into the two lower fan shroud retainers.



Use a small section of electrical tape on the bolt head to help prevent the bolt from dropping into the engine bay.



Now you can reinstall both of the (2) 8mm bolts from the stock unit.



Take the hose out of the top of the tank. Take a few quick measurements next to the overflow nipple and trim accordingly. Make sure to allow the hose to have enough room, so it does not kink or bend.



Then you can slide the hose on the radiator nipple.



Using the section of hose that you cut off earlier, attach this to the upper nipple on the coolant tank. This will help redirect fluid flow back to the ground.



Fill the overflow tank back up with a fresh 50/50 mix of coolant, you want to fill the tank is roughly around 1/4 to 1/3 of the way up on the sight tube.



Reinstall the cap and check over for any leaks. Test drive the car, and you are all done!




---

Well, wrapping things up, we hope that this article has helped you and you have a better understanding of how to replace your SVE overflow tank for your Fox Body Mustang.

---

As always, make sure to keep it here with the Real Mustang Enthusiasts at LMR.com.

---